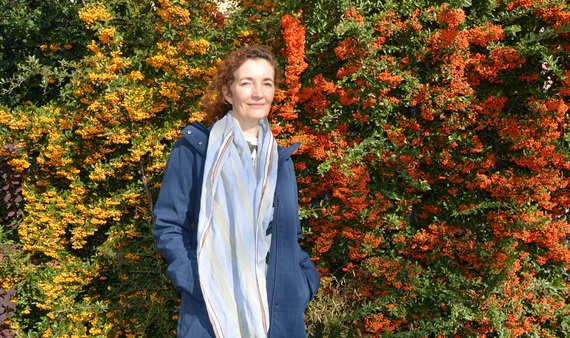 Dutch-based urban planner Caroline Bos is the co-founder of UNStudio (United Network Studio), a large award-winning architecture firm in the Netherlands. The works of UNStudio range from the Mercedes Benz Museum in Stuttgart to the Doha Metro Network in Qatar. Lan Anh Vu squeezed into Caroline's busy schedule during her two-day visit to Prague Architecture Day to find out how she transitioned from working in journalism to architecture, and her advice for young people across the world when it comes to pursuing a career in architecture.
Why I pursued a career in architecture
In a way, my interest in architecture happened naturally through a relationship with my partner and co-founder of UNStudio. We actually met very young and had a personal relationship. When I first met him, he was still a graphic designer. I was twenty one at the time, had dropped out of college and was trying to decide what was next for me. I wasn't sure what I wanted to do, but he wanted to start over and study architecture, and I eventually decided to go to London with him where I studied art history. Gradually, as our life grew together, I became interested in architecture and did my thesis on it. While we were still studying, we both started careers as journalists. Although this was something we didn't plan, we learned that we worked well together.
I was not trained as a designer and I have an outsider approach to architecture
Designers have a strong vision. I don't have that same perspective, because I don't look at things from the point of view of a designer. Instead, I bring a more analytical approach to the studio. As I focus on a project, I like to break down the patterns and try to recognize what we are trying to do. It is important to link certain projects back to history, but also to broader elements of the modern world. When I see something I like, I feel bombarded by many ideas. Images of what might be come into my head and then I find that it becomes much easier to take a certain direction. I bring those images quickly to the table when I meet with the designers.
The project I found most challenging
My most challenging and ultimately rewarding project was working on the Mercedes Benz Museum in Stuttgart. It was a competition with a tight deadline to finish on a specific date, making it quite a stressful experience for the team. After winning the competition, our team completed the design through various phases including the concept design, preliminary design, definitive design, and then into more technical work. We often do a large portion of in-house works, but we also work with outside experts, such as structural engineers, installation engineers, and exhibition designers. After a year and a half of these building preparation stages, we moved to the building side, which is always a very interesting phase with its own challenges. I had to walk around to tell builders: ''No, it hasn't been built according to our specifications. You must tear it down and do it again, because the quality of concrete is too rough''. This sort of daily management of our standards was an everyday occurrence that taught me about being vigilant with the design as well as the implementation.
What I have learned
In the twenty seven years since we started our practice, there have been many ups and downs. There have been good days and bad days. I wanted to give up many times, but at those times my partner always encouraged and supported me in our projects. The primary lesson that I have learned is not to give up and to keep going, even when it seems very difficult and balancing everything seems impossible. Once you step out, there is no way back. So try to hang in there. It is still a lesson that , I relearn every day.
The most exciting challenges and possibilities at the moment for architects
At the moment, I think it's really difficult for architects just starting in the field. There was a small opportunity in the 80s and 90s, but it is very difficult for young and less experienced architects to find those opportunities. So, I think architects today must find a new and different way to get to the stage, where they can fulfill the criteria that clients demand, including understanding the assurances, risks, quality system, and liability procedures the job requires. Even the minimum requirement is very high. For instance, if you want to qualify to build a theater, you are normally asked for your relevant experience and to show how many theaters you have already built.
I think you cannot be risk free in any kind of way as an architect. If you want to be completely sure that you are always doing the right thing, always being able to produce beautiful work, you will find that this is impossible to practice in reality. This profession is very much about balancing your goals, having a strong vision, being very detailed and analytical, and showing that you know what you are doing at the technical and visionary level. You have to find balance with the environment around you, which makes the work much more complex.
What I believe makes a strong leader
Working with other people and celebrating the creativity of others are very important aspects of this job. We give lots of creative freedom to our designers and that's why they like working with us. This is a great way to attract talents. We are known for our unique network approach, which I think is critically important in architecture. You can practice architecture in different ways, but leadership is about sharing your vision and letting others share their creativity and vision as well.
Advice I would give to young people out there who would like to follow in my footsteps as an architect
My general advice would be to reflect and look into yourself. Look around you and try to understand where the world is going, then ask yourself what you want to do and which direction seems best. In other fields, we have become fascinated with concepts such as knowledge of the economy, and sharing in society. You also need to ask yourself what does it mean for architecture, and how can architecture be changed to make it new and fresh again. For someone who has a passion and knowledge but lacks experience, I would suggest that teaming up to form a bigger group can help create a little bit of leverage. Working like this will allow you to make the most out of even the smallest opportunity that comes your way. Finally, it is important to try to find the analogy in the world around us. Try to understand what it is happening and see if you can turn that into something within your discipline.
This interview has been condensed and edited for clarity.
CORRECTION: An earlier version of this interview incorrectly stated that Caroline Bos graduated with a degree in architecture. In fact, Caroline Bos graduated with a thesis on architecture.
Calling all HuffPost superfans!
Sign up for membership to become a founding member and help shape HuffPost's next chapter