Jose Avillez is one of Portugal's brightest culinary stars and owner of six restaurants opening across the country. His flagship, Belcanto, won a Michelin star just 11 months after opening. Avillez is the first Portuguese chef in Portugal to have a restaurant awarded two Michelin stars. Avillez's Belcanto was elected one of the best 100 restaurants in the world, achieving 91st place in the prestigious "The World's 50 Best Restaurants List". Meanwhile, his cooking shows on Television and radio have made him a national celebrity. Lan Anh Vu sat down with Avilez to learn more about his journey, the challenges he faced and the inspiration behind his creative cuisine.
Why I Pursued a Career in Cooking
Cooking has always been my passion. As a young boy, I always enjoyed cooking. When I was nine years old, I used to bake a lot of cakes with my sister, and then we would sell them at school. I realized I wanted to become a chef when I was twenty. In my senior year of my Business Communications degree, I took a traineeship in the kitchen of Antoine Westerman at Fortaleza do Guincho restaurant; ever since then, I have been sure that I wanted this to be my profession.
Challenges
I didn't have direct, professional experience in cooking, so I had to start from the beginning. I had spent five years studying and working toward something different. I decided to start a new career in a completely new and different world, and the feeling of being in the kitchen and being in the office are so different. I had a chef yell at me. You can't please everyone, and not everyone will enjoy what you cook. When I started working on opening the restaurant, it was tough, because I worked on my own and didn't have any support. However, I never thought of giving up. I kept trying to do my best.
What I Have Learned
I have learned that you can't do anything alone; you need a team to support you. You cannot assume one hundred percent that people will like what you do, and you cannot please everyone. In the beginning, it was difficult for me to handle, because I wanted to please everyone I served. Since then, I have learned how to be more relaxed and to think positive. When I wake up every morning, feeling exhausted and thinking of giving up, I think about the guest experience and the smiles on my customers' faces when they eat my food. For me, that's the most important thing and that makes me get out of bed every morning. There's nothing better than when a customer gives a compliment.
My Inspiration
My greatest inspiration comes from traditional Portuguese cuisine. Portuguese cuisine is based on stories and history. We're a small country with many regions and different flavors and seasonings. Our kitchen is inspired by these regions, from the sea and the countryside to a more urban culture. You have to maintain the traditions and gastronomic soul of a country, and that means flavors and textures. Portugal has its own identity, and it's very important to respect and maintain it.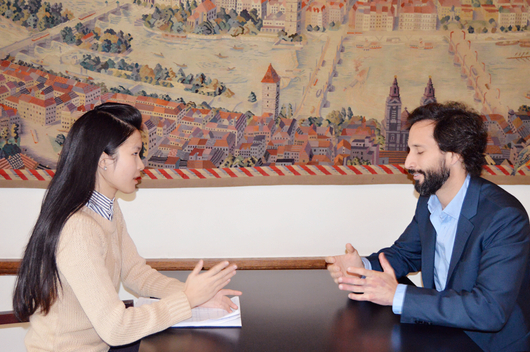 A dish can take us on a journey to places, landscapes, times and stories. It can get us to actually know a certain food, intensifying its flavor and texture, or it can reveal a completely new dimension of a food we thought we knew, using modern techniques or technology. Sometimes I look at a dish and imagine what I can do to create diverse and delicious cuisine; for instance, when I look at landscape, I imagine what I can do to describe and to make the landscape edible. Each dish tells a story and stirs the emotions of those willing to try it.
I have a dish that I called ''Dip in the Sea''. It cooks a mixture of seaweed, marine plants and mussels at a low temperature. I don't add salt or fat. The dish was completely inspired by a dip in the sea. When I look at and eat that dish, I can feel as if I am diving into the sea.
The Most Exciting Possibilities and Challenges for Current Chefs
We always need to listen to customer feedback. Depending on which city you are in, you can always do new and different things. However, you need to be careful; you need to maintain a link with the past and the present in order to look toward the future. Today, as chefs, we have work everywhere we go. The restaurant industry is growing, there are not enough cooks at schools.
Restaurant is a competitive industry. You need to have your own identity; that's the best way to compete. If you have your own unique way of thinking, and if you transform and put that into your cuisine, it would distinguish itself as different. Of course, you always need to learn new techniques, keep traveling, and discovering different things. If you compare cuisine worldwide, for instance, French or Spanish cuisine, it's about identity; identity of the country and identity of the chef.
My Advice for Aspiring Chefs
You need to understand food, culture and the history of food. Becoming a chef takes years of hard work. You keep learning until you stop cooking. It's important for young and inexperienced people to get practical experience in a kitchen and find some great chefs to teach them cooking techniques. Get inspired by other chefs and other restaurants, but let that be a catalyst for you to create that which inspires you and reflects who you are. Be your authentic self and let your personality come through in your food. It will show on your plates, and it will be recognized.
This interview has been condensed and edited for clarity.
This post is part of "How I Got There" series, which features people around the world speaking on their journey. What is the path to success? What challenges did people face and how did they overcome them? Lan Anh and her guests answer all these questions and much more. To view the entire series, visit here.