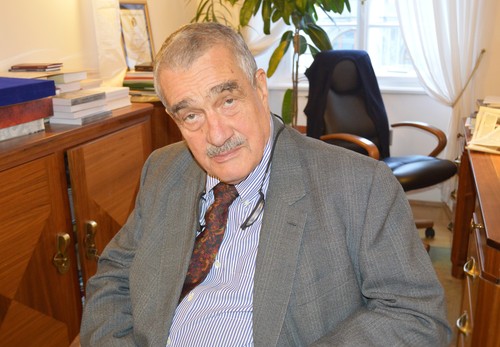 Karel Schwarzenberg is the Prince of Schwarzenberg, Duke of Krumlov, former first Deputy Prime Minister and Minister of Foreign Affairs of the Czech Republic and honorary Chairman of Top 09 party. Schwarzenberg was also a Member of the Senate of the Czech Parliament and a candidate for the President of the Czech Republic in the 2013 presidential election. He is noted as a pro-European member of the center-right governing coalition.
Schwarzenberg's family, who once ranked among the oldest and wealthiest aristocrats in Central Europe, had to leave the Czechoslovakia after the Communist coup of 1948. He spent most of his adult life in Austria to plot against communism. He is a great proponent of human rights and has been for his entire life. In 1989, he was awarded, together with Lech Wałesa, the Council of Europe's Human Rights Award. Lan Anh Vu sat down with Schwarzenberg to learn more about his political life, the challenges he faced and his advice for young people across the world when it comes to pursuing a career in politics.
In my early childhood, I was an observer of politics. In 1948, when the Communists took over, I was ten years old when I had to leave the Czechoslovakia and move to Austria. When I went to the school in Vienna to study law, I engaged in some political activities and became active in promoting human rights. At Munich university where I studied Graz and forestry, I was elected to student government. Due to the early death of my adoptive father, Jindrich Schwarzenberg, I had to cut my studies short and start managing the family properties.
From 1984 to 1991, I became president of the International Helsinki Federation for Human Rights. I pushed for human rights in Europe and was negotiating the question of human rights in the former USSR, Bulgaria, Kosovo and the Czech Republic.
When the Communist regime fell in 1989 , I returned to live in the Czechoslovakia and work for the late President Vaclav Havel. In 1990, I was appointed as the Chancellor of the Office of the President.
Some people told me I should become a senator. I first ran in the senate elections in 2002 and was unsuccessful, and in 2004 I ran again, succeeded and was elected a senator. Three years later, I became the foreign minister of the Czech Republic. Politics has been a constant part of my life ever since childhood.
My whole life I fought for liberty and democracy. I always thought that if you had opportunities ahead, you have responsibilities and should do something for your country.
Challenges
In the eighties, when I fought for human rights, it was a daily challenge for me. So often politicians in parliament talked nonsense, discussing topics without any knowledge of them. This made me mad.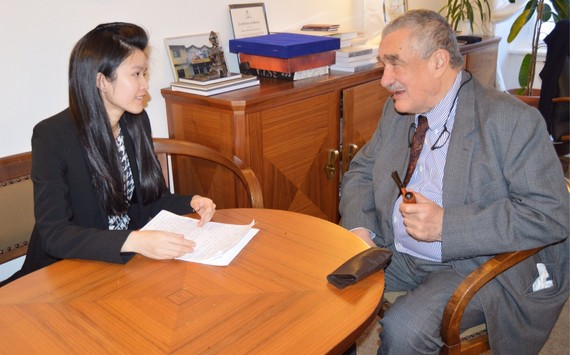 Based on my experience, you never expect the loss that defeats you. The greatest challenge does not appear where you have prepared yourself, fought and worked for years. The greatest challenge sometimes comes from a totally unexpected side. Then you have to pull yourself up, sometimes very unexpectedly, to face the thing you didn't expect or something you are not really willing to do.
Lessons Learned
I have learned that no tree in the world goes into heaven. Secondly, you can't make a tree go faster when you want it to, nor can you expect people to change quickly: they need time to change, quite a lot of time indeed.
What I Believe Makes a Strong Leader
A strong leader in politics needs to know how politics run and then to become a statesman. He also needs to have a vision. The difference between a politician and statesman is his vision. And of course, a strong leader needs to have some talent and charisma to attract people, and he must be interested in people. These are the elementary qualities of a strong leader.
My Advice for Young People
Young people who would like to pursue a career in politics need to find their own way and what they are fighting for. They can't simply say, "I would like to go into politics." They need to ask themselves these questions. For what? What do you wish for? What do you wish to achieve? What do you wish to change? What ideas do you want to promote? Aspiring politicians need to know why they want to become politicians, what their intent is. The world is changing so quickly that the conditions when I went into politics no longer exist. So many changes have occurred. Would-be politicians should find out if they like people, if they are interested in people. If they are not interested in people, then they shouldn't go into politics.
I would advise young people not to go into politics immediately, but to try after graduation to engage somewhere in their county or a professional organization. If they are successful in their county, then they can get elected to the local council and slowly continue. But no one should have the illusion that he will be a big star in the beginning. To make a career in politics, a lot of time and lots of experience are required. I only made it in politics after fifty, when I was sixty years old. Of course under special circumstances, there are rare cases where people make it in politics when they are young.
This interview has been condensed and edited for clarity.
This post is part of "How I Got There" series, which features people around the world speaking about their journeys. What is the path to success? What challenges did people face and how did they overcome them? Lan Anh and her guests answer all these questions and much more. To view the entire series, visit here.
Related
Popular in the Community