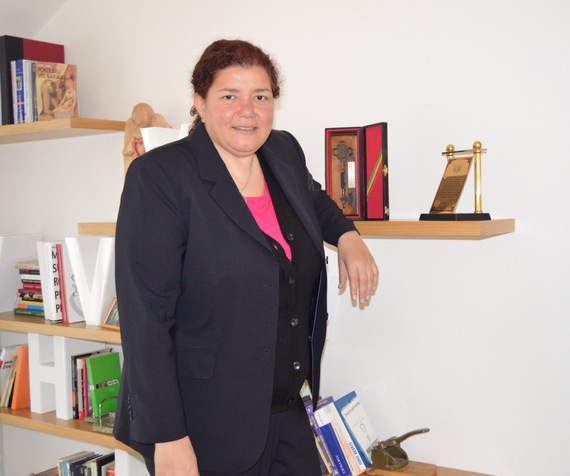 Rana Husseini is an award-winning journalist, senior reporter for the Jordan Times, and human rights activist. She is a leading international investigative journalist whose reporting has put violence against women on the public agenda around the world. She has also been an activist on the issue of so-called honor murders for more than 23 years.
Husseini has earned a medal from His Majesty King Abdullah II of Jordan for her activism in the human rights field and for defending women's causes in Jordan. She is the recipient of many awards, including the Reebok Human Rights award, Human Rights Watch award and Marie Claire Top Ten Women of the World award.
In addition to her extensive experience in the journalism field, Husseini has conducted several consultancies and advocacy for women' s rights in the Middle East and Jordan with local NGOs, UN agencies and international organizations. She has served as special advisor to UN Women (previously UNIFEM), Equality Now and Freedom House on women's issues and press freedoms in Jordan. Husseini also worked as a consultant and trainer for the Jordan Media Institute and the International Research and Exchanges Board (IREX) by conducting training workshops for local reporters, journalism students on reporting on gender, human rights and violence against women.
Husseini is a regular speaker at major international events such as the Global UNDP Meeting on Action to Address Gender-Based Violence and Human Rights Conference. Lan Anh Vu caught up with Husseini to learn more about her journey of investigating over the years and the lessons she has learned along the way.
How I got involved in working on the issue of the honor crimes
I was studying in the United States and came back to Jordan, where I was appointed as the crime reporter for the Jordan Times in September 1993. In June 1994, I came across the sad story of a 16-year-old girl who was killed by her brother. When I went to investigate I was shocked to learn more of her story. She was raped by one of her brothers, and he attempted to kill her because she told her family. She became pregnant, underwent a secret abortion, and was forced to marry a man 50 years older than her. Six months later, this man divorced her; the day he divorced her, the second brother killed her and blamed her for the rape. I spoke to the uncles, who were a part of the plot; they also blamed her for the rape and accused her of seducing her brother.
I reported the story. The following day, an intellectual woman called the newspaper and started screaming and yelling at my editors, saying that they should stop me from writing and reporting these crimes because this is not us or our society. I became even more enraged and decided to show her and everyone else that this is our society, and we need to work on changing such issues.
Later, I went to the courts and discovered that the killers were getting away with lenient sentences of three or six months, or a maximum of a year. I decided to document this as well because no one was really talking about it at the time.
What motivates me is that those women have no voice, no value and nobody there to defend them, so this is one area where I feel I am able to make a difference. The most important thing, as I told my colleagues, is that I know I have saved lives directly or indirectly, and this is something very important. For me, that is the most rewarding thing; it is a very good feeling to be able to help someone. I'm doing the right thing, and I know that I don't contradict human rights or religions; any normal person would know that those killings are wrong.
I think the honor crimes happen in many countries around the world. It's a big problem, and it varies from one country to another. It depends on the population; the higher the population, the more you will see murders and crimes and general violence against women. This happens in countries like Pakistan, Afghanistan, India and Turkey, to name a few, so I would say that these crimes are not restricted to any society, religion or nation.
Impact on the families of the victims
I spoke to some families; the impacts were very bad. These crimes do not help or solve the problem, as some families might think. They actually start new problems, especially for the person who was chosen to do the killing. I have met some who regret killing the female relative they lived with. Others were too depressed to talk about it. I think that some of the killers are also victims because they do not want to kill, but societal and family pressures alter them from normal human beings into killers.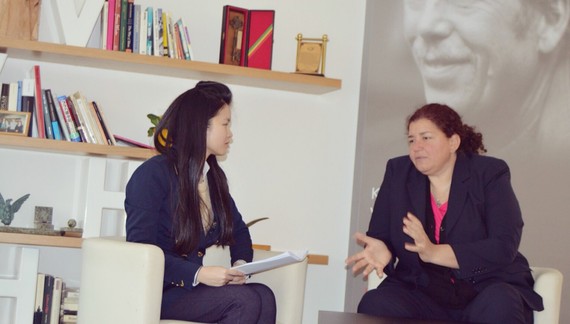 Positive changes
There are a lot of positive changes in Jordan. The issue is no longer taboo and is heavily discussed in the press and among citizens, government officials, NGOs and other figures in society. I can tell you that there has been a major change in the mentality of people in Jordan. People are now more open to and aware of this issue. Voices against these crimes and lenient laws are growing, and there is more acceptance towards the work that is done by the government and civil society to end these crimes.
There is a major change in the way the judiciary is handling these cases. There are harsher penalties than there were in the past. Judges have become more aware that they need to hand out stricter punishments against perpetrators of such crimes. In the past, it was three months, six months, or a maximum of a year. Now, the perpetrators receive lengthy sentences; the prison punishment terms range from 7.5 years to life in prison.
Lessons learned
You have to be very patient, because change will not come overnight. Before, I was very excited and wanted things to happen quickly--but they don't. I've also learned to listen to other people's opinions and absorb them and try to answer them in a smart way. Of course, the most important thing is to always have hope. There is always hope that things will change, but it takes time, so you have to be patient.
How we could end the honor crimes
We have to continue to raise awareness, encourage religious and community leaders to speak up against these crimes, and encourage women and let them know they are not alone and that they can seek help. We should work on humanizing the victims and telling their stories to the world. We should work on improving the education system. Governments should improve their services to victims, and more NGOs should be encouraged to work on targeting laws that discriminate against women.
This interview has been condensed and edited for clarity.
This post is part of "How I Got There" series, which features people around the world speaking about their journeys. What is the path to success? What challenges did people face and how did they overcome them? Lan Anh and her guests answer all these questions and much more. To view the entire series, visit here.
REAL LIFE. REAL NEWS. REAL VOICES.
Help us tell more of the stories that matter from voices that too often remain unheard.