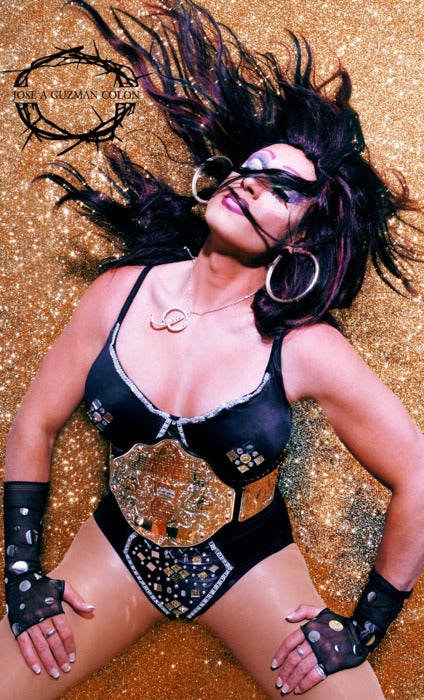 It was 1981 when a platinum blonde in a feather boa stole my heart. Transfixed in front of my family's blurry, pre-cable television, I watched in awe as stage lights glistened off a rhinestone-covered satin jacket and matching carnation-colored spandex.
His name was Austin Idol, and I'm certain he wasn't what my Grandad had in mind when he turned on a local pro wrestling show in that fateful, last-ditch effort to engage me in something vaguely masculine. By then, everything from karate lessons to the Cub Scouts had failed, and even desperate family members knew football, baseball and the like were a no-go.
But there he was, and I was hooked. At 8 years old, I knew immediately. "When I grew up," I wanted to be a professional wrestler.
Over the years, my family was happy to engage my passion for "wrasslin.' I think my father was aware I was "different" long before I had a name for it; perhaps it was one of the few ways we could connect.
As a result, we attended live events across the country, from flea markets to then-World Wrestling Federation shows at area coliseums. I had a book of autographs and, occasionally, even asked competitors to sign next to smudges of their own blood.
In fifth grade, I received a copy of Pro Wrestling Illustrated – the Bible of sports entertainment. Every penny I could scrape together went to subscriptions, and I plastered the hallway outside my bedroom with photos of favorite grapplers.
It wasn't long before I, too, started to realize I was a bit different than boys my age. While they paid particularly close attention to '80s legends like Wendy Richter, Miss Elizabeth and Missy Hyatt, I found myself fantasizing about "Ravishing" Rick Rude and Lex Luger.
Soon, I was keenly aware of my sexuality. While being gay didn't inspire my passion for pro wrestling – I loved the storylines, larger-than-life personas and intense rivalries – it did shape my hopes of being part of that world.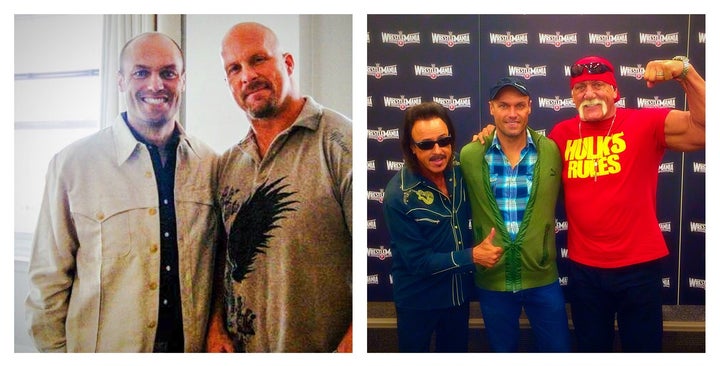 The more I took on others' perceptions of what it means to be a gay man – internalized homophobia, as I know it today -- the more those dreams slipped from me. Some places simply don't welcome "people like me," society said, and "sports entertainment" is one.
I distinctly recall reading at an early age of Pat Patterson, a superstar in the World Wide Wrestling Federation (precursor to the precursor to the current World Wrestling Entertainment). An article in Playboy, of all places, outed him. Oh, the scandal!
In high school, an equally strong passion for journalism emerged. Perhaps I could exist on the fringe of professional wrestling, I thought, writing for those magazines I loved so much.
Several times in my youth, I met and "interviewed" big names like The Rock 'n Roll Express (joining the WWE Hall of Fame this year) and future mega-star The Undertaker. Each time, internal struggles undermined my confidence. Fear and uncertainty eroded those dreams as well.
As years passed, I came out, settled into my sexuality, and discovered a new love – drag. In many ways, I became all I admired about professional wrestling, with my own, unique twist. Several nights a week, I was the rhinestone-encrusted blonde beneath stage lights.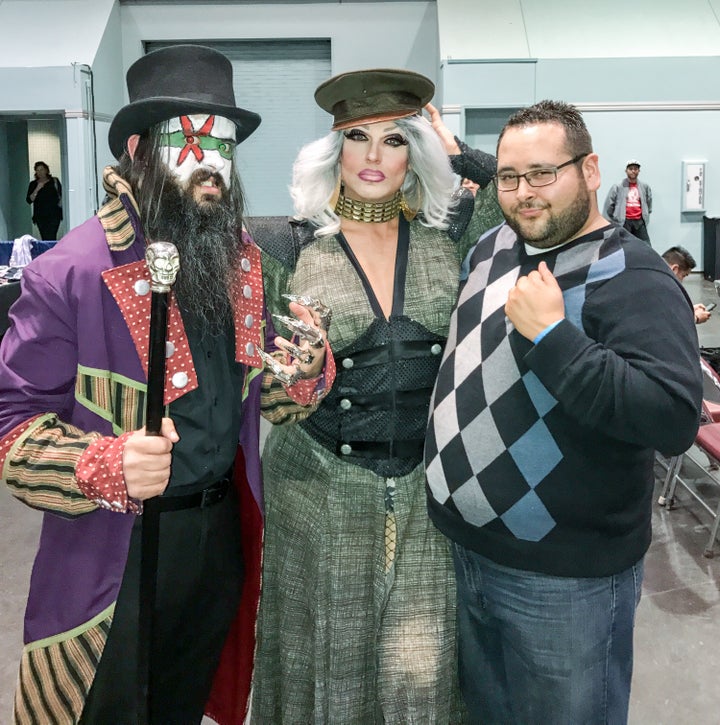 Under this new identity, I returned to journalism, working with Katy Perry, Lady Gaga and more. Soon I even pursued old dreams of covering pro wrestling, gaining access to the industry's top names. Though I was more confident, I recall how still uncertain I was then as an openly gay reporter.
Sitting across from "Stone Cold" Steve Austin in his hotel room, I wondered if my sexuality would eclipse my professional credibility. Though it never came up, I knew my mannerisms betrayed me, and my stomach churned.
Halfway into our interview, the icon looked at me – impressed by my wrestling knowledge ― and said, "By damn, you're a real fan, aren't you?" It felt like I could finally breathe.
Since that time, I've spoken to "Hall of Famers" like Hulk Hogan, Trish Stratus, Booker T and Gail Kim ― and the crème de la crème of current superstars, including WWE Universal champ Bill Goldberg. I became the only drag queen covering pro wrestling for Huffington Post Sports, and I have never hidden my sexuality…or wanted to, for that matter. In fact, I frequently ask about sports entertainment's evolving acceptance of LGBT competitors.
Meanwhile, childhood dreams of wrestling wilted. Between being gay and simply "aging out," it seemed stepping into the ring was out of reach ― until recently.
Some months back, I contacted Northern California-based indie Wrestling For Charity, "Where Philanthropy Meets the Mat!" Not only did promoter Robert "Butch" Haugh arrange the requested interview, after hearing my story, he invited me to be in a show!
WATCH: Pollo Del Mar Makes Her In-Ring Pro Wrestling Debut
Partnered with "General Manager" Donovan Troi – who, depending on the company, often portrays an effeminate character – I was introduced (in full drag) as WFC's "Assistant General Manager." Fans applauded as I confronted "The Fallen Flower" Kikyo, throwing the villainous former women's champ to the mat.
Me. In a wrestling ring. In drag. And the fans cheered.
It seemed so surreal, and I thought my dreams were finally realized -- but there was more to come! Saturday, March 18, our rivalry continued at the Evolution Sports Expo in Santa Clara, CA.
Surrounded by bewildered, perhaps occasionally startled fitness enthusiasts and fans of combat sports – an environment dripping testosterone, as one might imagine -- Kikyo and I again squared off. This time, we brawled in and out of the ring and through the crowd, arguably the most talked-about attraction of the day.
Watching our video on YouTube, I sat in my home, laughing late into the night. Adrenaline and an unspeakable satisfaction had taken hold, as I thought how far not only "sports entertainment" but I, personally, have come.
It was more than living childhood dreams. I think the internal demons — which told me I was defeated before I ever started, far more than anyone in professional wrestling ever did — are finally down for the count.
LISTEN: Cohost Pollo Del Mar describes her experience with Wrestling For Charity on Party Foul Radio, Podomatic's No. 1 LGBT Podcast
Popular in the Community