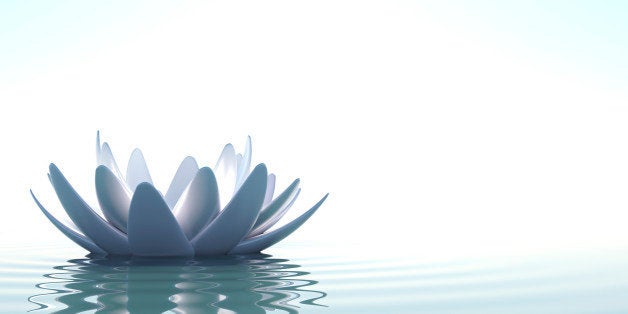 Written by Zinnia Gupte

Getting a divorce was emotionally crippling for me. I felt like a victim of life in losing everything that was important to me. I was giving up my home, job, a city I loved, a circle of friends I trusted, and the beauty of California. My loss brought me to my knees. Some days I would cry for hours, other days I would smoke cigarette after cigarette to numb the pain. My belief in myself was sinking as self-doubt crept in.
I kept asking myself, How was I going to show up through the divorce process? With fear, knowing I had lost everything that was of importance to me? Or with love and courage?
It was the most important choice of my life: to believe in myself again and feel there was something inside of me greater than pain, doubt, and obstacles. Yes, I lost a home, husband, and security, but I still had my imagination. So I began dreaming of a life I deeply desired.
Four months later, I arrived in Ibiza with the intention of living there for one summer to retreat and heal. I found a beautiful white apartment, and began taking belly dancing classes and running three days a week.
I journeyed deep within myself for reflection and insight.
Getting a divorce felt like death so I needed to acknowledge and honor the phases of healing... I took an active role in my own healing and realized I was not helpless. I purchased a turquoise journal and wrote in it religiously, pouring out my dreams, pain, reflections, and thoughts. I discovered so much hidden inside of me.
I revisited childhood wounds that needed to be healed. I was honest with myself and expressed my inner truth to everyone around me. I started to speak and act with integrity. I treated my body better, rested, and regenerated.
I felt through my anger and expressed my truth.
I allowed my anger to erupt like a volcano that had been waiting for years to be released. Buried beneath my surface were repressed passions. I let my anger flow in a nondestructive manner and didn't judge myself. I journaled, danced, screamed, and cried my way to emotional freedom.
I discovered my anger was a personal passion that had been buried rather than expressed. I made a decision to stop listening to other people tell me who I was, or who I should be. And I started truly live for me.

I grieved my loss and allowed the cleansing process to flow.
After my anger was released, the tears started flowing freely.
I cried for three hours every day and at the end of each day I felt so free inside because I allowed my tears to cleanse my soul. I cried for the past, mourning the times when I wasn't true to myself by allowing the opinions of others to become my truth.
My tears showed me I needed to compartmentalize the beliefs of others about me. The more I released, the more I started discovering who I was and what I wanted.
I faced my fears of abandonment and being unlovable.
The more I faced my own internal fears and limitations, I found the courage to change. I began changing my lifestyle and this included healing old emotions, letting go of old attitudes and beliefs, leaving unhealthy relationships and even jobs that didn't pay my true value.
I began to realize my fears. I started to know what I was afraid to say, do, or try. I examined the things about my life I was afraid to let go. I walked through my fears one by one. And with every discovery, a new door opened.
After many months, I had transmuted my anger, cried my tears, and faced my fears. A storm had washed over me and in its place I found peace in the stillness. I had healed my spirit by learning and growing out of limited comfort zones. I had become wiser.
Within three years I healed through my heartbreak.
The entire process of healing was a process of calling back the lost pieces of my spirit so I could become whole again. In my last phases of healing, I wanted to be more creative and expressive.
I wanted to create my new life and leave a lasting feminine legacy. I needed to birth work of art I could call my own and share with the world. I created a sacred brand, Shakti Priestess, a mentoring program to empower women in transition from pain to purpose. This was my chance to open my heart again to life and live with passion and joy.
I believe every woman can heal and rebuild their lives. There is an unwritten sequence of steps that we cannot skip and when we embrace the power and beauty of the healing process, we surrender and grow wiser, we become who we are meant to be.
Zinnia is a bestselling author, inspirational speaker, priestess and sacred dancer who helps women embrace their sacred feminine power. She is an expert at connecting women with their souls' desires.
She is the author of the amazon best-seller Messages From Shakti and the co-author of Inspiration For A Woman's Soul: Cultivating Joy, Women of Midlife Wisdom 2, Unleash Your Magnificence from the leader in women's inspirational publishing, Inspired Living Publishing. She is also a contributor to the popular book series 20 Beautiful Women.
Zinnia is the host of the Shakti Power podcast on iTunes and offers mentorship,
group coaching, free talks, and workshops about her signature process Shakti Power.
Her courses are designed to help women reimagine their lives and generate more
power.
Her forthcoming book, Shakti Power: Awaken Your Inner Power, Beauty, Intuition, and Magic will be in the world soon. Zinnia divides her time between New York City
and Ibiza, Spain and teaches sacred dance every year in Spain at the Ibiza Spirit Festival.
Reach Zinnia at www.shaktipriestess.com and receive your free Shakti Goddess Gift!