TED and The Huffington Post are excited to bring you TEDWeekends, a curated weekend program that introduces a powerful "idea worth spreading" every Friday, anchored in an exceptional TEDTalk. This week's TEDTalk is accompanied by an original blog post from the featured speaker, along with new op-eds, thoughts and responses from the HuffPost community. Watch the talk above, read the blog post and tell us your thoughts below. Become part of the conversation!
I never feared heights, sharks, being shot, drowning, starvation, or even death. A couple of years ago, I was faced with the one thing that actually did intimidate me -- speaking at the TED Conference in front of some of the greatest minds in the world, people whom I have always admired.
For years I would attend the conference, do magic to all of the speakers, and then get blown away by their talks. When I watched these amazing people on stage presenting world-changing ideas, I almost found it funny that they would even consider asking me to speak.
Learning to hold my breath for 17 minutes was an exciting challenge, but here, there was no block of ice, or coffin lid, or even a deck of cards separating me from the crowd. Standing on stage for 20 minutes to talk about the experience was terrifying, and I spent most of my time leading up to it locked in my hotel room, obsessively writing and re-writing my notes on playing cards.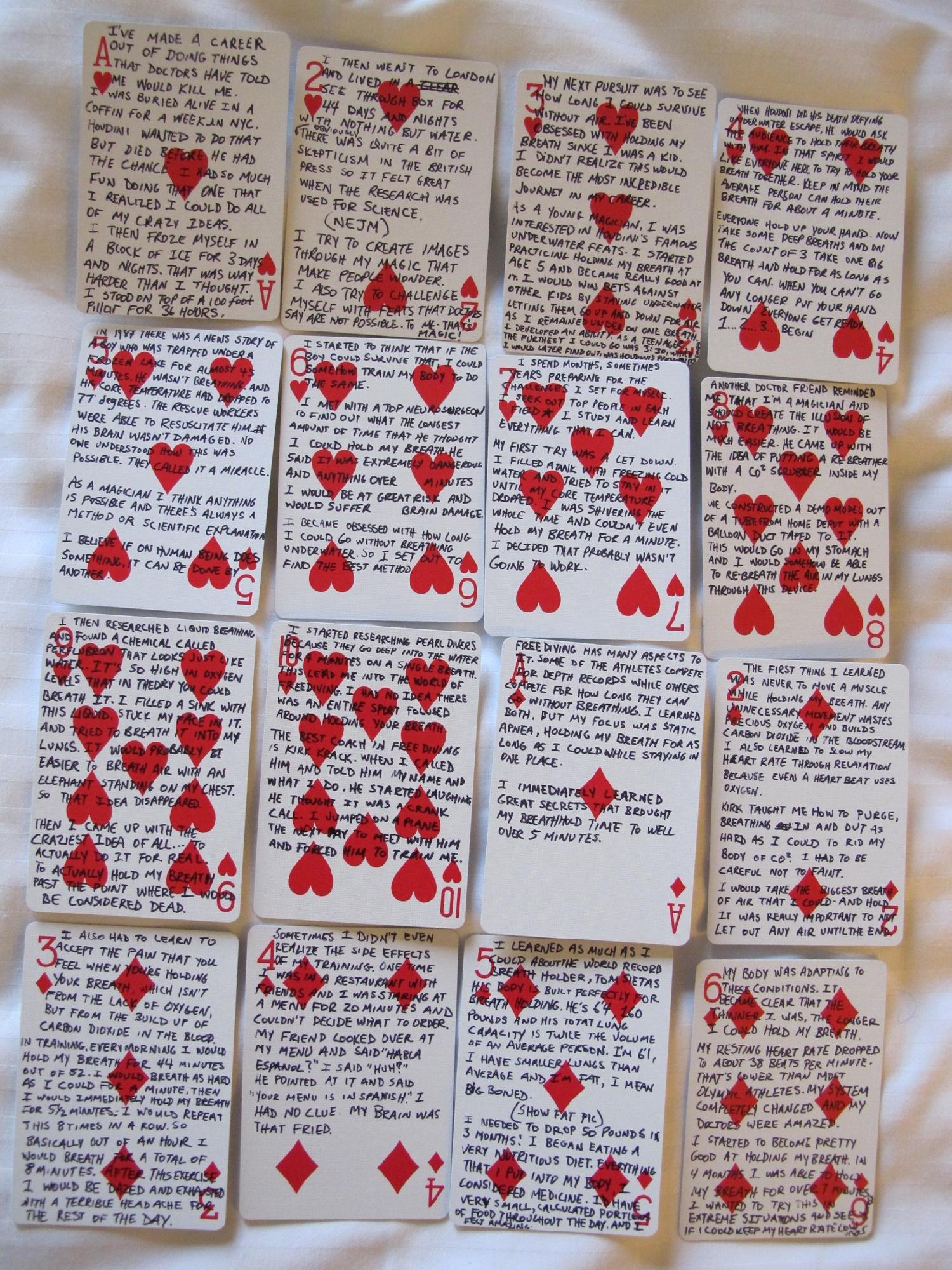 David Blaine's 2009 TEDMED talk written on a deck of cards.
Photo courtesy of David Blaine
Pushing myself comes naturally to me. When I'm doing something like learning how to hold my breath for the world record, I suddenly have no distractions, everything becomes clear to me, and I am completely focused. I cannot easily explain it because I don't really understand it myself. I just know that in that place I feel like I have a purpose.
Maybe it's because I was born with my feet turned in, and wore leg braces until I was 5 years old [picture with my mom, below]. I also had asthma and no distinct physical advantages. As a result, I wanted to prove to myself that I could compete with the most athletic kids. That led me to constantly challenge myself, and eventually I learned how to hold my breath longer and swim faster than other kids who didn't have the same physical setbacks I did.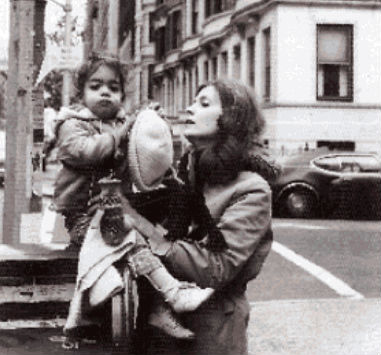 David Blaine and his mother. Photo Courtesy of David Blaine.
I love performing magic, sleight of hand, logic puzzles... but what drives me is pushing past my limits to accomplish a goal that should be impossible. Speaking at TED was an amazing opportunity to share my story, but beyond that, being able to overcome my fear of public speaking in front of my heroes made it one of the most memorable experiences of my life.
Ideas are not set in stone. When exposed to thoughtful people, they morph and adapt into their most potent form. TEDWeekends will highlight some of today's most intriguing ideas and allow them to develop in real time through your voice! Tweet #TEDWeekends to share your perspective or email tedweekends@huffingtonpost.com to learn about future weekend's ideas to contribute as a writer.
This story appears in Issue 53 of our weekly iPad magazine, Huffington, in the iTunes App store, available Friday, June 14.
Related
Popular in the Community