I am passionate about my "day job," but I am also passionate about helping those in need and that is something that my company is very supportive of. In my other roles as co-lead for our Knoxville office women's group and as a client engagement lead, I am involved in organizing a lot of events and fundraisers for the local community. It is a great activity to get my co-workers involved.
Last year, the Veteran's Food Pantry reached out to the community, in need of support. They are a charity that provides food to local veterans and their families and were greatly in need of donations of food and other supplies. During our next women's group meeting, I proposed that our Knoxville team support this charity, and the response was unanimous. Everyone wanted our team to help, and everyone wanted to be part of the effort. I told the Veteran's Food Pantry we would help. "Give us two weeks," I said, "and we will bring you what you need."
The Veteran's Food Pantry's work really resonates with our people, because so many of us have relatives or loved ones that are veterans. We held a food drive at the office, promoting the cause through internal communications and drop boxes situated in the lobby. This first drive yielded 475 food items for the charity, and they were thrilled. Then, with Thanksgiving approaching, the charity reached out to us again for help to feed families throughout the holiday season. We held a two-week food drive and tripled the donations we had generated last time. As well as our colleagues donating food items so generously, our company leaders also donated money to buy shelving for the Veteran's Food Pantry, so they could store the influx of donations. They also gave us time out of our work day to support this important cause.
It can be very gratifying and humbling to help those in need and this kind of community activity really cements us as a team. We have received several e-mails from the Veteran's Food Pantry, thanking us for our generosity and telling us what a difference our donations have made to so many veterans and their families. I feel really proud of what we have achieved.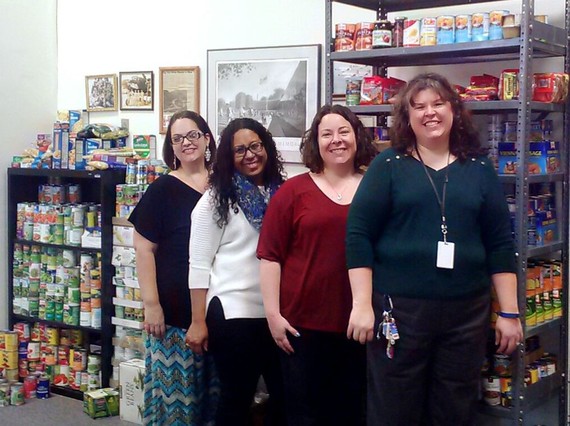 (from left to right) Natasha and her colleagues: Natasha Collins, Glenny O'Neil, Teresa Braden, Melissa Walker-Perry
REAL LIFE. REAL NEWS. REAL VOICES.
Help us tell more of the stories that matter from voices that too often remain unheard.