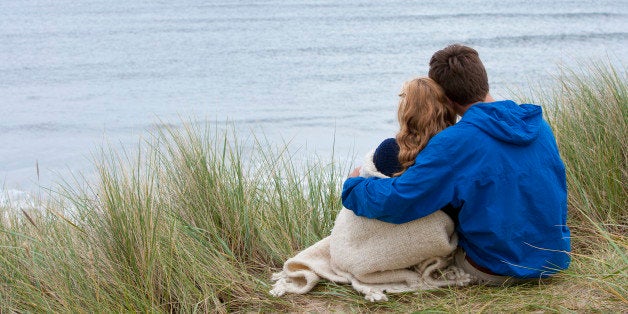 Throughout the next few months, HuffPost Teen is highlighting the way teens think and feel about sex through anecdotes written for our series, "Teen Sex: It's Complicated." All of the authors are teenagers who have agreed to be published anonymously. If you want to share your thoughts, join the conversation here.
I'm not a virgin and the first time I had sex wasn't good. It was just, "Oh, this is what sex is... it's alright, I guess."

I am going to tell you about my current relationship. I met my boyfriend, Anthony, four years ago and I fell in love instantly. Things did not go as I planned and so I waited. Or he waited while I had a boyfriend. Either way, I could tell you right now I could not find a more perfect person to spend the rest of my life with. I am in love.
Anthony is the second person that I have shared my body with, but the first person I have been in love with. And the first time we had sex was the definition of embarrassing. He had more experience than me in that area but still, I didn't think it would be as bad as it was. We had know each other for a while and were basically best friends that had fallen in love. But one subject we never brought up was sex.
The moment we knew it was right was when both of us thought, "Hey, we love each other, we know each other, we've both had sex before. What can go wrong?"
We were both so nervous. No matter what he says, I know he was because he couldn't even get up. That night will be stuck in my mind forever. I was completely embarrassed. My boyfriend couldn't get up? Was it my fault? Was he not attracted to me in that way? Those were all thoughts racing through my mind as he was sitting next to me laughing, telling me it was not a big deal. I cried and rushed to get out of his house.
We talked later and we said, "no way are we trying that again." We obviously did try again, though, and it was wonderful. I wanted more of him and he wanted more of me. What we do is not just sex -- it is fun and we laugh. Overall, it's just the greatest feeling in the world.
Our first time was bad, but once you find someone who can be silly with and be romantic at the same time -- literally the same exact time -- that's love.
That's the beauty of good sex: It's not actually about sex. It's about the person you're with -- their personality and their mind.
Calling all HuffPost superfans!
Sign up for membership to become a founding member and help shape HuffPost's next chapter