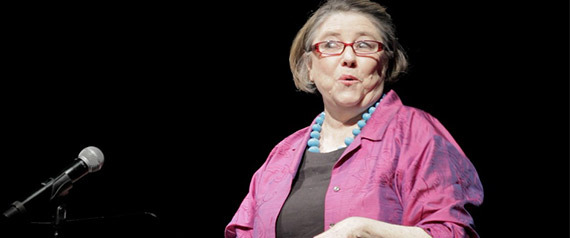 "When in Rome, do as the Romans. And when in Florence, make out with a hot Italian! That's what Pamela Stone's whole body was screaming when she was swept off her feet by a handsome Italian man while she was touring Europe," says Oral Fixation creator and director Nicole Stewart. "Though her story didn't end as she hoped it would at the time, years later she got exactly what she wanted: That's amore! Read it here, and don't miss her funny performance in the video below."
I met my Italian love in the American Bar in Florence, Italy.
The American Bar was next to our hotel. It smelled of cigarette smoke and stale beer.
To my college friends and me, it was a break from our summer tour in Europe.
One day, among a group of rowdy Italians at a table nearby, I noticed a young man wearing a white dress shirt and dark trousers. With his suit jacket draped casually over the back of his chair, he leaned in toward his friends.
"You wouldn't believe my job," he said dramatically. "It's driving me crazy!" These comments were interpreted by a friend of mine who majored in Italian at school. "I'm thinking of running away!"
At this remark, his friends collapsed into laughter.
As I passed his table on the way to the restroom, I could feel his eyes on me. Not glaring. Just a quick, flirtatious look. Embarrassed, I turned crimson. I looked away, thinking that he'd caught me looking at him, too.
The next time we visited the bar, Mario introduced himself and invited me to sit with him. Mario casually mentioned that his father owned the bank across the street from the bar, where Mario worked. At the age of 26, he still lived at home, which bothered me, because I thought that meant that his parents still controlled him.
But this didn't keep me from jumping into his bright yellow Ferrari and zooming through the winding cobblestone streets of Florence. On every corner, we passed flower-filled gardens and historic cathedrals and the Temple of the Italian Glories, where Michelangelo and Galileo are buried. A true adventurer, Mario also led me down dark alleys in poorer neighborhoods, where housewives dried their garments on clotheslines, strung from building to building. I marveled over the diversity of this rich city.
Some streets were lined with polished windows of the latest fashions from modest, silk dresses to scant miniskirts, as well as matching scarves and designer purses. Each window was a showcase -- from food attractively arranged like jewels -- to flower shops, bursting with color.
On our next date, I met Mario in front of the bar.
"Just one minute," he said, reaching into his car trunk for a fresh shirt. In a flash, he unbuttoned and removed his work shirt, tossing it into the backseat. I caught my breath, noticing his lean, muscular bare back and arms. I was both shocked and drawn to him. My heart raced as I tried to laugh, thinking to myself, "Will this strip tease continue? Will his pants be next?"
For the next week, our dates became a blur of parties with his Florentine friends, holding hands at hilltop restaurants, or drinking espresso at a sidewalk cafe. Mario moved quickly, like a dancing firefly. In a group, he was the clown, mimicking others, cracking jokes. But when we were alone he became quiet and focused -- only on me. I was drawn to the lines of his face which crinkled when he smiled and his soft, hazel eyes. Cupping my face in his hands, he gently drew me to him, whispering, "Ah, Belissimo!" He made me feel like I was the most important person in the world. It was difficult not to trust him.
One remark, though, stayed with me. Teasingly, he said, "My father hates me dating American girls."
So when he promised to follow my tour to London, I never thought it would happen.
Three days later after arriving in London, my roommate awakened me.
"There's someone waiting for you downstairs."
Barely awake, I changed my clothes, and as I came out of my bedroom, I saw Mario standing at the foot of the stairs. He was wearing a fashionable, suede jacket with a long scarf, jauntily tied around his neck. When he saw me, his eyes lit up.
"I told you I'd find you!" he said laughing, describing how he asked directions from our hotel to find our next destination.
We climbed aboard his rented scooter and toured London. We saw the Changing of the Guard at Buckingham Palace, munched fish and chips at English pubs and dined in out-of-the-way Indian restaurants. Seeing the sights of London became a blur. On the scooter, I wrapped my arms around his waist, burying my head into his jacket. The warmth of his body made me realize that I longed to be near him, hear him laugh and pledge his love to me. Tenderly, he touched my cheek, never forcing himself on me. Speaking two languages was also part of the fun. Laughing hysterically, we used sign language and broken phrases to communicate. We quickly moved from hand holding to mad makeout sessions in his tiny sports car.
At the age of 20, I was holding out on going all the way. I wanted to share this experience with the perfect someone. Mario was patient though. His soft touches and tenderness were tempting. In a fit of passion one evening, the windows of his car were frosted over and our breathing was heavy. As my dress slipped from my shoulders, the warmth of his embrace made me tingle with anticipation. Then, suddenly, out of nowhere, Mario gently pushed me away.
"Pamela, we must stop now. Unless you are ready for something else."
I was stunned. My heart was beating rapidly. My body was screaming, "Eeeeehah! Let's go for it! I didn't want to stop.
Suddenly, everything came to a halt. I looked at him, trying to read his face. But he quickly put the key in the ignition and started the car. I ached to speak to him about my feelings, but it was impossible. The language barrier prevented us from sharing our deepest thoughts.
I quickly smoothed the wrinkles from my dress and with hands shaking, began to reapply my lipstick. Mario and I rode home in silence.
A few days later, Mario arrived at my hotel, his face flushed with anger. "My father called from Florence saying I must return home because my mother is ill. But I know she is not ill. That's just a way to get me home."
After a tearful farewell, I watched his Ferrari disappear into the London traffic.
I knew I'd never see him again.
But this story has a happy ending.
Six years later, I married my own Italian love from New Orleans. His name? Rosario Ciaccio. We've been married more than 30 years. Do you know the secret to our success?
So, eat your heart out, Mario!
REAL LIFE. REAL NEWS. REAL VOICES.
Help us tell more of the stories that matter from voices that too often remain unheard.