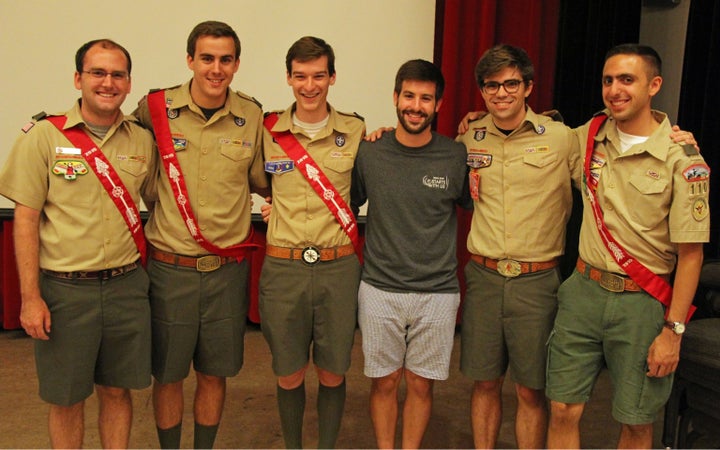 It was a humid evening in Indiana and the first night of a five-day national Boy Scout conference. I was sitting at a large table at the local bar surrounded by friends I hadn't seen in at least a year. We spent most of the night catching each other up on our lives and reminiscing about our common Scouting memories. Although I gladly shared my life's news with the company, I was also dwelling on a more personal mission I had that week.
I got up from the table, walked over to the back, and sat down with one of my closest friends. After a few minutes, and a few more beers, I mustered up the courage to say, "So, I'm gay, and I've been out of the closet for two years."
In my experience, Scouting hadn't been an unsafe place for people to be out. In my early years I'd never heard of a boy being removed from my local council because of their sexuality. Later when I served on the national level, I knew several LGBTQ Scouts, both in and out of the closet.
So this conversation went rather smoothly. "Oh really? I had heard a rumor before," he told me. "That was expected," I thought.
He and I spent the rest of the evening discussing the things which I had been brooding on: the state of the LGBTQ community today, being out in the Boy Scouts, and my place in this web of complexities.
Breaking Away From The Norm
In our conversation that night, we talked about the notion that being gay and being straight should carry equal weight in conversation and in our daily lives. This struck close to home for me, because in my own coming-out process I grappled with this issue, and I ultimately came to a very different conclusion.
We assume, to nobody's fault, that each person we meet is straight—it's just a matter of probability—so when we strike up a conversation with a new person we often use this assumption. LGBTQ folks have to place extra weight on their sexuality every day when they bring it up in conversation to change somebody's assumption. This adds to the heap of societal pressures already placed on LGBTQ folks. Accepting, navigating, and overcoming this challenge, without blaming society for our struggle, is taxing.
It's true that I had never seen direct discrimination because of a Scout's sexuality, but the climate our anti-gay membership policy fostered for years did not lend for an easy path out, and complicated things once you were out. So many people, fearful over one thing or another, either remained in the closet during their Scouting life, or tip-toed around with a cat's precision. As Alex Call and Dwayne Fontenette describe in their stories about growing up as gay Scouts, there is still so much work to be done to build a safe environment for LGBTQ Scouts today.
So at this conference and in my general life, it became my mission to toe the line between this freedom to discuss me being gay in conversation and not forcing acceptance upon those not immediately accepting.
"Until our quest for world domination turns at least half the global population gay, we have to accept that our sexuality is unequal," I quipped later in our conversation. I left that night having gained what I'd hoped for: a closer friendship and another trusted confidant.
Discovering My Place And Purpose
The remainder of the conference continued to go smoothly. I did not have people to check off a list during the event. My closest confidants already knew, and I trusted that the seed I planted would spread where it needed. As I write this I don't know everywhere that seed has spread—I expect that some conversations were overheard and that people gossiped. That was my goal.
The last night of the conference, I was sitting at one of the back tables away from the main crowd in the same bar as the first night. It was one of my last nights in the United States before leaving for a life abroad in just a few days. I was discussing these plans around a table in the back, when I noticed a dear friend, with whom I had only recently developed a bond, walk in and order a drink at the bar. Though my friendship with him was new, my trust in him was high, and so I decided to approach him as the bartender placed his drink on the counter in front of him.
"I'm a homosexual," were my first words as I placed my drink down next to his. And in the same harmony as my confession to him, he replied, "Well, I'm queer."
Explaining what made the two of us achieve that level of comfort in that instant is challenging. Perhaps it was the trust we shared during our time on the planning committee for that conference, or perhaps it was something else. What I can say is that the simplicity of that exchange and the trust that we shared in our conversation that evening showed me a more complete picture of what I had been striving to discover.
In that moment neither of us held our sexuality under tight lock and key. The two of us had achieved separately through our own coming out experiences a degree of comfort that allowed us to toss our sexuality into a conversation like a father and son throwing a baseball. Our sexuality was not intimidating, awkward, or uncomfortable to discuss in that noisy bar surrounded by fellow Scouts—our sexuality was that baseball. This is what successfully toeing that line looks like, and it should be the mission of the LGBTQ community to achieve that level of comfort with the relationships in their lives. (Read his recount of that story here).
Popular in the Community