Photo courtesy of Mitch Goldstrom
Way too much in the news lately, child abuse is a three-part crime: the incident(s), the cover up, and the revelation. You can experience it, undigested, on a 24/7-news cycle. Or, as in Paula Vogel's How I Learned to Drive, you can watch it unfold in context, see it through the victim's eyes, and see what it says about our human condition. The production, directed by Jen Bloom for the fledgling and fantastic Santa Monica Repertory Company, offers a powerful and touching story about people who navigate through life with a flawed moral compass.
Set in the '60s Maryland countryside, How I Learned to Drive chronicles the coming of age story of L'ill Bit (Barbara Jean Urich), a precocious young woman whose naïve compassion causes her to place unwarranted trust in a lecherous uncle while her dysfunctional family acts as if nothing's wrong. The extended family's nicely caricatured, in an Archie Bunker sort of way. The difference is, Archie, Edith, Gloria and Mike don't have the same secrets that L'ill Bit's family has. Her mother (Shannon Esra) was a child bride, as was her God-fearing grandmother, (Yael Berkovich). Her grandfather (Brian Slaten) is a sexist coot, thinking women have but two functions. Much of the production's rambunctious humor comes from the interactions of these three. Her Uncle Peck (Corey Brill), afflicted by some unnamed experience in World War Two, is a recovering alcoholic. He's the only one who relates to L'ill Bit; he's the only one who acknowledges her intelligence and her dream to attend college. And he's the one who, when L'ill Bit was 11, molested her during a driving lesson. It doesn't end well, though L'ill Bits, unlike Uncle Peck, survives to tell the story.
The story's framed as a driving lesson. A nice trope -- it marks a rite of passage for young adults; it suggests the phallic symbol of a stick shift (If you can drive a stick, you can drive anything); and it broaches the idea of a learner's permit, which requires that an adult to be present.
Bloom capitalizes on the story's dynamics, to great effect. L'ill Bits' family's carved in stone personalities versus her blank slate future; her family's redneck beliefs versus Uncle Peck's silver-tongued devil suaveness; the normal obstacles a young woman faces versus one specific one (molestation, incest, adultery). The minimalist set, the realistic language, the actor's treacly southern accents versus the nature of the crime.
The script requires precise, split-second timing. The plot jumps around chronologically (we don't learn about the initial molestation until more than half way through), which mirrors L'ill Bits' experience of time, growing up too soon, flashing back to horrific incidents, then darting forward where, in her mid-'30s, she can reflect on her troubled adolescence. The actors rise to the occasion. Playing various roles of extended family, classmates and a waiter, Esra, Slaten, and Berkovich hit the right notes (funny, bumptious, ignorant, tragic), all at the right time, while allowing the saga of L'ill Bit and Uncle Peck to unfold.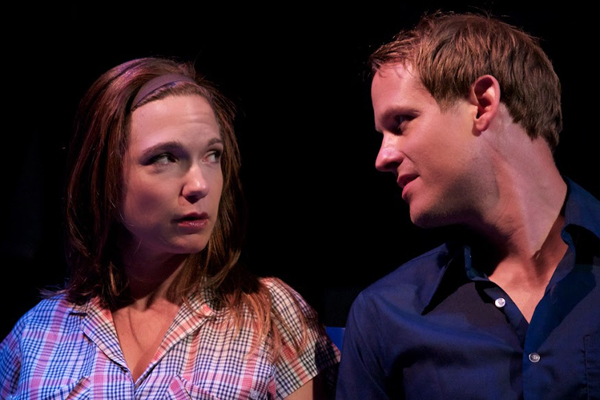 Urich's L'il Bit embodied survival in all its iterations. Out of empathy, her L'ill Bit's devotion to Uncle Peck is exemplary while, out of steely resolve, she is standoffish enough to keep him at bay. Physically Urich is a live wire, with an active, inquisitive, and caring face. She projects confusion and steadfastness, wariness and devotion. Initially she doesn't understand what's happening to her (how could she, it all began when she was 11?) but she preternaturally reads through Peck's advances and instinctively knows they're not right. Somehow, irrespective of the claptrap she's seen and heard from her family (especially her mother's advice on how a young woman should comport herself), she chooses the right course, balancing a sincere care for Peck with knowledge that his intentions are ignoble.
Brill invests his Uncle Peck with intrinsic goodness. Yes, he's a pervert, a deviant, the uncle of all pricks; but he's also sympathetic and caring. At some point in his past, we have to think that he too was victimized (at the end, L'ill Bit wonders as much). Miraculously, Brill makes him vulnerable without getting us to despise him for the monster he really is.
Therapeutically entertaining, How I Learned to Drive brings ubiquitous, taboo issues out into the open. Though the story's tinged with humor, it's still a tough one to embrace. As horrible as it begins, though, it shows that you can come out on the other side, wiser, perhaps, but certainly not unscathed.
Performances are 8 p.m., Friday and Saturday. The show runs until December 1. For information, visit www.santamonicarep.org.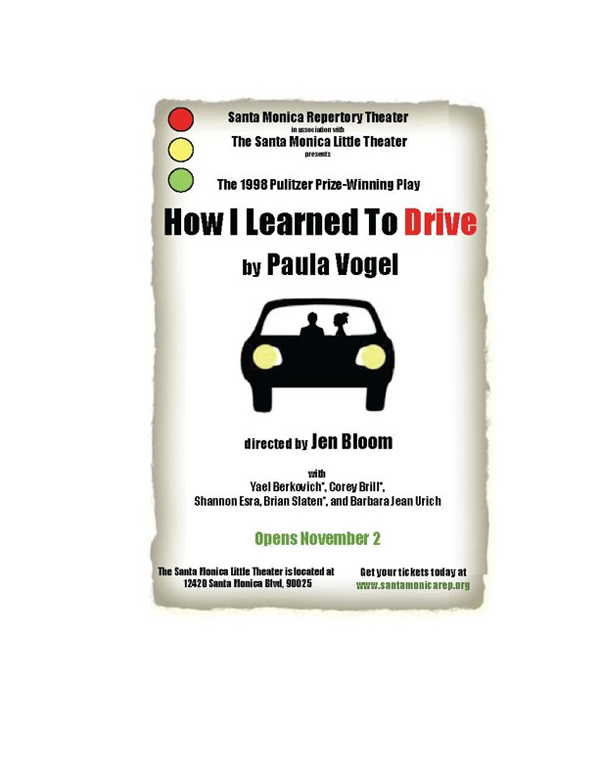 Calling all HuffPost superfans!
Sign up for membership to become a founding member and help shape HuffPost's next chapter