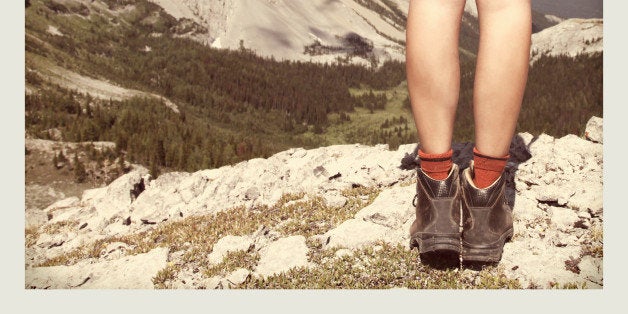 While I was abroad, we went up north to take a weekend vacation in the mountains together. It was weird to be on a mini-vacation during my actual vacation, 5,000 miles away from where I lived, but I no longer felt foreign anymore.
I felt at home -- even though I knew I'd have to leave here in a few weeks. I was at a point in my life where I was living between two countries I belonged to, in love with a man here who lived in my favorite place in the world, and all the while trying to decide which decision would make me the happiest -- to live here or there? This mini-vacation was a break from all of the questions I had running around inside my mind, or so I thought.
We decided to take a nice horseback ride under the sun. We stood in the dirt in front of the stable on top of the largest mountain I'd ever been on. Seconds after meeting our guide, he immediately handed each of us our own reins, and ushered us to begin riding, as he climbed onto his own horse.
I thought that he was going to lead our horses as we relaxed and enjoyed a nice stroll beneath the trees -- never needing to use our control. Instead, there I was, dumbfounded, alone on a horse, expected to know how to ride on my own down a mountain.
"Move your body right when you want to go right. Move your body left when you want to go left. Your horse will listen." I had trouble listening to my own body when I told myself when to go right or left, somehow able to quiet my intuition when it made me feel vulnerable. But this was something very different -- vulnerability at its finest. Suddenly I had to trust myself and a horse to carry us through rocky terrain, knowing that if he slipped on the narrow trails, we would both slam head-first into sharp rocks. I didn't even know him.
We made our way through the forest as we climbed down the mountain, but the entire time my attention was on my horse -- not on the sky, not on the trees, not on the man I loved. I watched my horse's hooves as I felt his breath, wondering if he was too thirsty or tired as I protected his head from bumping into tree trunks. There were a few times that his hooves slipped on rocks and my heart stopped, but somehow, we were okay -- we were more than okay. I was shocked at my fear and how hard it was for me to trust him. If I couldn't trust this horse, how could I trust my heart with another? But wasn't I already doing that?
I spent a year after that trying to figure out how to get from "Point A" to "Point B" so that I could live the life of my dreams. I finally had the guts to purchase a one-way ticket and I moved to the same country with the mountains that challenged me.
I got to "Point B" and I had it all -- until I didn't anymore. After a few months, I became sick with a bad infection and had to move back home temporarily. Somehow, the job I loved, my relationship, and the dream life I worked towards couldn't sustain themselves in my leaving. It all fell apart pretty quickly -- and so did I for a bit.
The falling apart hurt like hell, but it also healed like hell. I found a part of myself that I didn't know was even there. It was then that I realized I put so much emphasis into trusting others and external things to fill me up, when in truth, I needed to trust myself first. I was so concentrated on getting "there" that when I got it, and it ended, it was so hard for me to find my way again. In a way, I was the "horse."
Discovering more of who I am and trusting that gut feeling in my body is the best blessing I've been given. Getting back on that horse, exploring new and unknown territory in spite of the slips and fear, while always holding onto what I truly want for myself is the key to it all.
I learned that lesson back then during the horseback ride, but I wasn't able to truly understand its meaning until now. Hand me the reins.
Related
Popular in the Community