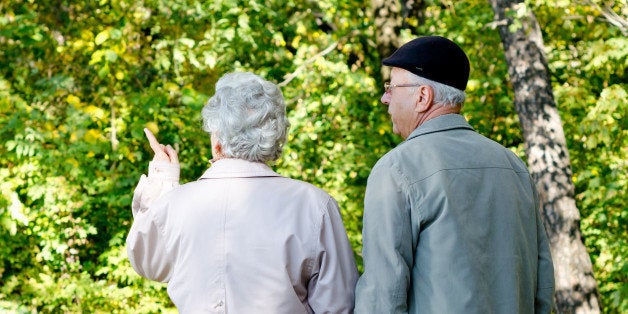 Five months ago, I got married.
Our wedding day was everything that everyone says a wedding day should be: love and laughter, nerves and excitement, happiness and new beginnings. I wore a beaded ivory dress and my husband wore a tan tux and my dad and I hugged each other tight as he gave me away.
We danced and kissed and cried. We ate vanilla cake with butter cream frosting and I wore silver sparkly tennis shoes and the bridesmaids held bouquets of autumn colored roses. Crimson. Orange. Peach.
Everyone said it would go by fast.
Everyone said to soak it up as much as you can.
Everyone said to make sure you take time to eat.
Five months ago, I got married.
When my new husband and I returned from our Cancun honeymoon, our tan lines still lingered, the intoxicating buzz of love and strawberry daiquiris running through our veins. Those past few weeks were chock full of happiness bubbles floating around our heads, bobbing up and down with bliss.
But two days after returning home from our honeymoon, I got a call from my mom.
"He called," she said. "She could go anytime. Can you come say goodbye?"
Our neighbor Karen had been battling cancer since March. What started as a shingles diagnosis and a trip to the doctor to check things out had progressed to cancer in the brain over the past year, its tendrils wrapping its way around this person who was so much more than a neighbor, but family.
Karen's heart was huge, always giving, caring, loving. But her huge heart was slowing down, it's steady pump now a weak flutter. Her husband John had called so we could come say goodbye to the woman who represented so much in our lives over the years: a friendly face, warm baked treat, silly prank or advice about Michigan birds in the backyard.
Sometimes, all you can do is be there. But sometimes, being there is the most important thing you can do.
As my mom, brother and I walked into our neighbor's house, my parent's house visible from the back porch, I took in the glassware decorations on top of the windowsill. "My Grandkids Made This" magnets. Diet ginger ale bottles scattered near the kitchen sink. This house was lived in. Memories were made here.
Wearing a red zip-up sweatshirt, white Hanes T-Shirt and baggy grey sweatpants, his eyes looked tired as he smiled, telling us he appreciated us coming to say goodbye to his wife.
I had no idea how he was keeping it together.
"How'd the wedding go?" he asked, pulling me into a hug. They couldn't make it due to the necessary hospital visits. When I told him the wedding went well, John nodded.
"How long have you and Karen been married?" I asked him. I sat beside his wife now, my hand holding her hand as she lay in the bed, her eyes closed, her breaths raspy. Their son and daughter sat on couches, updating my mom on the medical details. It would be soon, the hospice had told them.
"We've been married 49 years," he said. "And she put up with a lot with me, much more than I put up with her."
"You make a good team," I nodded.
"Yeah, well, these kids nowadays who get married?" he started in his gravely voice, "They have one fight and then they want to divorce. You gotta take the bitter with the sweet. Sure, you'll have your good times and your bad times, but if it's not abuse or nothin', I say it can be worked out. She put up with a lot with me."
John looked down at his wife, and I wondered what was going through his mind. 49 years. They met in high school and got married at 19. A man's man through and through, John loved to hunt and fish, often making the activities a top priority.
"I did my own thing and she put up with that," he said. "She took care of me."
In the past nine months, John took care of his wife in every sense of the word. He cleaned her. Took her to her appointments. Bathed her.
"I pulled down her pants while she held the counter and the railing so she could go to the bathroom," he said.
I thought of the vows I had spoken to my own husband, not even two weeks ago.
For better or worse. In sickness and in health.
I have a co-worker and friend also named John. In his mid-60s, John is gruff. He has salt and pepper hair and drinks black coffee in a mug. He can build anything, paint anything, fix anything. He swears and smokes and makes sassy jokes at your expense, but it's his own type of affection. He's one of my favorite people.
Earlier this year, his wife was diagnosed with Alzheimer's Disease. As the disease progresses in her brain, his wife's personality changes hourly. She smokes like a chimney, then forgets she even likes to smoke. She makes us blush with her comments and laugh along with her sporadic glee. She gets angry with her husband for staying away at work too long and she wakes up in the middle of the night to throw clothes out of the drawer.
To calm his wife, John takes her for drives.
"I've put 5,000 miles on my truck in the past few months because we drive so much," he told me.
Earlier in the summer when the sunshine was still shining and the grass was still green, John took his wife out for picnic lunches. They'd get sandwiches at Subway or Arby's and eat and sit and be together in the world. She liked the flowers outside, he said.
Now, John stays up in the middle of the night to make sure she's safe, missing hours of sleep to ensure her well-being. When his wife tells him to take her somewhere, John listens and follows her directions as he drives even if he knows his wife has no idea where she is.
Earlier this week, John brought his wife in to work to say hi to us. I noticed his wife's nails were a bright, aqua color.
"I love your nail polish," I nodded towards her fingers.
She grinned like a school girl. "You wanna know who does my nails?" She pointed to John, who cracked a smile. "He does."
John is a brute of a man. A man's man who makes witty jokes and smokes cigarettes and can fix anything. But he can't fix his wife's disease.
So he takes her on drives and paints her nails aquamarine and stays up to make sure she's safe.
He is a tough guy who is soft and caring in the way that men are for the women they love.
After leaving our neighbor's house to say our goodbyes today, I came back to the duplex I just moved into with my new husband. My phone rang as I sat down on the couch.
"She passed away," my mom's voice echoed in my ear, her voice shaky.
I looked at my wedding bouquet on the counter, still perched in the vase I put the flowers in the day after our wedding. The autumn roses had dried, their petals now fragile and thin.
Society teaches little girls that Prince Charming rides white horses and slays evil dragons before they can hurt you. It teaches teenage and 20-something girls that the right guy is the one with smooth pick-up lines and money for drinks and random texts once in a while.
But Prince Charming is neither of those things. Prince Charming is a fabrication of fairy tales and romantic comedies.
Love's seeds may scatter during the happy moments of newly wedded bliss. But love's roots are deepened during the difficult, the tragic, the uncertain.
Love is in aqua nail polish, in bathroom trips, in angry outbursts. Love blossoms in the messy and dirty and difficult.
As I sit and mourn the losses and love of those I know and those close to me with their own loves and losses, I think of my husband. I think of our vows. I think of what true love really means and what it really looks like. What it sounds like.
It's not in the galloping of white horse's hooves and the clinking of drinks and ringing of text messages asking to "come over tonight, baby."
It's showing up. Again and again and again. No matter what life throws at you.
Related