I've recently made a few big life decisions that have left me reflecting on the decision making process. One decision involved a change in career direction which I will focus on for the purpose of this post.
This decision (to focus on building my own business instead of returning to my great workplace post maternity leave) took a good few weeks of rumination and conversations with my network to make. When asked a few times how I made this big decision, I reflected on some internal and external factors which I've since visualised in my Decision Making Compass.
Internal Factors: Gut Feel, Mindset, Values, Strengths, Courage
External Factors: Family and Friends Conversations, Mentoring, Coaching, plus "The Law of Attraction"!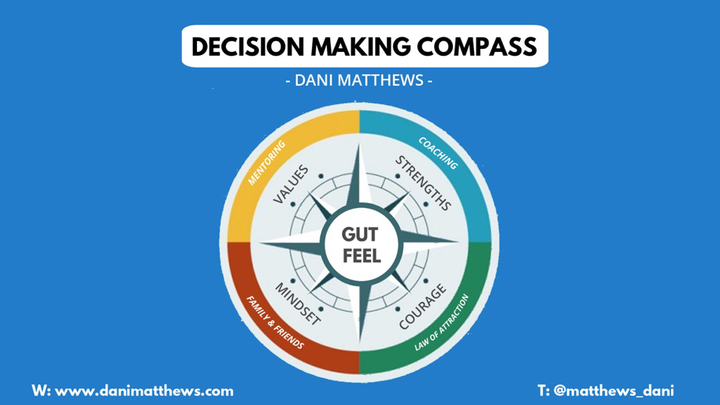 Focusing on each of the decision making factors, I considered:
Gut feel: I've placed gut feel in the centre of the Decision Making Compass as I believe it is the central, intuitive guiding force. With my big career decision, my initial gut feel when visualising each direction ended up being the direction I took. The other factors outlined then helped me to "sense check" this. Through mindfulness training and practice I feel I have further developed my intuition and gut feel effectiveness.
Mindset: When making the big decision, I chose my default mindset (positivity) to look for the positives in each option rather than focusing on the negatives. I find this helps me think about what I can gain, versus what I might lose. I've found it useful to consistently embrace this positive mindset, which also helps with the change process later on.
Values: From a career coaching collaboration with Jill Livesey from IECL, I had a one page map of my values, purpose, strengths, skills and expertise. I found this a useful guiding force when making my decision. A key value for me was family and building my LaunchPad Media business will give me more flexibility with my beautiful boys, especially thinking of school holidays in the near future.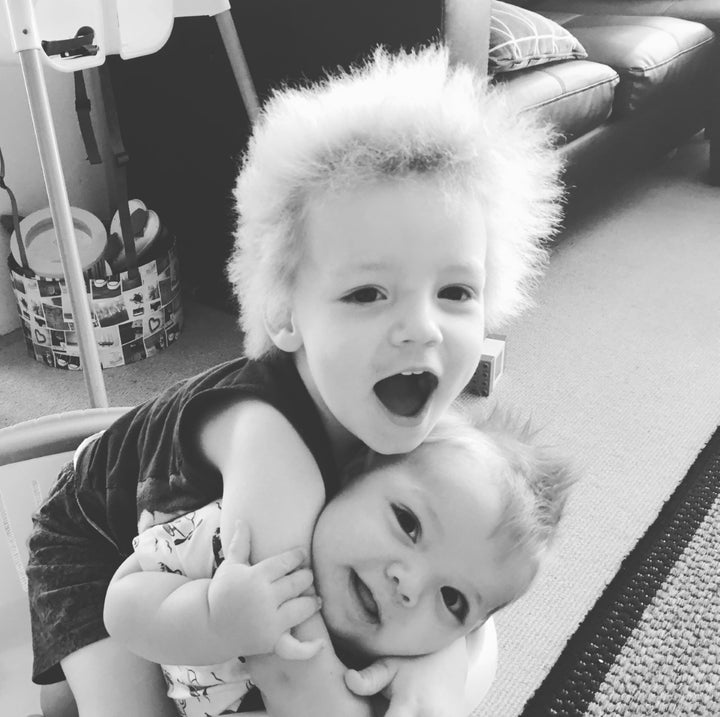 Strengths: I've written before about the power of discovering and utilising your strengths. I looked closely at my strengths in relation to my career decision and the Clifton Strengths of Maximiser, Strategic, Activator, Ideation and Command all seemed to support my start up business venture. I'll just have to watch they don't become over used strengths, which can then become pitfalls!
Courage: I came across the phrase "back yourself" multiple times whilst going through the career decision making process, from various sources including: my mentors, Gail Kelly's "Live, Lead and Learn" Book (which I wrote about here) and Turia Pitt's newsletters. I had to dig deep, draw on my courage reserves and back myself with my skill set and expertise to commit to the decision. Once I made this decision, the rest started to fall into place.
Coaching: During my wonderful 12 year relationship with IECL I learnt about the benefits of having a coach to stretch your thinking through the use of deep questioning and active listening. I engaged with a couple of coaches to help me think through my career crossroads, which helped provide me with profound insights.
Mentoring: In my experience, different to a coach, a mentor passes forward advice from their experience that may suit your context. I feel very grateful and fortunate to have a full bench of mentors that I could draw on when making my big decision. A term I heard once which resonated for me was "establishing your own Personal Board of Directors". Having wise sounding boards to consult was instrumental in my decision.
Family and Friends: I'm an advocate for systems thinking. If my family and friends network weren't aware of my decision, they wouldn't be set up to support my new behaviour. Having my husband's full support was one of the crucial factors in making my decision.
Law of Attraction: Put simply, the Law of Attraction is attracting things in our life that we focus on. Once I had thought about alternative options I started to attract new energy and opportunities. There were a few quite concrete signs from the universe that affirmed my decision!
I hope this Decision Making Compass may be useful to others at a career or other life transition crossroads.
For those interested in the decision making process, I enjoyed Matthew Trinetti's four part 'How to Decide' series and the Huffington Post has a whole topic area allocated to Decision Making.
I know there are a plethora of books on this topic too. It would be great to hear any of your suggestions.
To finish, I also think gratitude is an important practice to remember when we make a decision; we're extremely lucky that we have choices available to us. I feel very grateful to all those involved and supporting my recent decisions including my family: Owain, Ethan, Huw, Mum, Dad, Holly, Aunty Julie and Uncle Barry and friends/mentors: Alison, Barbs, Cai, Chris, Dean, Gaby, Grazia, Hil, JayRay, Jeff, Jenn, Jill, Kris, Mandy, Mel, Monica, Myza, Oscar, Paul, Ros, Tricky and Zoe.
Related
Popular in the Community