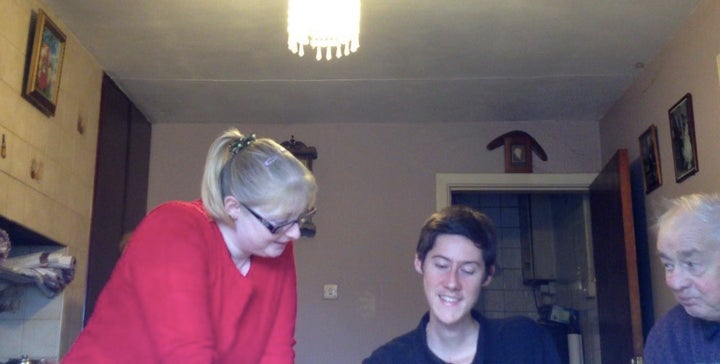 Since I was a kid, I've dreamed of going to Ireland.
My last name is Irish and I've long been curious about my roots, particularly my Irish heritage, as I never knew my paternal grandfather. He was nearly 100 percent Irish.
When my Dad found a great deal on LivingSocial for a trip for one to Ireland (through Great Value Vacations), and passed it along, I felt it was tailor-made for me. It allowed the flexibility of a rental car to drive the country and B&B vouchers to stay anywhere I chose.
To my surprise, the FamilyTreeDNA results came back in June 2012 -- just five months before my trip -- with stunning information.
I came back with a close match -- a living man in Ireland today with the surname Kennelly. (This is my surname -- the spelling changed after our branch arrived in Canada and the United States.)
DNA traces your male line only. So if you go back to my father's father's father, etc., and you do the same with this man, we go back to a single Kennelly who likely lived in the 1700s, according to the test.
What luck this was. Not only did I need a living relative in Ireland to get a result like this, but he too would have taken a DNA test. What are the chances?
I immediately shot an email to the email address listed for this Tom Kennelly (ironically, my immigrant ancestor, who came from Ireland to Canada in 1849, was also named Thomas Kennelly).
It ends up the email went to a cousin of his, Helen Smith in Australia. She helped me connect with Tom though. In August, I spoke with him by phone. On Thursday, Nov. 15, 2012, I visited him at his home in County Limerick(!) and met his lovely wife Nora, daughter Margaret, and grandson Jayden.
Margaret, Tom and I look at old family photos on my iPad. Later, Nora, Tom and I view their family photo albums.
We spoke about many things when we met. Of course, we talked about our families. We went through old pictures and were blown away by the resemblance between our families especially in some of the older photos. We talked about our family's medical histories, and we found similarities there too. We discussed cultural differences, what it's like growing up and living in the United States, what it's like in Ireland.
Some of the conversation was emotionally riveting.
"What do you remember about that day?" Margaret asked me about 9-11 while I was seated at the Kennelly's kitchen table.
We also talked about the economy that is in so much trouble, particularly in Ireland. The need to create new jobs. How the Irish people are struggling, and how the United States hasn't been immune to the global economic crisis either.
There are so many young people in Ireland without job opportunities ahead of them. What will come of them?
"Emigration," Margaret said. There are few other choices.
After Nora served me the most wonderful tea and homemade bread, Tom and Margaret walked me to the old Kennelly family home -- from the 1800s! It still stands near their current home.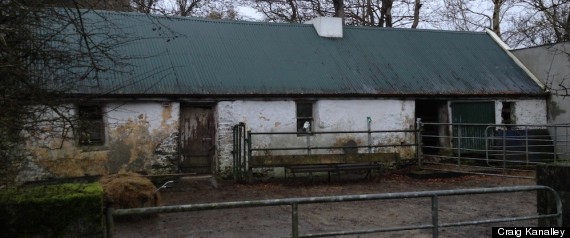 The old Kennelly family home, once belonging to Tom Kennelly's great-grandfather Michael Kennelly.
Tom explained that he still works to keep it up. It's part of history. A lot of old homes like it, from that time period, have since fallen apart across Ireland, in ruins. He doesn't want that to happen to this place.
"What did you learn from that DNA test?" I asked Tom, his wife Nora and daughter Margaret.
They learned the County Kerry Kennelly's are relatives of ours. Brendan Kennelly, a well-known Irish writer, is of that group, and he's related, they told me. I asked if there might also be relation with Tadgh Kennelly, a famous Gaelic/Australian football player; he's from County Kerry as well. Oh, yes, absolutely, they said.
That means I have roots that lie in County Kerry too.
"Kennelly -- Kerry," it was a familiar refrain I heard all week in Ireland, whether in Dublin or Galway. "You're good," I would tell the locals as I met them across the country. But since my own immigrant ancestor was actually from Co. Limerick, I wondered if I truly had roots there.
Thanks to my meeting with Tom, I confirmed I do. I am related to the Kerry Kennelly's. And there are so many of them.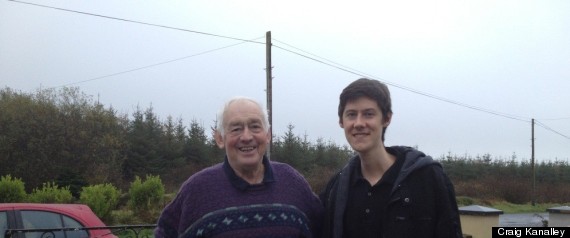 Tom and I -- cousins, proven by DNA -- get our picture together.
It was getting dark, but how often am I in Ireland? I took a risk by driving out of my way to County Kerry after this exciting discovery (I was already an hour from my bed & breakfast; this would be further out). I knew I'd come back at nighttime.
I'm glad I took that chance. Not only did I make it back safely, I added to my experiences in a really awesome way.
After punching up Kennelly in the GPS, something popped up for Moyvane, Co. Kerry. It just said "Kennelly." It could be a pub, perhaps a townland even, it could be anything.
It was a hardware store. I smiled as I pulled up. I waited patiently as a worker behind the counter helped other customers. When he was alone, I walked up and asked if he knew if the owner was around.
"I am the owner," he said.
"You're a Kennelly?" I asked. It was probably a bizarre question given the store's name, but he simply answered in the affirmative.
"I am too," I said. I then explained I was visiting Ireland from the United States, looking for my roots. How I met a cousin in Co. Limerick, and he told me I had links to Co. Kerry.
He seemed interested, and we chatted for a bit.
I then asked for a photo. He said sure.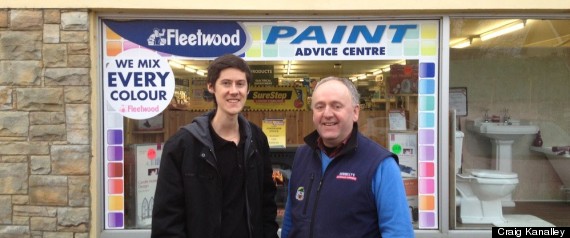 With Mike Kennelly at Kennelly's Hardware Store in Moyvane, Co. Kerry.
Before leaving, I explained to him how my cousin said we're related to Brendan Kennelly.
He's from Ballylongford, the hardware store owner told me. Just 10 minutes up the road. I asked about the "Kennelly's" pub I've heard about. That's in Ballylongford too, he said.
It was going to be dark soon, but I might never be just 10 minutes away again.
I thanked him, he gave me his business card, and I headed on to Ballylongford.
I pulled up in the small town and lit up with a smile when I saw a Kennelly's auto shop. But it wasn't the pub. Then I saw it across the street from the auto shop. "Kennelly's." The pub.
I then crossed over to the auto shop. No one around there either. Just before leaving, I thought I'd try circling the building. It was there that I saw a little office with a man inside.
I gave him a wave at the window and smiled, to show I mean no harm. He came outside to meet me.
"Do you know the Kennelly's around here?" I asked. He nodded with a slight hint of a smile but I couldn't be sure.
"Are you a Kennelly?" I asked. It was an awkward line of questioning but I wasn't sure how else to start the conversation.
"Yes, I am," he said. I then explained the same way I explained with Mike Kennelly, the owner of the hardware shop.
He opened up, introduced himself as Tim Kennelly, and we chatted for a bit. He was extremely knowledgeable about the Kennelly's so I was really fortunate to meet him.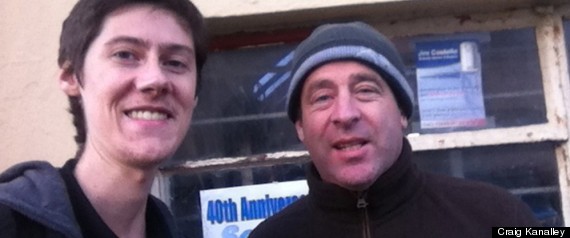 Here I am meeting with Tim Kennelly in Ballylongford, Co. Kerry.
He then told me about his uncle -- none other than Brendan Kennelly himself. And how his parents owned the pub across the street.
Brendan Kennelly is in Dublin now, he said, but from Ballylongford. He showed me a quote from Brendan hanging up at his business. Ballylongford was the inspiration behind the quote, he told me, and he showed me the exact spot Brendan was inspired by.
Besides his name being Tim, he said his grandfather was Tim too.
Of course, I have an uncle named Tim Kanalley.
It's a small world after all.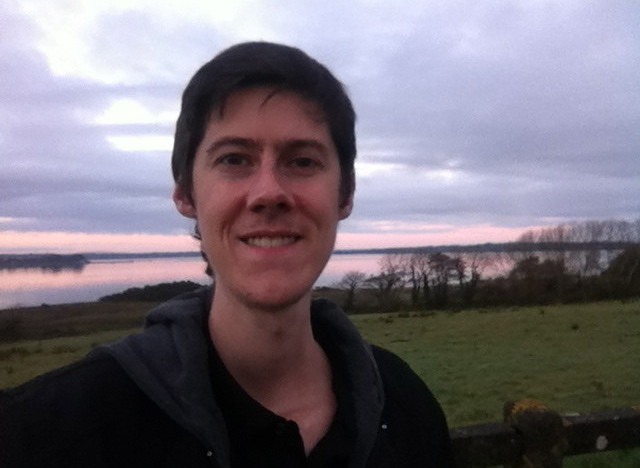 The day ended with a beautiful sunset at the County Kerry / County Limerick border, where my Kennelly family comes from.
Video from Ireland trip including meeting distant cousins mentioned above (starting 18:28):
Related