Nine seasons, 31 running gags, and a yellow umbrella later, "How I Met Your Mother" will end its series run on March 31. But, its costumes will live forever as staples at Halloween parties for pop-culture nerds.
Reiko Kurumada, the show's costume designer, created iconic looks for Robin Sparkles, Robin's teen pop star alter ego, and combed through costume shops to find the perfect scuba suit for Barney's playbook. "The process for any specific costume decision is we have a discussion with the show creators Craig Thomas and Carter Bays and get their vision of what they're thinking the look should be," Kurumada told HuffPost TV over the phone a few weeks before the series finale. "Then we come to a compromise on what the vision is." She and her team have DIY'd slutty pumpkins, hanging chads and adult-sized cumin shakers.
Kurumada walked us through some of the show's best costumes to show how "How I Met Your Mother" will leave its legacy, fashion-wise.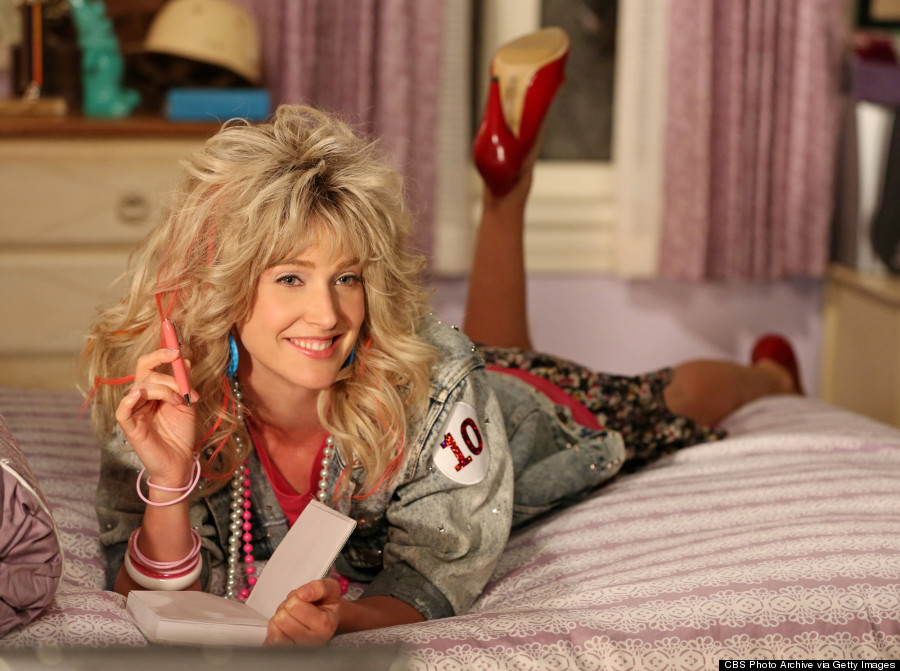 "When we read the script and we had meetings with Craig and Carter, everybody's go-to image was Tiffany. So, we did research on Tiffany's old videos and we literally pulled mostly everything from costume houses and bits and pieces from little shops on Melrose, but most everything was actually vintage from the '80s.
Then if you remember her second video, "Sandcastles in the Sand," Tiffany makes a guest appearance. She was so sweet and was so excited to be a part of something like this."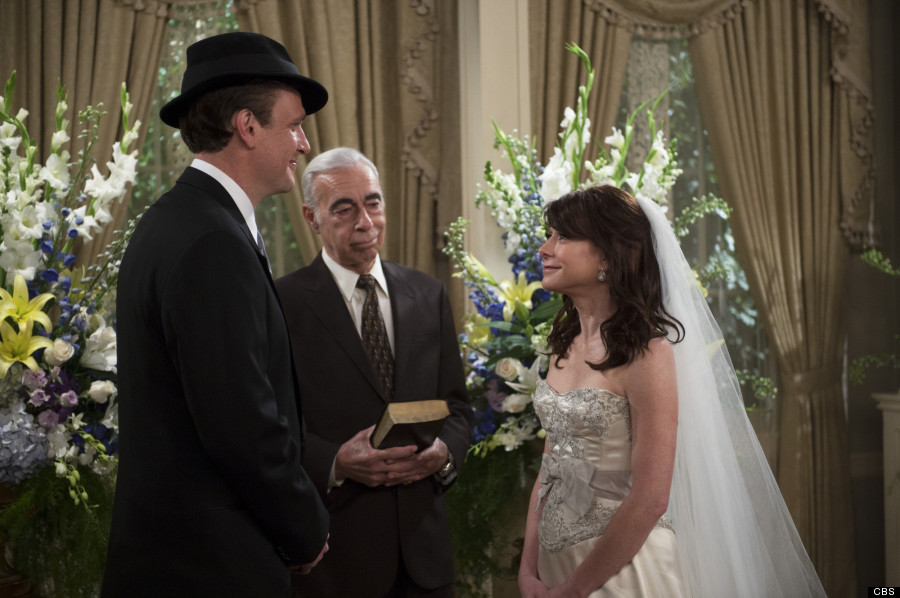 "That was almost a last minute decision. We just had to throw something together and we grabbed a couple fedora-style hats from the Fox wardrobe department and that one worked. We've had it for that whole time and it worked perfectly for him. That's just a vintage fedora."
Lily And Marshall's Moose Sweaters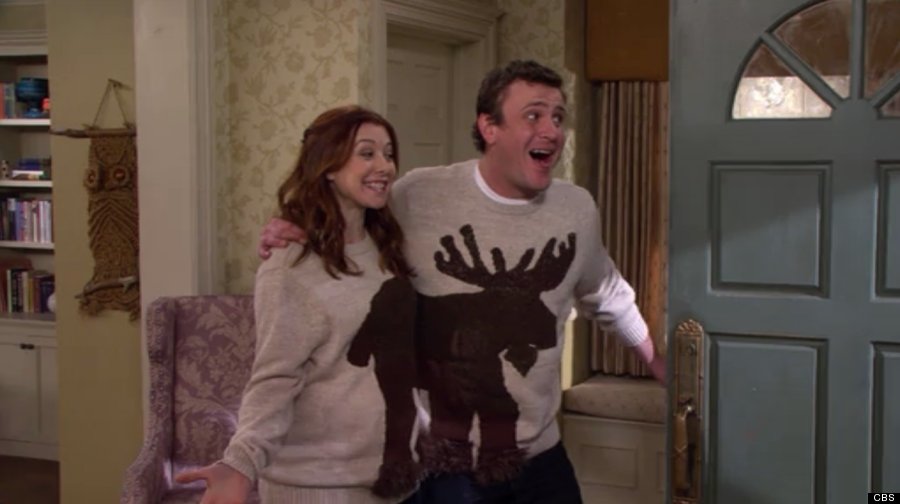 "It was such a quick pop. But in Season 7, Marshall's mom makes Lily and Marshall matching moose sweaters. When they stand next to each other it's one moose and Lily's the rear end and Marshall's the head. Lily was pregnant at the time and they wanted it to look very homemade. Putting together, hand making, knitting those two sweaters to match up perfectly with Lily's pregnant belly and Marshall being so much taller than her, having to match them standing next to each other was ridiculously difficult. Literally up until five minutes before we were shooting we were working on those sweaters. But they came together perfectly. It looked so good."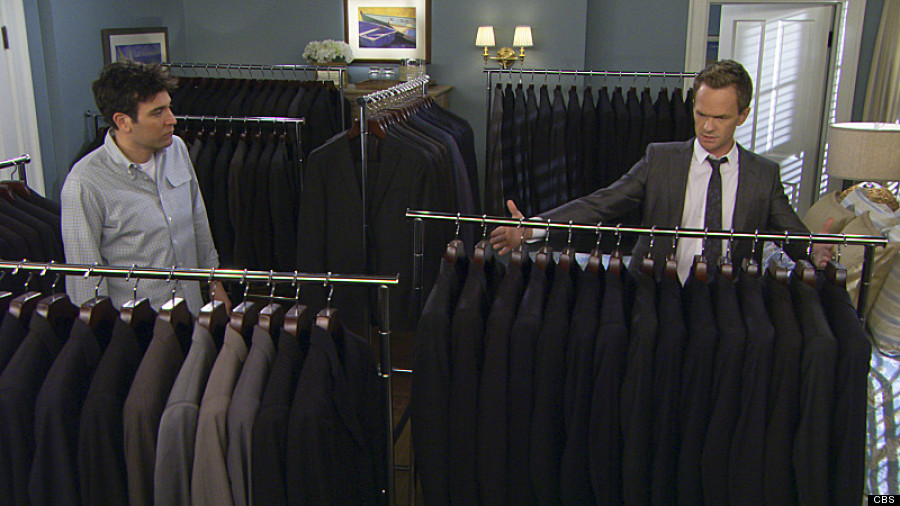 "He is a timeless, classic guy. He keeps with current cuts. So we just picked the best fitting Dolce and Gabbana black suit we could find. Pretty much all of the suits that Neil had were Dolce & Gabbana. It's a great cut fit and looks fantastic on him. We did some Prada, Paul Smith, YSL, Marc Jacobs, all the top name brand suits you can find, throughout the show. But Dolce & Gabbana does fit him very well. That's what we ended up with his wedding suit."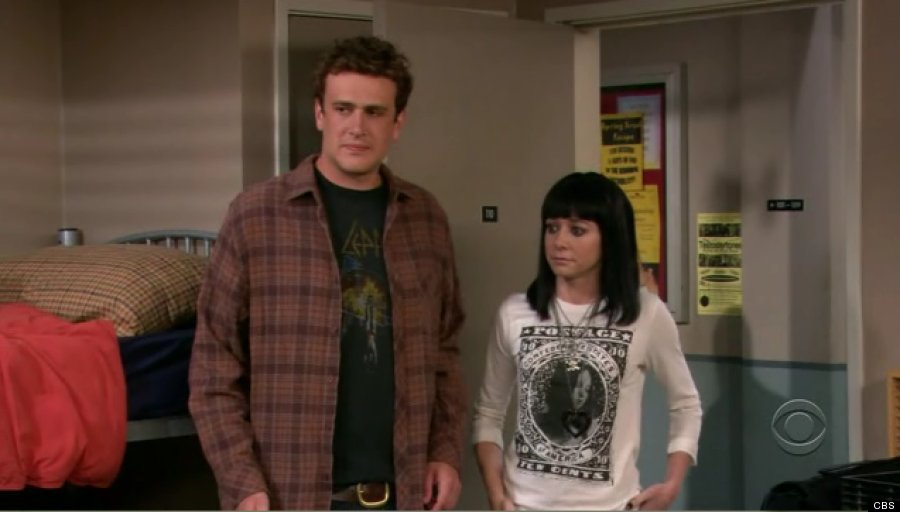 "Pretty much, we've kept Goth Lily the same as we did first season. The most visible look we did was the first one, which was the denim shorts and the denim skirts with the beat-up Doc Martens and the black leggings and the flannel. We wanted to stick with grunge, Courtney Love-era. We toyed with the look of the babydoll dress with the ripped up fishnets and the flannel layered over."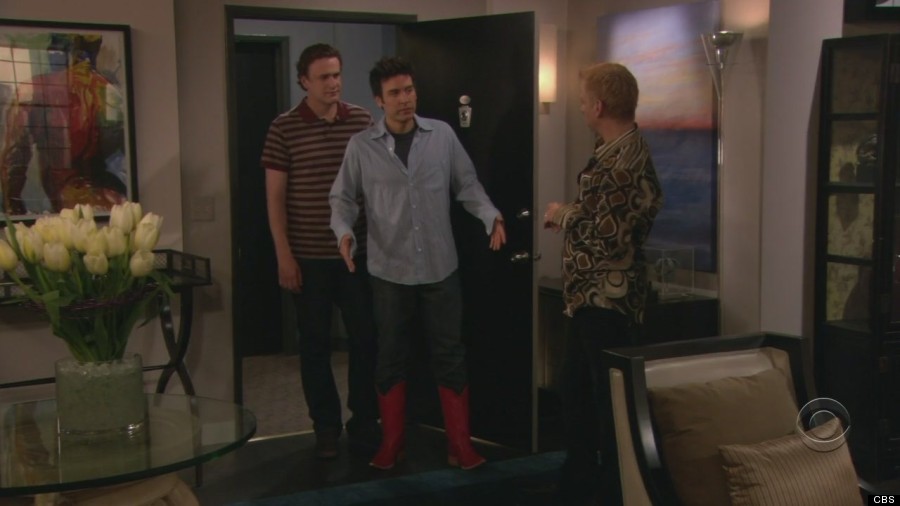 "We actually found those red cowboy boots from a cowboy store in Topanga Canyons. It's known for its country earthy feel. It's a great little area of Los Angeles and we found the original red cowboy boots there. Then throughout the years we've had to purchase a couple more because we've needed them for stunts or what not. We ended up with three pairs of red cowboy boots. However a few seasons ago we did lose a pair when we burnt them in an episode. So, we ended with two."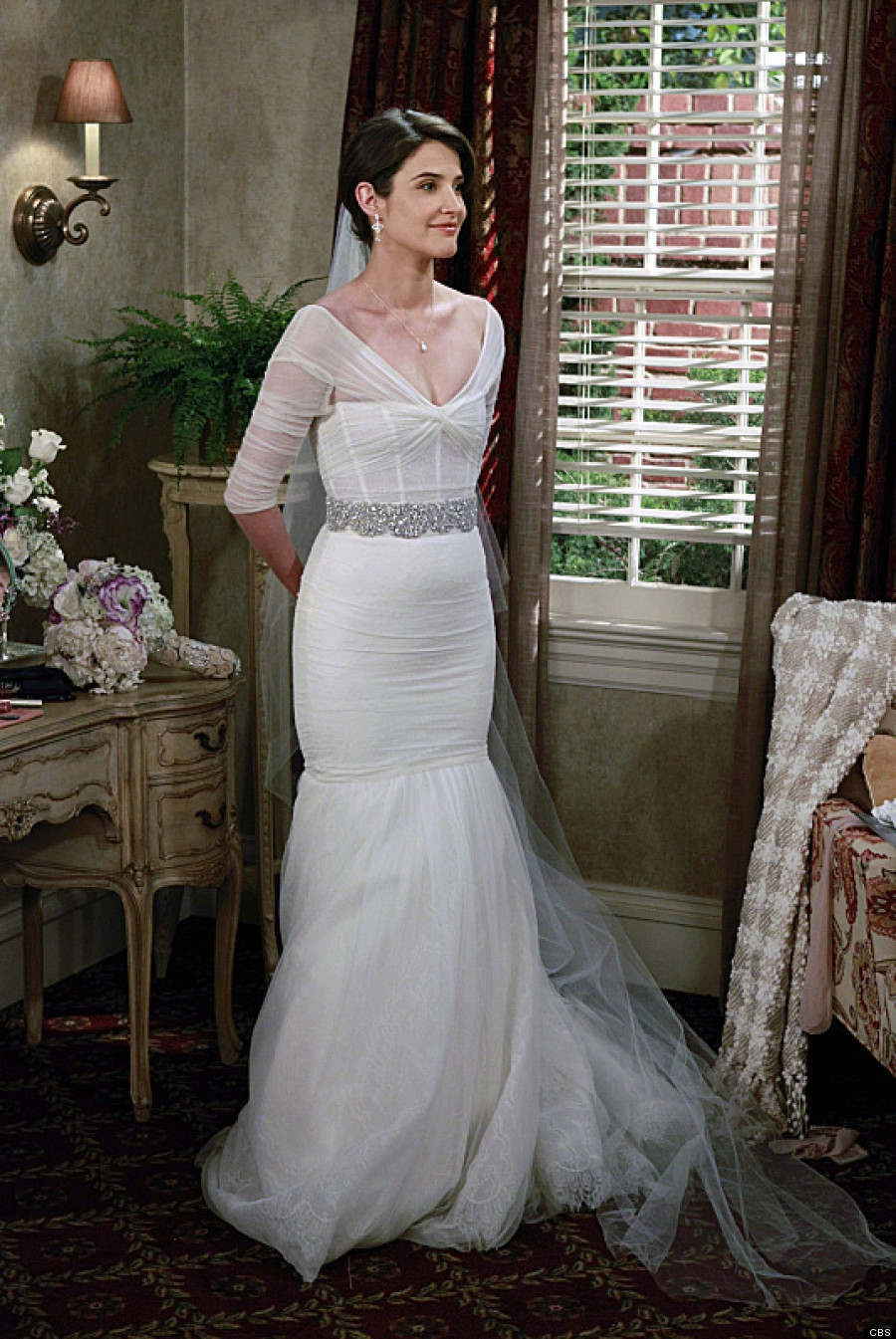 "The reason we ended up with the dress that we did was because our director Pam Fryman wanted to reveal that it was Robin in a close-up and so many wedding dresses are strapless. In the close-up I didn't want it to look like Robin was nude. I really wanted a wedding dress that had beautiful detail on the shoulder, arm area.
Monique Lhuillier was kind enough to send a bunch of beautiful gowns for us to look through. When Cobie tried this one on, we knew it was a winner."
Barney's St. Patrick's Day Suit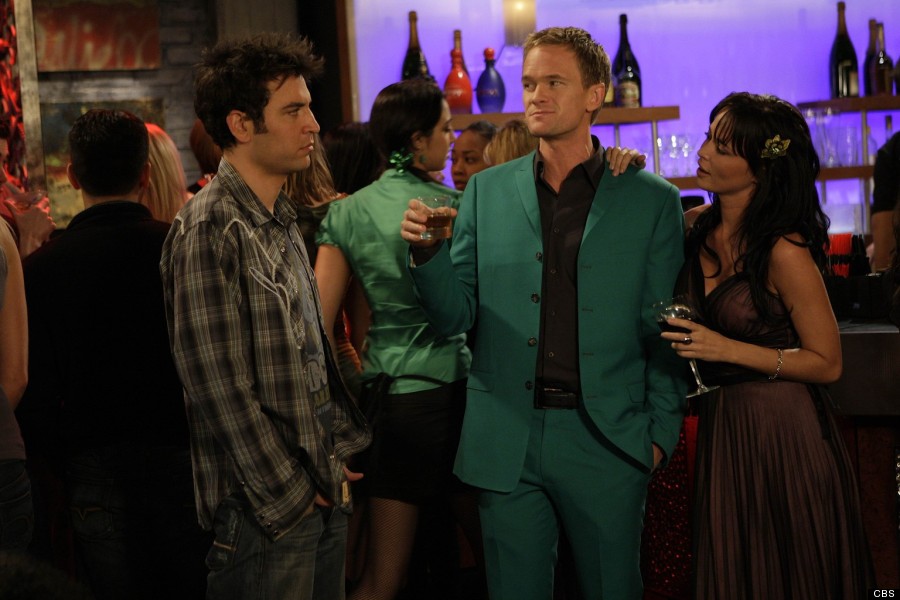 "We actually went to Mood and found fabric and brought the green fabric down to our tailor shop. We brought Neil's favorite Dolce & Gabbana suit and our wonderful tailor just matched the Dolce & Gabbana suit with the green fabric."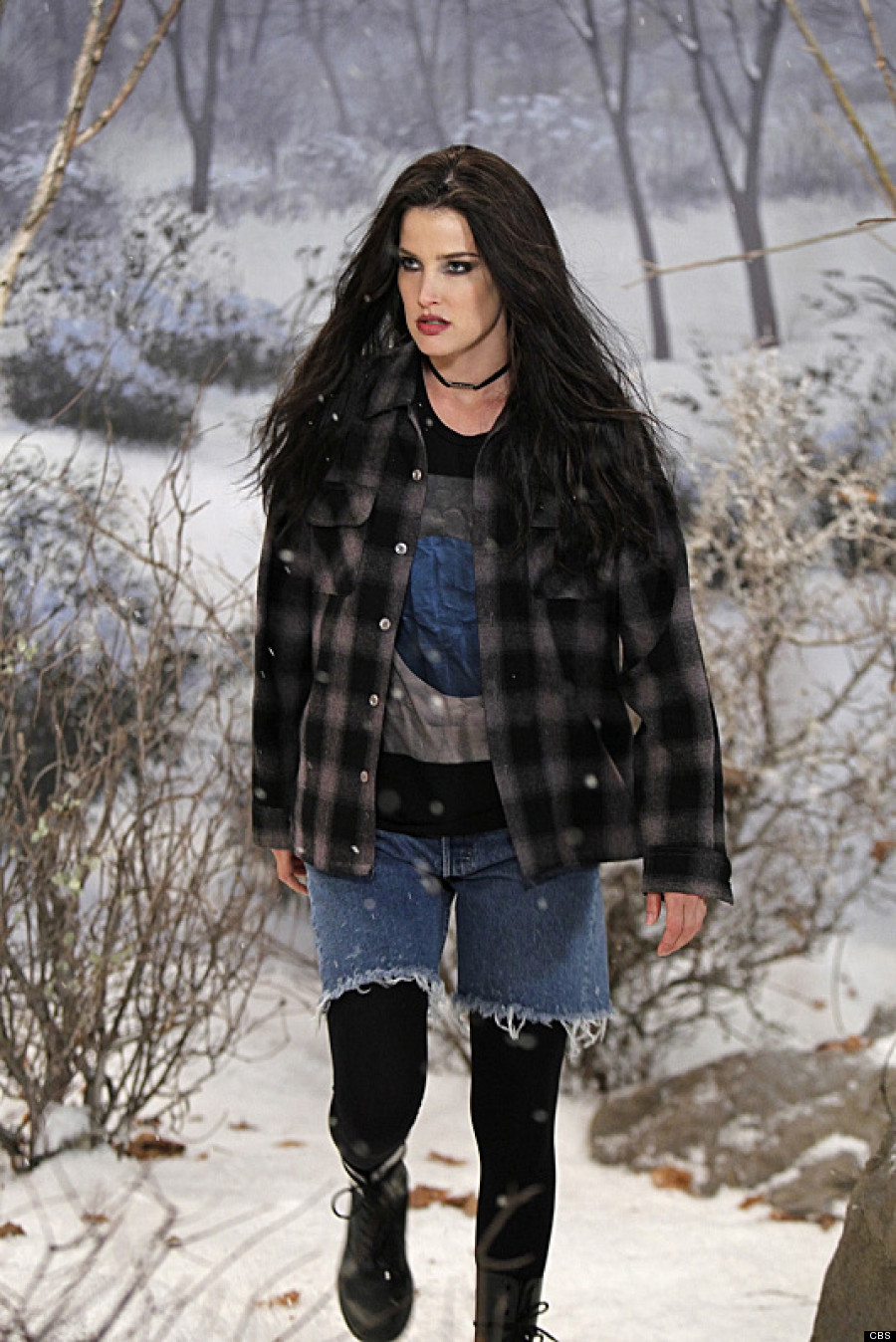 "We did a lot of research prior to putting that together, but our focus was kind of Courtney Love-ish era. We did a lot of slip dresses with fishnets and motorcycle boots and Doc Martens with flannel and chokers. It was very grunge. It was a little mix of grunge with a tiny bit of femininity in it."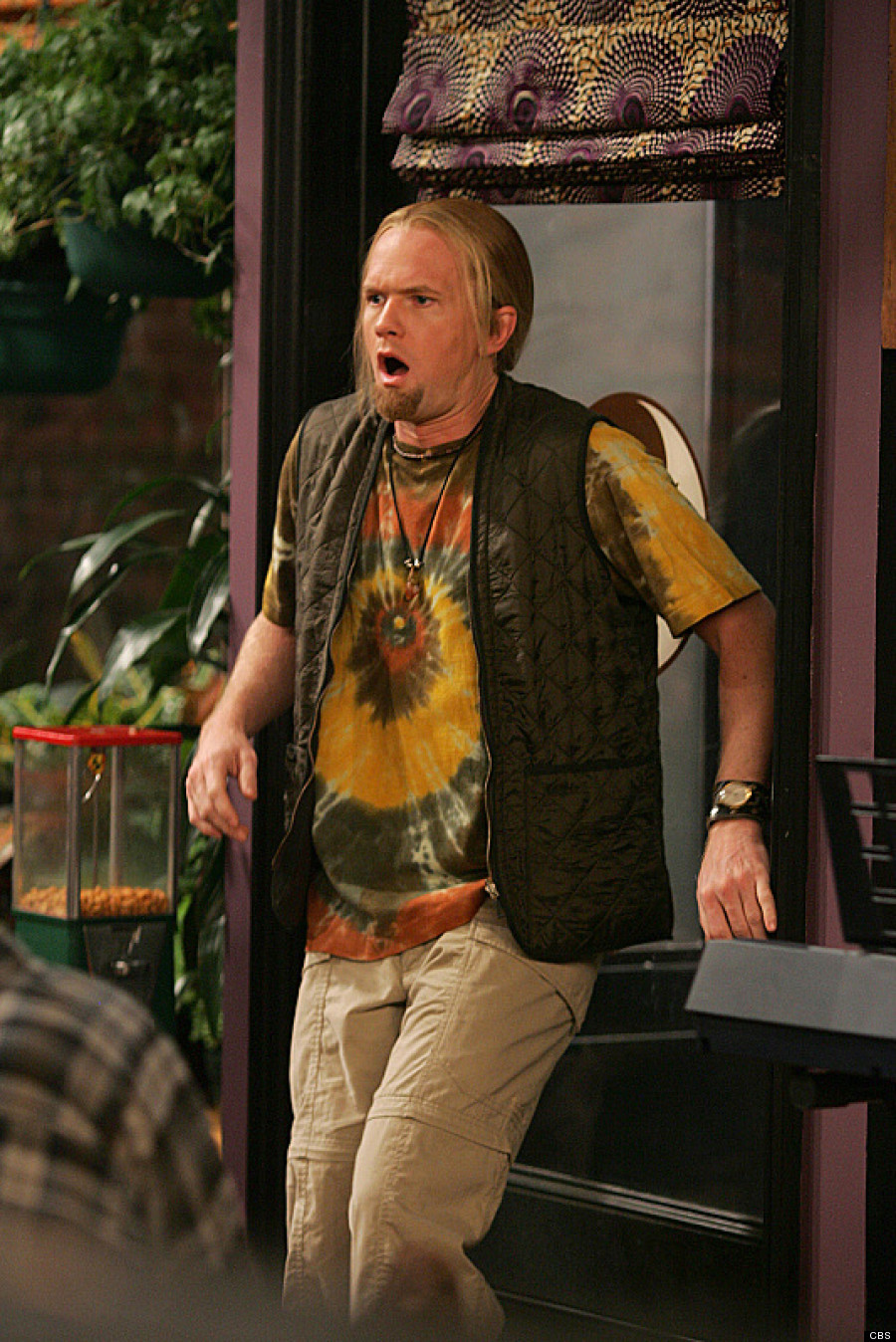 "All those pieces were pulled from vintage stores and Neil really wanted it to look authentic to that time. He didn't want brand new tie dyed shirts. He wanted tie dyed shirts that looked like he'd had them for ages. Everything was even more rugged for that look."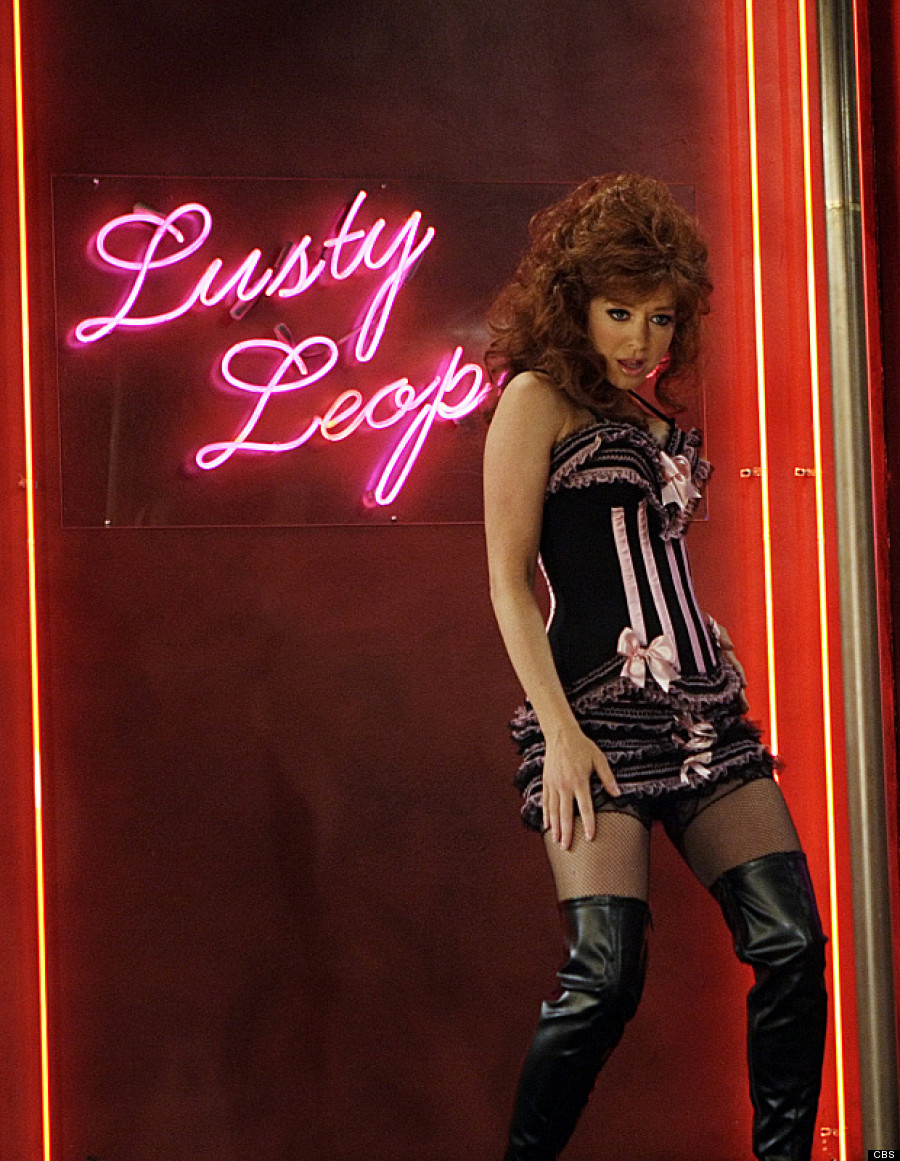 "When we first revealed Stripper Lily, Alyson, bless her heart, had just given birth to her first child maybe four or five months before we shot that. We talked to Alyson about what she'd feel comfortable wearing. We knew Stripper Lily was this Russian, fantastically buxom redhead stripper, so we went to Trashy Lingerie and pulled a bunch of corseted bright color outfits and landed on the one that we revealed Stripper Lily in.
One time we saw her walking on a New York street because we did a metallic pink Juicy Couture puffy jacket with fur and over-the-knee black high boots that we found on Hollywood Boulevard. That was fun."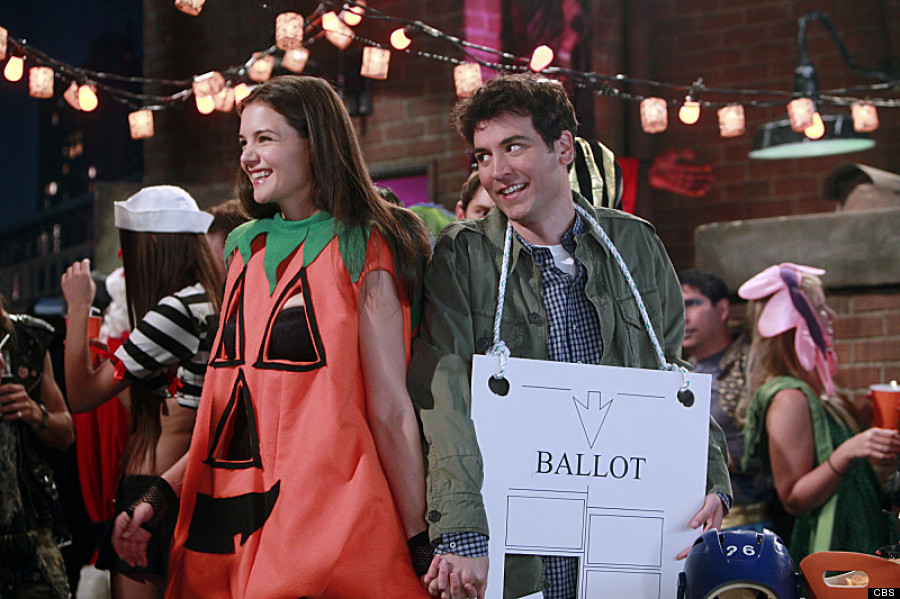 "Initially when we saw Slutty Pumpkin the first season, we didn't obviously reveal who it was. Then when we revealed that it was Katie Holmes, we had to replicate the first Slutty Pumpkin outfit because we didn't really see much of it the first time we saw it.
What we wanted to do for Katie was obviously make her as comfortable as possible and make it the perfect mix of showing, but not showing too much. We did the black fishnets. We wanted to make sure the pumpkin had the round pumpkin feel so we stuffed it from the inside out. We did cute little black undergarments underneath. My whole department of ladies actually made that together, ourselves."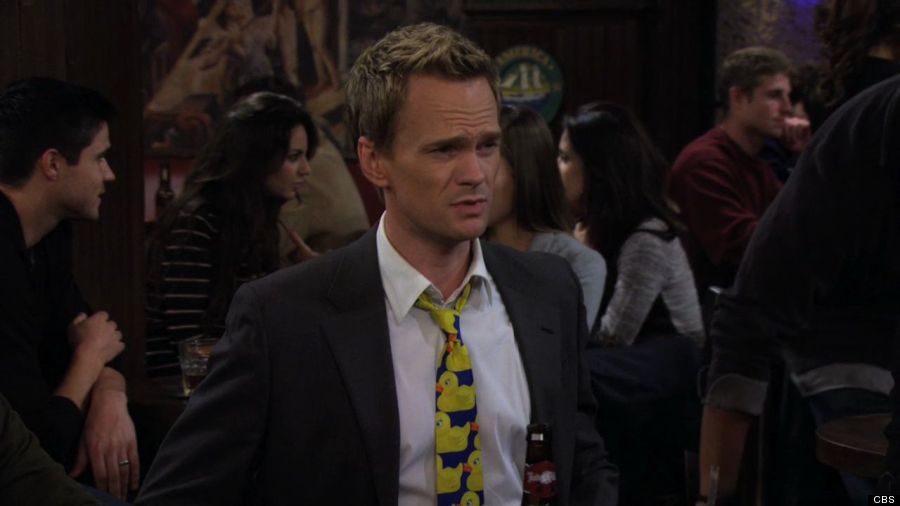 "Oh, that ducky tie. I just did research online and found about six ducky ties, different color combinations, different styles and showed them to Carter and Craig, and we all narrowed down to the one that was the winner. We had about 12 made because Neil really only wears skinny ties. By a couple episodes in of him wearing the ducky tie, he was very, very excited not to have to wear it again. He wanted to get back to his fancy Dolce, Prada, Lanvin ties versus his ducky ties."
"How I Met Your Mother" series finale airs Monday, March 31 at 8 p.m. EDT on CBS.
Before You Go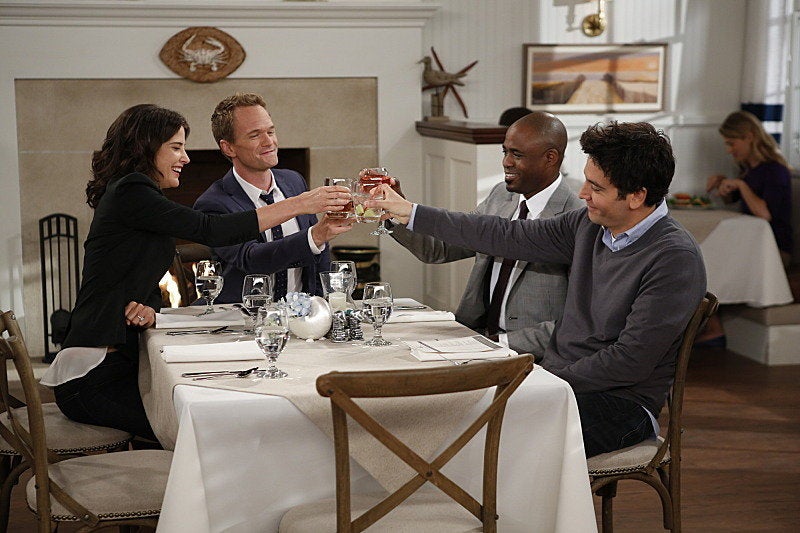 How I Met Your Mother
Popular in the Community