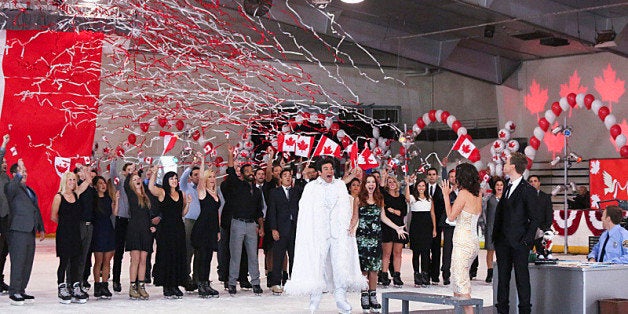 Spoiler Alert: Do not read on if you have not yet seen Season 9, Episode 12 of CBS' "How I Met Your Mother," titled "Rehearsal Dinner."
"How I Met Your Mother" pulled some of its favorite tropes out of the closet for last night's episode, which did not end in a laser tag rehearsal dinner.
There was a joke-off at MacLaren's. We heard for the umpteenth time about how Lily can't keep a secret. Everyone hated on Canada. And Alan Thicke was there.
Season 9's staple jokes even hung around for a bit: Ring bear vs. ring bearer, that autographed Wayne Gretzky photo and, of course, Marshall's absence.
In a flashback, we learned that Robin originally wanted their wedding to be in Canada (cue joke-off). It was no surprise that everyone shot the idea down. But, the surprises were just beginning.
As payback for his surprise bachelor party, Barney fake broke up with Robin and kicked her out of his apartment just before the wedding. When she went to pack a suitcase ... PUPPIES! The couple then agreed, "No more surprises." That stuck until the rehearsal dinner.
Barney seemed convinced Robin had planned a surprise laser tag party in lieu of an actual, tasteful rehearsal dinner. She had not. He snuck out in the middle of the party she planned and headed to the "laser tag" arena in Farhampton. Robin had to pick him up from "laser tag jail" and they fought like mad in front of a "laser tag security guard."
Every few episodes, I get a sinking feeling that Barney and Robin are about to break up. It seems that they have the "love/ honesty/ trust" conversation constantly. They always end in Barney's jokes, while Robin is left being the concerned partner. "Rehearsal Dinner" saw that conversation twice: Once in the fake laser tag jail and once with said PUPPIES! Are we being set up for their split?
Not yet, anyway. Barney's elaborate surprise to turn an ice skating rink into a laser tag arena (but not really, it's still an ice skating rink), so they could have a Canada-themed rehearsal dinner was kooky and sweet. It was one of those sugary "HIMYM" moments that verges on cheesy but somehow manages to stay on the "aw" side of things. Though, it's bothersome Marshall missed such a moment.
Stray Thoughts
PUPPIES!
Who doesn't want bacon-wrapped figs all the time?
Ted should never take off that Liberace costume. Give the Mother a matching one.
If entire rest of the season is a wash, at least we'll always have Wayne Brady dressed as one-half Robin Sparkles, one-half Canadian mountie.
What did you think of "Rehearsal Dinner"? Do you think Marshall and Lily will end up in Italy? Leave your thoughts in the comments.
"How I Met Your Mother" airs on Mondays, 8 pm EST on CBS.
REAL LIFE. REAL NEWS. REAL VOICES.
Help us tell more of the stories that matter from voices that too often remain unheard.
BEFORE YOU GO
PHOTO GALLERY
How I Met Your Mother