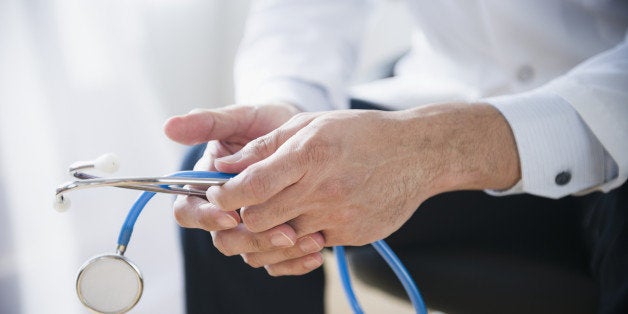 There are many factors involved and I don't precisely know why healthcare is so costly in the United States, but I do know that running up medical bills is frighteningly easy to do. I'm a healthy 50-year-old who hasn't spent a night in a hospital since my mother brought me home from one a few days after I was born, but I racked up a staggering $72,947 in medical bills in 2015 -- more than my gross income for the entire year.
Removing a rock from my right kidney was the largest entry on the debit ledger. It wasn't eligible for shockwave annihilation from the outside (see uric-acid vs. calcium-based kidney stones), so my urologist had to take the circuitous urethra-bladder-ureter-kidney route -- three times (complications) -- before the little intruder was gone. Urology-related costs in 2015: $31,742.
Next highest price tag was bidding adieu to another rock -- this one in my gallbladder. Its existence was unknown and no one was reconnoitering for it when a renal ultrasound spied the three-quarter-inch diameter nugget resting against a bile duct. It, and the gallbladder that made it, had to go. Total cost: $21,509.
Blame my parents' cardiovascular DNA for the next encounter with the healthcare industry. Mom and Dad had early-onset heart disease (for my father, deadly at 60). As a precaution, my cardiologist conducted a treadmill stress test with nuclear imaging. All is well, he told me. Cardiology tab for the year: $7,893.
After mounting pressure from friends and family who were tired of repeating themselves I pulled the trigger on the unthinkable -- a hearing aid. Right ear. Cost: $2,704. As a responsible person at the mid-century of life, I did what Katie Couric insists we all do at 50 and got a colonoscopy. Clean as a whistle, the doctor said. That good news cost $2,596. Three suspicious moles and one quickly-growing cyst were removed. No threat, wrote the lab tech. Dermatology outlays: $2,229.
In addition to all of that, I visited an orthopedic specialist and had five PT sessions so I could bend my left elbow and raise my left shoulder again (blame this $1,857 bill on an old bicycle accident); faithfully took all prescribed medications (cholesterol, blood pressure, etc.) every morning of 2015 ($1,502); had one PCP visit and my annual blood work and PCP physical ($883); and ignored the anti-vaxxers and got a flu shot ($32).
Now for some good news. I have access to great medical care. I have a generous employer who offers a strong health insurance package. And all 2015 interaction with the men and women of medicine was in-network.
Backed by the power of in-network negotiating, my insurance company bargained off nearly sixty percent of the charges (from $72,947 to $30,491). Of the outstanding "actual cost," I had to pay deductibles, co-pays, and co-insurance to the tune of $5,000 (my policy's out-of-pocket maximum), which left $25,491 for the insurance company to cough up. And they did. Through gritted teeth I'm sure, but they kept their end of the bargain and I'm grateful.
As an insured person, I rest in the knowledge that should illness come, I won't be relegated to a Dickensian poorhouse trying to get well. I want that same assurance for everyone. Happily, after many decades of vitriolic contention, we the people, through our representatives in Congress, approved the largest healthcare reform in American history in 2010, bigger than Medicare and Medicaid and since full implementation of the Affordable Care Act (aka Obamacare) -- except in the Republican states where Medicaid has not been expanded -- the uninsured rate among our fellow citizens has fallen from 18 percent of adults to 11.4 percent.
Under the ACA, pre-existing conditions are no longer disqualifying; the sick can't have their policies terminated; the under-26 can remain on a parent's policy; and millions qualify for tax credit subsidies, driving down monthly premiums. Passage of the ACA put us on a path that leads to full coverage for everyone and we must stay the course until every citizen holds an insurance card in his or her hand at every doctor's visit.
On New Year's Day 2016, my health policy's counter rewound and another $2,500 policy deductible and $5,000 out-of-pocket policy maximum came crashing down, but I believe I got everything that was out of whack in my 50-year-old body tuned up in 2015. This year, I'm boycotting doctors' offices -- doing what I can to keep our NHE down, to save my employer and my insurer some money, and to keep more cash in my own pocket. Cross your fingers and throw some salt over your left shoulder -- because staying healthy in America is expensive.