I have worked as a fashion and celebrity stylist for over a decade, which is a fancy way to say that I find clothes for people to wear. It involves so much more than that, though -- tons of traveling, attending shows and presentations for weeks on end, poring over spreadsheets, hauling enormous trunks, missing flights, losing sleep, forgetting meals, and washing other people's clothing (and sometimes underwear). Between the stories of triumph and tragedy, I shop -- and that's what most people ask me about.
But the truth is, for quite a while, I hadn't perfected my own shopping habits. My closet had always contained a measured mix of designer and fast-fashion pieces; I would regularly feel guilty after my expensive designer purchases, and would compensate by purchasing high street brands to get a shopping fix without feeling the stress on my wallet at the register. I was sure this high-low strategy was the way to guarantee maximum style within a budget, but it was actually just draining my funds.
This all began to change three years ago, when I was introduced to the designer of Amour Vert, Linda Balti, whose brand produces sustainable basics. Balti is a stylish French woman with an enviable je ne sais quoi, and she's been committed to shopping mindfully since starting her brand, buying only from companies with ethical practices. I was impressed by her commitment to ethical shopping -- but not so much to adopt it for my own. I loved this concept the way I love the idea of a 5 a.m. workout: I wanted to be there, I just didn't want to have to get there.
I thought that to shop ethically meant that I would have to compromise my personal style in the process. As someone who wasn't able to afford a closet full of Stella McCartney vegan separates, how could I make this work?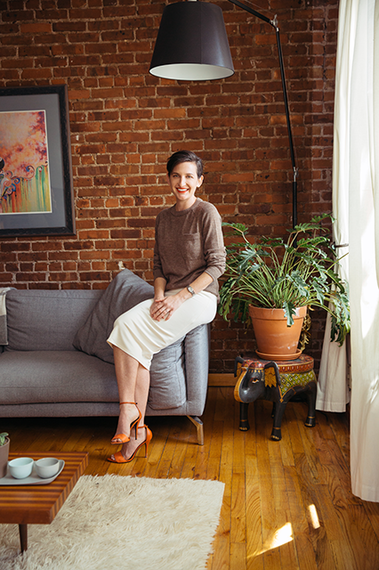 I decided to challenge myself to shop ethically for one year. What began as a self-imposed styling test has now become a new way of life: It's been passion-igniting, and has seeped into other areas of my life. I've also saved at least a few thousand dollars, and my wardrobe has never looked better.
I approached my ethical styling challenge like I would a new client. Before making any purchases, I had to assess the current state of my wardrobe. I picked through my closet, asking myself: Was I happy with my wardrobe as a whole? Was it cohesive? Did it represent my aesthetic and lifestyle? Would my clothing stand the test of time? Ruefully, I admitted the answer to many of these questions was "no." My wardrobe did not represent a chic, sophisticated stylist from New York with a strong social conscience. Instead, I saw a woman with no sense of color or her own identity who also maybe owns a time machine.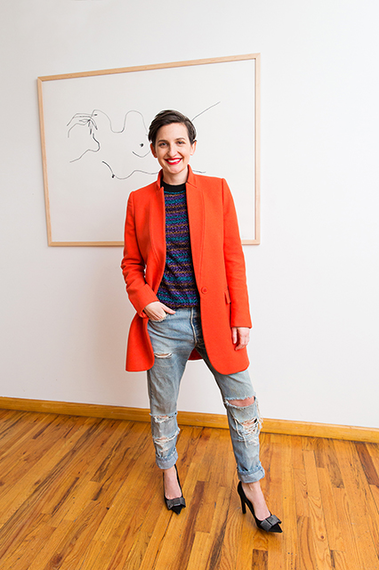 With brutal honesty I divided my clothing into three categories:
1. The home-run pile: the most trusted items I've worn a ton and still love.
2. The treat yo'self pile: special-occasion pieces I'll need later on.
3. The nope pile: anything I have never worn or wish I hadn't.
By examining my stuff using these categories, I could identify the styles that were the most successful for me and those that were not -- like my glittery Alexander Wang pants from four years ago that look amazing on the hanger but terrible on my butt. As well as the most popular styles, I wanted to know which pieces gave me the most value for my money. I determined the price-per-wear of each item by dividing its cost by how many times I've worn it: The more frequently something is worn, the cheaper its price-per-wear would be.
The first thing I recognized was that my most trusted pieces were overwhelmingly the simplest and highest in quality. They were well designed with exceptional fit, which meant they were worn quite often. Last summer, for example, I bought a pair of navy Céline culottes. They cost $1,200 and I felt extremely guilty when I bought them; in fact, I considered returning them several times. But, I couldn't bear to give them up. Using the price-per-wear model, I counted the 20 times that I had already worn them, giving them a price-per-wear result of $60. Not to mention the huge number of compliments I receive every time I wore them. As the weather warms, and they get added back into my rotation (though I even managed to style them for a few winter looks), this number will continue to lower. But my love for the pants only grows.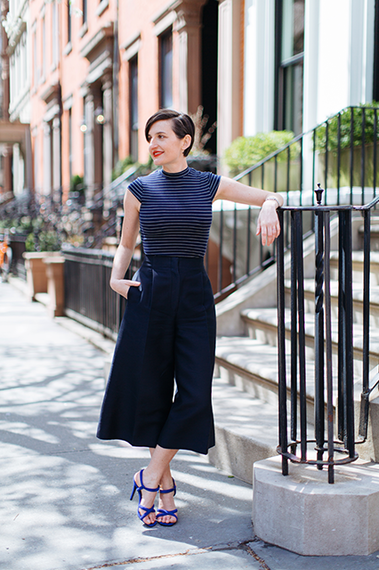 Comparatively, sitting in my trash pile, waiting to be donated to charity, were five skirts and two pairs of pants (both from Zara), with a total value of $890. Most of these items were bought in either a moment of panic, when I was seeking a fashion fix, or out of boredom. Of this $890, I've worn two of the pieces once, and regretted it both times. I couldn't even put a price tag on the cheap items in my nope pile that completely changed shape after the first wash and became un-wearable. The most shocking part of this exercise was I had spent almost as much money on my collection of cheap clothing as I had on my favorites. For the price of my inexpensive fashion fixes, I could have had an entire second selection of gorgeous, high-quality pieces.
What I learned was that I was so seduced by the allure of a cheap runway knock-off and so addicted to the idea that I needed a constant supply of new clothing, that I was throwing money away. While my favorites pile was smaller than I wanted my wardrobe to be, it contained many fantastic styling options. Had I always shopped slowly and mindfully, I could have doubled this selection by now and had an enviable collection of stylish designer clothing with endless outfit choices.
This is not to say that the only way to shop is to buy new designer clothing -- that's far from the truth. I have a pair of vintage Yves Saint Laurent boots that I picked up for $90 and a Gap denim dress I bought on eBay for $20. Both have been worn to death season after season. In fact, I've noticed that ever since I've started buying clothes that I can wear for a majority of the year, I'm buying more things off-season and have been able to take advantage of deep designer sales.
Shopping ethically taught me that when I spent big and shopped smarter, I saved more. When I first changed my habits, I was so worried about buying anything that might be deemed unethical that I bought only vintage. But it was too dramatic a style change for me and incredibly time consuming. Reformation has proved to be the ideal segue: Its clothes are reasonably priced, cute, and easy to wear. I bought a summer dress there that I've worn a ton, and a few separates to pair with things I already owned. Summer proved to be the perfect time to cut down on pointless spending and save for the big ticket items of winter: A few well-chosen dresses in great colors and separates can carry you through most of the warm weather months.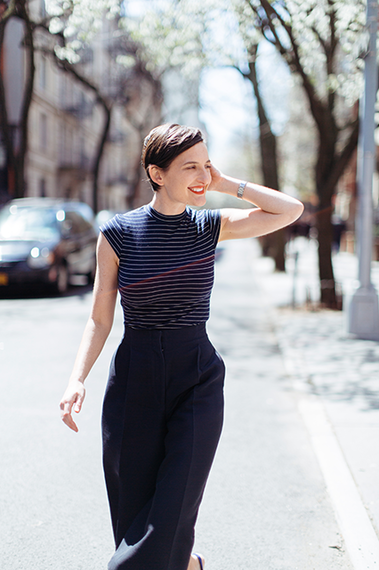 Once fall arrived, I had more confidence in my ability to select timeless pieces and took the time to find the perfect sweater (Zady), replace my Zara bottoms (Everlane), find beautiful accessories (Cuyana), and cheaply update my jeans by tailoring three pairs I already owned. I saved enough by opting out of frequent fast-fashion shopping trips over the warmer months to buy a beautiful Stella McCartney coat and sweater, which I wear as often as possible. I feel no guilt splurging on a special pair of shoes once or twice a season to keep my look fresh, especially from Edun or Maiyet. I love the selection in my closet, and have saved somewhere in the vicinity of $5,000 on clothing compared to my pre-ethical spending in the same time frame. This year, I expect the amount I spend to drop even more.
Even though it was only a year and a half ago that I began to adopt a different way of approaching shopping, I also learned to take into consideration the things that I truly value and want to do well. I value beautiful clothing, looking after our environment, and investing in products from companies that are transparent about their business and production. Naturally, I pivoted to sustainable fashion. I still dress celebrities and indulge in styling beautiful editorials, but I now invest a good portion my time, money, and talents into fashion brands with moral missions that prioritize quality. It's a challenge at times to encourage others to see the sexy side of shopping sustainably, but shopping slowly and without excess is a perfect start. And this commitment to design and to caring for the environment is infectious. My post-shopping guilt is gone and, more importantly, so is my desperate need for a constant barrage of new things. I'm much more satisfied with enjoying the items I have.
As a stylist, I often hear to question: "What should I buy this season?" To which my response is usually: "Whatever suited you best last season." I've watched fashion trends come and go, and the most stylish women are always above them. Investing time into finding pieces that fit well and are the most flattering pays off for years to come. Spending big on the best quality pieces that your budget will allow is even better. When you are in the habit of buying pieces that push the limit of what you are comfortable spending, you usually spend much more time deliberating over whether you truly need it. It's amazing when you take the time to assess the value of something in your life how often you'll decide you actually don't. And really, that just means more money in the bank for the item you find that you truly fall in love with.
By: Laura Jones; Photographed by Leslie Kirchoff; Hair & Makeup by Ingeborg using Ilia Cosmetics and Leonor Greyl Haircare.
Before You Go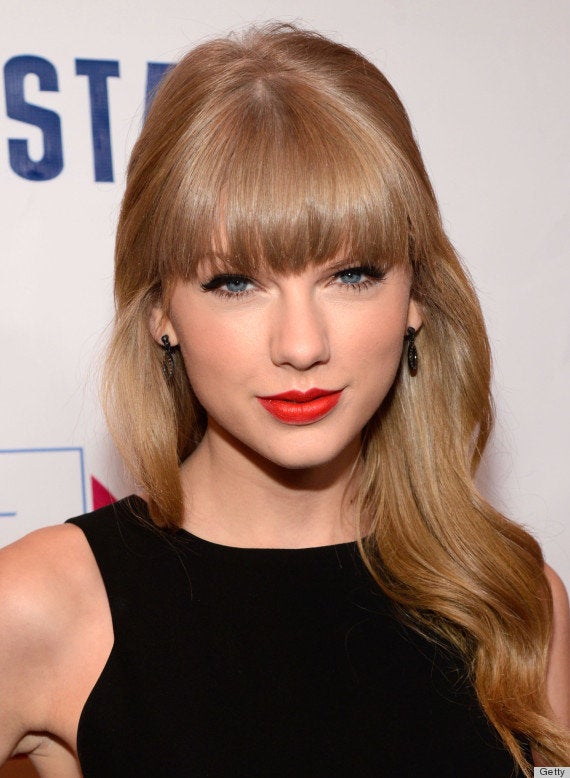 Red Lipstick Icons