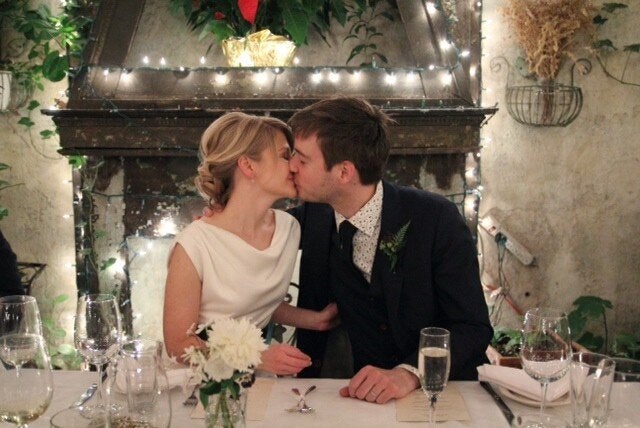 The back of my closet looks like the wardrobe of "27 Dresses." When I got engaged, I thought about all of the other weddings that I've been in over the years. I remembered how most of the brides looked on their Big Days, and leading up to that special day: stressed out.
My initial solution to avoiding the inevitable wedding day stresses was to avoid planning a wedding at all. What an unrealistic solution when friends and family get thrown into the mix! I embarked on planning a small wedding. I waited four months before our set wedding day to start planning everything: dress, venue, and flowers included. At least I had the groom. With the time crunch compacting issues, here's a few ways that I stayed stress-free on my Big Day.
1. Don't stress about your weight, or your workout routine.
I've seen many brides drop the fitness routines and favorite classes that keep them calm and try to go for boot camp workouts with trainers. At least, that's what I did at first. With three months to go before the Big Day, I spent the first month doing really intense personal training sessions and TRX classes. Great workouts -- but, if you love yoga, keep it in your regular workout routine. As opposed to a class like boot camp, which helped me to focus on the external world, yoga helped me to find inner focus, and keep calm.
2. Don't stress about your dress, or how your body looks in your dress!
During a fitting with my dressmaker, Ellie Lowe, who is also a very good friend of mine and wedding dress designer in London, I had it. The "Bridezilla" moment. I didn't want to wear the dress that I said "yes" to, and above all, I didn't want to wear white.
Ellie consoled me, confiding that brides often stress out about their dresses more than anything else. It's the one thing that they can control when everything else is going wrong -- their mom might be taking over the flower arrangements and their sister might have ordered the wrong favors, but their dress and how they look in it, that's the one thing that they can completely control!
So, if you're starting to stress about your dress and how you look in it, I suggest taking a deep breath, a step back, and doing something really simple. Give yourself a different perspective. Take a few photos of yourself in the dress and look at them later in the day. Show them to a few friends. A second opinion goes a long way. Chances are that once you've distanced yourself from the mirror everything is fine. Ellie showed me a few quick snaps that she took the next day -- that blushing, yes, skinny bride-to-be was me! Ellie really was a miracle worker.
Brief aside ladies, when do you ever wear all white? Especially, if you're going to have photos taken? So why on a day when it feels like the world is looking at you, do you have to wear ALL white, why not a more universally flattering, darker color? I think we have Queen Elizabeth to thank for that. Loving the dress for me meant first loving the color ivory, and lots of it, on me!
3. Don't stress on the Big Day!
I found that it was extremely helpful to do something that I personally enjoyed on the morning of my wedding. It seems a bit old fashioned, but my groom and I didn't want to see each other before we met at the end of the aisle. In the morning I went for a long run over the Williamsburg Bridge and came home to get ready for the ceremony feeling renewed, confident, and relaxed. I also had an early version of the Huffington Post's new GPS for the Soul app on my iPhone and had a chance to find my center with that. (The app's now available for everyone to download, so all brides who are interested can check it out too!) I created a personal guide that included pictures of my groom and me together. I thought about all of our happy times together and all of my pre-wedding jitters melted away.
Alex, my new husband whom I love very much, also did something that relaxes him -- he went out for brunch (and had a Bloody Mary or two) with his best friend Ben. To each his own, they say!
Leading up to the wedding, I was frequently advised to stop and take everything in when it came to the Big Day. I'm so happy that we both kept our calm and really had a chance to enjoy the entire ceremony and reception with family and friends.
The day was perfect. We both were able to enjoy every second, relatively stress-free!
My wedding day was the best day of my life.