It was a hot July day, 12 ½ years ago, right before the Fourth of July. I was eager to spend the weekend with my little boy and husband.
But at that moment, I was in a doctor's office, laying in a dark room with a giant screen on the wall as the doctor maneuvered an ultrasound machine to scan my abdomen. On the screen, the doctor and I both saw what was evident at the same time. She looked at me and shook her head and said, "I'm so sorry, but there is no heartbeat."
I took a deep breath and said, "Yes, I can see that."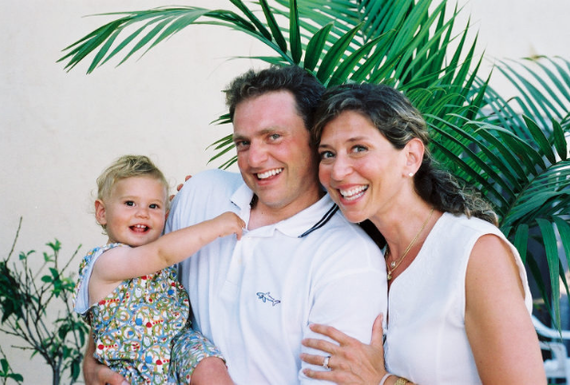 It was the second time in 12 months that we had tried to have another child, and once again, there was going to be no baby. I'll never forget leaving that office, and stumbling out into the blinding sunshine, not really sure what to do with my grief and confusion. It was one of the saddest moments of my life, not because of the loss of the pregnancy, because clearly it wasn't viable, and I've always been practical that way. It was because I felt so lost and confused. I didn't know what to do with all of the love and excitement that had been alive just a few moments before.
It was at that moment as I sat in my hot car, unable to even start the ignition, that I turned to God and asked, "what should I do?"
The answer didn't come right then. It took weeks for it to come fully into focus. But the response I received to that question has shaped the last decade of my life, and the lives of so many people who have joined me, in an effort to become activists for the most vulnerable children in the world.
The answer that I got was, "Have 10,000 children. The world needs you to use your fierce love to be a voice for the innocent and unprotected."

Heeding this call certainly wasn't easy, but I got to work. With the efforts of a small but mighty army, we began our work in Uganda, East Africa to address the needs of some of the most vulnerable children and families in the world. This year, Just Like My Child Foundation celebrated its 10th anniversary and the most painful day of my life has given birth to the most satisfying and gratifying life path that I never dared to dream of.

Since 2006, the stories of good news from the ground in Uganda have been extraordinary. For the past 10 years, Just Like My Child Foundation has developed deep partnerships with rural communities in Africa to deliver programs which address health care, education, micro-enterprise, social justice, and girls' empowerment -- a holistic approach to ending the cycle of poverty.
With support from thousands of donors -- including the individuals honored as Children's Champions at our 10th Anniversary Gala for their extraordinary investments over the past 10 years -- we have been able to empower tens of thousands of women, children and families to lift themselves out of poverty. Today they face a future with hope, health, education, justice, and a means of dignity through income generation.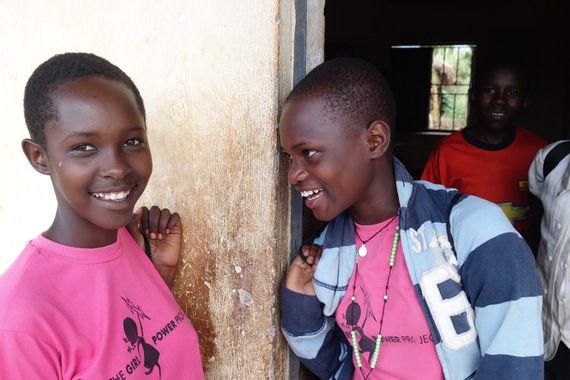 Our flagship program (the one we are focusing on in 2017 and beyond) is the Girl Power Project®: it was created to empower adolescent girls and designed to reduce the barriers that prevent them from completing secondary school. The Girl Power Project addresses the complex needs of vulnerable adolescent girls' aged 10-15 by establishing a network of support in their community that supports them to live healthy lives. Girls are equipped to avoid forced child marriage, HIV transmission, early pregnancy, rape and disease.
The pain that I felt 12 ½ years ago was a pathway to my greatest transformation: learning the value of one human life.
It has helped me, and so many others, to live a bigger story. Nothing is more rewarding than giving a child the wings and the voice to live her greatest potential.
We have a shortlist of 10 brilliant girls who will be forced to drop out of school in January because their families can't afford their school fees. "If you save just one life, you've saved the world" the Talmud says. You can make a PROFOUND difference before the end of the year.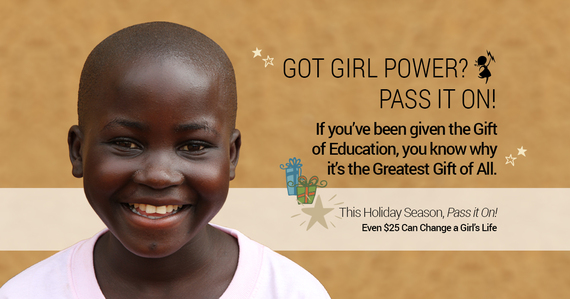 We're raising funds to sponsor the school fees of the girl in this photo next year, along with 9 other extraordinary girls participating in our Girl Power Project. Just $25 will help her stay in school, safe from forced child marriage, and on the path to living her fullest potential. Contribute to our Fundraiser on Facebook and pass it on!

Many blessings to you during this season of togetherness, and for all you do to make a difference.