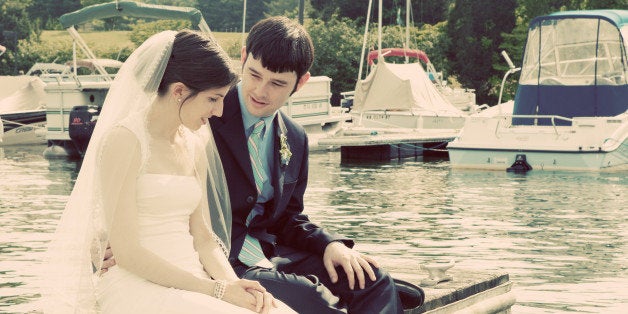 When my husband and I got engaged back in 2010, I felt simultaneously thrilled ... and like I needed to brace myself for an oncoming wave whose only purpose was to sweep over me and pull all of my money out to sea.
The engagement wasn't a surprise -- being mature, rational adults, my then-fiancé and I had discussed marriage, finances, child-rearing and any number of important topics we thought we should cover before agreeing to be legally bound for life -- and I had already been poking around the internet, looking at wedding-themed websites and blogs.
I'd therefore had plenty of time to feel my heart drop into my stomach as I looked at people's budgets. From lovely outdoor weddings where tent rentals ran up to $20,000, to charming hotel affairs that cost $175 per person, I knew that a conventional (and expensive!) wedding wasn't for us. We're in our mid-twenties and have savings, but we certainly didn't want to spend them on a one-day event.
While I would have been happy to run off to City Hall and cover dinner for a few close family members, my husband had other ideas. He has a big family that expected a wedding ... so we gave them one, on our budget.
The Surprising Thing We Booked Sight-Unseen ...
After examining our finances, and considering our spending priorities, we thought about what kind of wedding we could agree on--and came up with relaxed and simple. That is, lacking tiny, expensive details that would stress me, and by extension, him, out.
The venue needed to be somewhere we could hold both the ceremony and the reception. Once we realized that a full meal was out of our budget (given that we would likely host about 100 guests!) we decided on a dessert reception. We also considered flowers and photography, as well as necessities like an officiant and invitations, and decided on a budget of $4,000.
A lot of crafty wedding blogs feature weddings where everyone involved seems to have some kind of incredible talent--
"My graphic designer brother designed all of our invitations!"
"My best friend is a professional florist and put together all of the flowers!"
I know my limitations. I am not even a little bit crafty. I can repair buttons and socks, poorly, and that's about it, and I felt uncomfortable outsourcing details to my friends and acquaintances.
But we found our perfect (and fantastically inexpensive) venue in Southern Virgina, where my husband is from. My mother-in-law had suggested looking at local parks for venues, and one option had a beautiful lakeside gazebo for a ceremony, and an indoor facility with a wraparound porch that would be a great location for the reception. We booked it sight-unseen (minus a largely ineffective Google search for "Claytor Lake State Park") for $1,000.
Flowers, Food and More
After receiving another excellent recommendation, we met with a local florist who very kindly took the few magazine photos I'd torn out and put together 12 beautiful mason-jar centerpieces with hydrangea and delphinium, and a bouquet and boutonnière for $400. She also very politely listened to me say "No" to just about everything -- "No, we wouldn't be having a bridal party"; "No, we don't need flowers for the gazebo"; etc.
I found our photographer during a late-night Craigslist search. Her photos looked lovely, and she was just starting her business in the area, so when I asked her if she could photograph our wedding day for $600, she agreed. After seeing constant reminders that wedding photography can start at $2,000, I was incredibly happy to have found someone willing to work with our budget (and the photographs turned out beautifully).
Especially since our reception was dessert-only, our most important expense was the cake and pie we'd be serving, as well as the drinks (an open bar was a non-negotiable). We found a local baker who makes wedding cakes as a hobby; she created a delicious three-tier confection for $200. We picked up a dozen pies the night before the wedding, and we bought beer and wine from a wholesale liquor store, bringing our total food and drink cost to $650.
A wonderful friend made pennant flag bunting for the reception venue as her wedding gift to us, and it was the perfect (and only) decorative detail, in addition to the flowers. My mother bought my wedding dress, which came in at $750, because she knew I would buy something cheap rather than something I loved, and wanted me to be happy with what I was wearing.
My mother-in-law anticipated we'd need extra hands on our wedding day, and found a few local students who served drinks and cake (and kept it all replenished) for $100 each. We rented the cheapest chairs available for $316 (even though they were a less-than-attractive brown) because I reasoned that people wouldn't be paying much attention to what they were sitting on. They didn't.
When we started planning, I kept things simple because I didn't want to add stressful detail after stressful detail to my plate. In the end, the simplicity made our wedding lovely, and kept us under budget.
The End Result
I did my own hair, a friend did my makeup and I felt perfect.
Once we threw in the incidentals -- the official's fee of $150, the invitations I found at an online press for $275, the $40 guestbook, the $30 marriage license, and the quirky $70 cake-toppers that sit on our mantle now -- we came in a few hundred dollars under budget.
Most importantly, the things we'd said "no" to didn't matter. Guests commented on how much they'd enjoyed the wedding, and no one seemed to notice that we didn't have a DJ (we used an iPod and speaker system), or that a professional hadn't done my hair, or that my husband wore a navy blue suit he'd owned for years.
We even ended up in the DC/Maryland/Virginia edition of The Knot, and our photographer threw in a CD of our photographs to thank us (for which some photographers charge extra).
The wedding industry constantly attempts to up-sell brides and grooms on so many items, and it was reassuring to realize that none of those (expensive) superfluities mattered.
At the end of the day, we have photographs we love, memories of delicious cake and happy friends, and the relief that we could throw a party without drowning ourselves in debt or liquidating our savings.
LearnVest Planning Services is a registered investment adviser and subsidiary of LearnVest, Inc. that provides financial plans for its clients. LearnVest Planning Services and any third-parties listed, discussed, identified or otherwise appearing herein are separate and unaffiliated and are not responsible for each other's products, services or policies.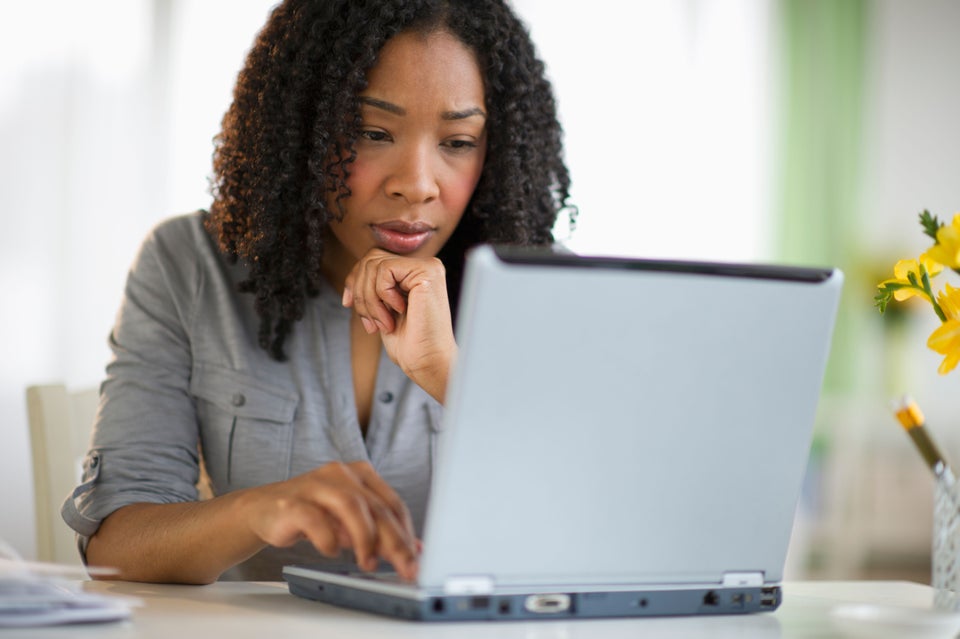 12 Things Every Woman Should Know About Money