Welcome to How I TRI'D. This is an ongoing series about a very typical in and out of shape 40-year-old woman repurposing, reevaluating and recharging her life while training for The New York City Triathlon, with Team In Training to raise money for Leukemia and Lymphoma. This series is not just about me training for this journey (how boring that would be for the next seven months?!). Some weeks I will interview fitness professionals and some weeks athletes. Other weeks I will discuss nutrition and how to prevent injuries. I will share enlightenment, and sometimes just bitch! All around I will make this a real-life experience while sharing information.
When I first decided to take on competitive racing, I trained alone. When I showed up to do my race, I got such a rush from all the people around me aspiring toward the same goal: to finish. I spoke to happy people afterwards who all gave me great tips on running. This camaraderie reminded me of when I was growing up and playing basketball in high school. It was great to be a part of a team. I have not done a team sport since high school, so when I found out about Team In Training it became another chance. Not only was it triathlon training, it was with a team.
I started looking at some of the other team lifestyle fitness trends, and the one that really caught my attention was Tough Mudder. This event was becoming more than a trend, it was becoming a lifestyle for people. I have to admit it was a combination of crazy-sexy-cool! It also looked fun, because all challenges are based on a team effort. The challenge is a 10-12 mile team-oriented obstacle course that tests physical strength, mental grit and character (this year they have introduced Tough Mudder half which is a 5 mile obstacle course). I wanted a closer look so I attended a Tough Mudder event in my area this past November. I had a chance to meet the CEO and Founder Will Dean, and I asked him why Tough Mudder was a team-oriented event and not a solo fitness challenge.
"From the beginning, Tough Mudder events have always been about pushing yourself to your physical and mental limits and working as a team to overcome challenges. Our participants put teamwork and camaraderie before all else, and we believe the event gives people an experience and a unique set of values they can take to their personal life. Most of our obstacles are actually metaphors for life."
Humm ... That sounds a bit advantageous. How is running through mud with your teammates life changing, let alone metaphors? I continued to watch the event, and by the end I asked Will to elaborate on a few of the obstacles and how they are metaphors for life.
Funky Monkey 2.0: Metaphor for Childlike Wonder - Remember how much fun monkey bars were as kids? While this obstacle is much more challenging, it takes you back to a simpler time and reminds us that we should never lose that playful spirit we had as kids. This obstacle features a set of monkey bars, angled upward above a deep, muddy pool. At the peak of the monkey bars, participants are met with a trapeze that will send them to an iron pipe, where they must descend hand-over-hand without losing their grip and dropping into the pool below.
Everest 2.0: Metaphor for Adversity - This is a slick quarter pipe that's over 15 feet tall. Mudders have to run up the pipe quickly to have a shot at getting over the top. So often we're met with adversity or challenges in life that we strive to accomplish on our own. Everest is the perfect example of how much more you can accomplish with the support of friends or a team on your side.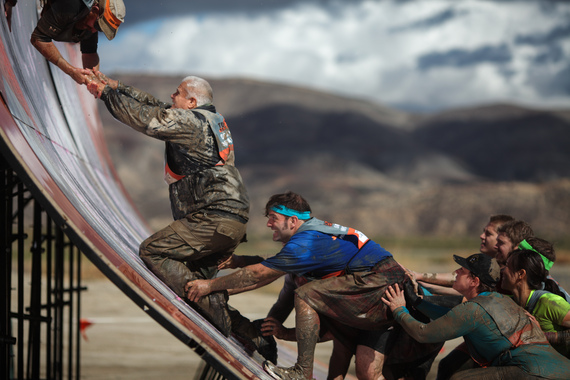 Cage Crawl: Metaphor for Facing Your Fears - This obstacle cages participants under steel fencing with only inches of air between them and a pool of water. Using the fencing, they'll float and pull their way through the 60-foot caged trench. In life, sometimes you feel trapped, and the toughest challenges in life require mental grit and overcoming those fears. Drown out those negative thoughts and develop a strategy that leads to success. And, of course, don't forget to breathe.
Not sure if I'm ready for this challenge this year, but it is on my bucket list for 2017. It was a great event and fun to watch!