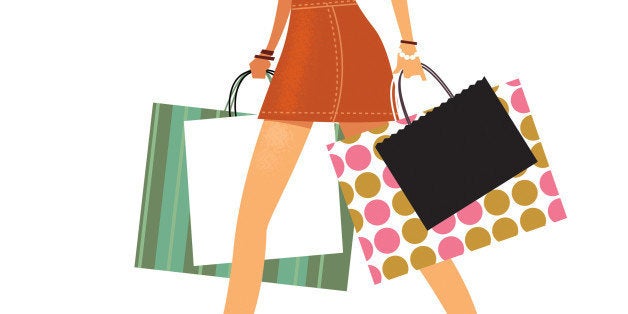 When I was in college I was really focused on becoming a lawyer, as I imagined that was what traditional success looked like. As I started my first day as a labor and employment attorney, I was thrilled with the intensity of having to negotiate on behalf of large companies and felt challenged with having to understand the innumerable legal issues we were working through at any given moment.
Law wasn't my first love, but I didn't know that yet. I would later learn that law was probably like that expensive shoe you keep in your closet, the one that is probably a little too high in the heels and hurts your foot every single time you wear it but too expensive to throw out.
I loved the idea of law, but little did I know, that I would have another chance at a dream career.
When I was working as a lawyer I would leave "going to the library" notes on my desk so I could sneak out for some much-needed retail therapy. This therapy seemingly worked. As I was climbing the ranks at the firm, I was also gaining the admiration of my colleagues for being the "best-dressed", who could always be counted on for some fashion advice and tips.
I always loved fashion but never really thought about a career in it. When I first started Linda's Stuff I was selling my kids' old video games on this new site called eBay. When they sold out, I immediately switched gears to selling my own designer clothes and it ignited a flame in me. It was a like a light went off and I thought, this is fun and I am good at it. My friends were also intrigued that I was making such good money selling my clothes online. They asked me to do it for them and gave me a percentage of their profit. These friends became my first consigners!
Building a business takes dedication and lots of time management. And for me in the early years of Linda's Stuff, lots of learning on the job as I went. I ran the business entirely from my home for the first five years (2001-2006) and did every job from taking the pictures, to writing the listings to packing and shipping. So now as we've grown to over 110 employees working in a 93,000 sq. ft. warehouse, I can honestly say I've done every single job in our organization at some point.
Here are some basic rules every entrepreneur should know:
My father is my mentor. He is a lifelong entrepreneur who started a security business for clothing, which was visionary back when he launched it. The business was a success and supported our family of five until he sold it. Watching my dad turn his idea into a successful business that allowed him to support his family and do what he loved, was my inspiration.
My advice is to find a mentor who is not afraid to point out the mistakes you are making and one who can offer you guidance on important business decisions.
2. It's All in the Details
In my business, I am trained in the art of spotting fakes. In luxury goods, I work with reputable authenticators so that my customers know and trust that the luxury items I am selling are authentic. I've built a client base that's bar none because our first job is to build trust and relationships.
3. Pick Up What Other People Put Down
Never underestimate the value of your things. While it is great to donate to charity and Goodwill, your things have much more value than you may perceive. "One man's trash is another man's treasure" may be an old adage but it is true. And honestly it has never been truer than it is today.
With people being so financially responsible and concerned with the economy, the market for gently used goods is burgeoning. Never underestimate the power of reinvention. Take if from me, I reinvented my career and created a business I could have never imagined owning.
Click here for more information on Linda Lightman or Linda's Stuff.
Related