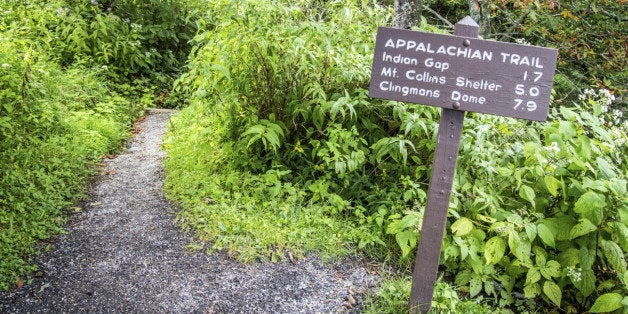 When to Jump is a curated community featuring the ideas and stories of people who have made the decision to leave something comfortable and chase a passion.
At first it was 5 million steps...then 500,000...then 50,000...and then it was only 5. I passed through the table lands, filled my water bottle up for the final time at Thoreau Springs. I touched the sign signifying the end of my journey. I had just finished hiking the Appalachian Trail, traveling 2,185 miles on foot from Georgia to Maine. My jump was a long walk: away from what others wanted for me, and closer to what I wanted for myself.
If you had asked me at the beginning of 2012 where I see myself in fewer than two years, I don't think I would have told you "standing on Mt. Katahdin, the Northern terminus on the Appalachian Trail." I was three years out of college, 25 years old and single, living in New York City working the corporate gig. Hell, I thought I had figured it all out. My friends and family had thought so too -- they kept telling me how lucky I was and how they wished they could have lived in Manhattan at my age.
And I was lucky...at least on paper. Now I want to be careful not to paint the situation I was in as hyper unique -- lots of millennials take jobs they are absolutely uninterested in, working long hours, reporting to people who honestly couldn't give a crap about them. I mean, this is what we are told to do! I was fitting into a picture of success generally framed by others and I hadn't yet found my own.
I took a new job, but same line of work. I tried to pretend it was different. It wasn't. I felt duped and increasingly trapped in the new role and at this new company. I was uninspired. I had to travel with my boss who simply didn't get it . We also kept meeting with people day after day who didn't get it. Everyone was miserable and work always took precedent -- success was measured in how many hours you worked or how many emails you sent and received. I toed the line though, trying to convince myself that I was fulfilled and trying to convince friends and family I wasn't an anxious wreck who was barely slept and got heart palpitations every time the Blackberry dinged.
It clicked one night when my boss and I went to dinner, sometime in the middle of 2012. As soon as we sat down, he let me know: "Drew, you are going to need to focus if you want to be successful in this business. You spend too much time in that tent of yours on the weekend, you read poetry instead of The Economist. If you want to be like me, you'll have to make some changes."
But did I want to be like him?
I tried to ignore that question, tried to pretend some more: this will all work out, I can be happy doing this, this is why my parents made the sacrifices they did for me to get one of the best college educations possible. I told myself an opportunity to work this type of job is important, making this kind of money is important. Actually liking what I did on a daily basis and feeling fulfilled by it felt nearly irrelevant.
Luckily -- yes, luckily -- things got worse. Soon after that dinner, my boss and I had a falling out and I was forced to stop and think. Things slowed down for what seemed like just a few moments and when work picked back up, I was ready to finally make the right decision for myself and no one else.
In February 2013, I jumped. I decided to give up my apartment and everything people told me I was "lucky" to have. The jump was a long time coming, but then it all happened quickly. I didn't realize I had just made a decision that would ultimately change everything.
Looking back on those few months at the end of 2012, I'm glad things got so dark. If they hadn't, I wouldn't have quit my job and I wouldn't have headed into the woods or mountains that make up the spine of the East Coast. I wouldn't have met people with trail names like Buffalo, Just Jim, Lady Grey, Hover Job, Walker or Tin Cup -- all people who I am still close with. And I wouldn't have taken the 6 months off from work to understand what I really needed and wanted out of life.
I wouldn't have been able to accept the fact that I didn't really want to live in New York City and that my job and industry didn't excite me. I wouldn't have moved West, started over, and created my own picture of success... It took a lot of bad to find the good. But if I hadn't "jumped," I would have surrendered to a path that was slowly shredding my well-being and self worth.
To be human is to feel uneasiness or even dread. But not all humans allow themselves the self-awareness to recognize painful experiences and use those experiences as a catalyst for personal exploration and to make decisions that are good for them and only them.
Now, I'm not hoping your 2016 is filled with tough times, but at some point in the next few weeks, months, or years you are going to hit some rocks.
What happens next is up to you.
When to Jump is a curated community featuring the ideas and stories of people who have made the decision to leave something comfortable and chase a passion. You can follow When to Jump on Facebook, Instagram, and Twitter, and learn more about the Jump Curve framework here. For more stories like this one, sign up for the When to Jump newsletter here. (Note: The When to Jump newsletter is not managed by The Huffington Post.)