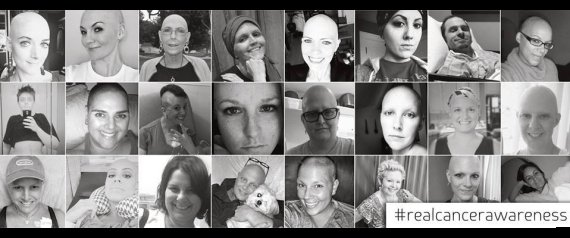 In January 2012, I was diagnosed with breast cancer at the age of 28. With no gene mutation, I was told this was a sporadic multi-factorial cancer, meaning nobody could really tell me why I got it.

I underwent a single mastectomy with immediate reconstruction, did IVF to preserve embryos, four and a half months of chemotherapy, six weeks of radiation and have just recently completed my first of five years of Tamoxifen. It is pretty obvious I have been experiencing life quite differently than most of my peers in their twenties. But the isolation and feeling of loneliness that can come with a cancer diagnosis for a young adult led me to a place I never imagined I would find support.
It began on Instagram in the midst of chemo treatments. I learned about hashtags and began finding many other young people going through treatment at the same time as me. It wasn't long before a bond began to form amongst a group of people who only knew each other from pictures on their mobile devices.

In the fall of 2012, I felt this strong urge to create an easily accessible private space for the cancer buddies I had met on Instagram as well as through the blogging world. The only problem was that I wasn't on Facebook. Truth be told, I had been on a bit of a "Facebook Detox" for three years. Going back on it made me nervous to face my "old life" pre-cancer. But my vision of having a place for my new friends to gather was so clear, I opened a new account and started a closed private group for the people I had met.

This special space is so sacred to me, I feel proud to be a part of it. It's a safe forum where we can all talk freely about our crappy situation that is cancer. Initially there were only 15 of us to start. And then 25. Then 30. A year later, we're sitting at about 230 members -- men and women with all types of cancers from all over the world. We pose questions, share worries and fears, vent, give and get advice. Knowing that everyone there shares the same fears as you do can be quite liberating, especially because it can be difficult to be upfront with friends and family. You really get a sense of what others go through, and there is a lot of compassion and empathy within the group.
So when this year's breast cancer awareness month was in full-fledged Pinktober-mode, I couldn't help but wonder if other group members felt alienated by pink ribbon culture like I did.

Don't get me wrong, I am not against the colour pink, nor am I against the original intent of the ribbon. What I don't like is what has become of the pink ribbon and what is passing off as breast cancer awareness. It feels like companies are jumping on the cause-marketing bandwagon and selling products in the name of the disease. Do I feel supported when I see pink ribbons on beauty products claiming that a "portion" goes to research? Or the pink cleaning supplies in support of a foundation? Pink cat litter? Pink yogurt? No, I don't.
Plus, pink ribbon culture leaves a lot of people out. What about men who get breast cancer? Or those living with metastatic breast cancer that has spread to other parts of their body? Or the hundreds of thousands of people who have other types of cancer? I wish that all cancers could have the amount of hype that breast cancer gets.
There has also been sexualization of the disease. Women are reduced to a body part and the message is no longer about human lives. For example, last month, a sexy image was circulating "in support of breast cancer." The picture was of a woman throwing her bra in the air with the following text: "Support breast cancer. Set the tatas free! October 13 No Bra Day."
Oct. 13 happens to be the one day that metastatic breast cancer is in the spotlight, so I found this incredibly offensive. Women taking their bras off was only serving one audience: people who wanted to stare at woman's chests. Taking your bra off does absolutely nothing to support those who have had breast cancer, nor does it do anything as far as awareness goes. All it does is sexualize and trivialize a serious disease.

This No Bra Day campaign had me steaming mad, so I went to my private group on Facebook and ranted about it, knowing I would not be alone with my frustrations. A number of us teamed up to create something that we believe shows true awareness. My friend Shellie, a childhood-lymphoma and breast cancer survivor, had this great idea to make a video that would do just that. Show the realness of what cancer is.
And so was born our video, "More Than Pink." We had 33 participants bravely share their most personal and raw photos from their cancer experience. From this video Shellie, our friend Rachel -- a colon cancer survivor -- and I decided to start the Facebook Page Real Cancer Awareness as a way to share our video with the intention of educating others about true awareness.
The cancer experience is horribly awful to go through and it should never be softened or minimized. It's a traumatic, life-changing whirlwind of a roller-coaster ride. But when you have friends who know and understand what it is like, it can be a little bit easier. Thanks to Facebook, this whole new world of support was opened up to me. Who knew that such a sense of community and connection could be made with people you haven't even met?

If someone told me when I was first diagnosed with cancer that 21 months later I would be the admin of an inspiringly brave and kind-hearted cancer community on Facebook and that I'd be attempting to start what I like to call "The Real Cancer Awareness Revolution" I would have smiled at the thought but not believed it. I was never the "leading" type.

But somehow cancer changed all of that and I am determined to have a voice... and help share the voices of others as well.