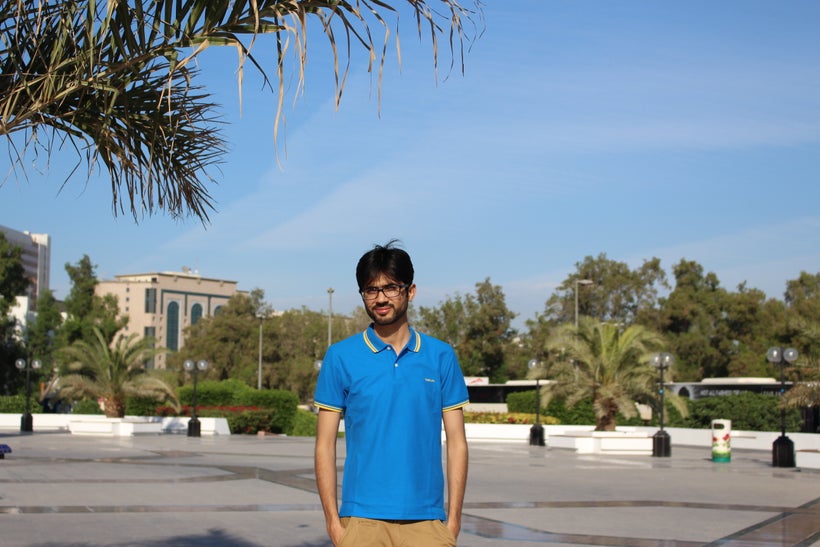 In 2010, I was granted admission to Bachelor of Computer Sciences at a renowned university in Pakistan. To pay my first semester fee, my father had to take on a few loans. Moreover, because my family lived in a different city, I was also required to rent out a room at a hostel. At that time, the most inexpensive hostel room, one I had to share with two other people, used to take up $50 out of the monthly allowance I received of $80.
Background
Being one of five children of my parents, I have seen the determination and devotion my parents have invested in the upbringing and education of all their children. My parents never compromised on our education and our health. They provided us with the best education there was to offer and there was always healthy food on the table. It was years later when I realized that it took incredible amounts of effort for my parents to provide us with all they could. My father, an honest and hard-working man, earned $200 a month, at the peak of his career. My mother would help, to make ends meet, by teaching at a local school; and the highest she earned was $250, throughout her entire career of 25 years. Between them, the maximum they ever earned in 25 years of work was $450 a month. Regardless of their exhausting routine and demanding jobs, they never showed even the slightest of discomfort in front of their children. My parents never quit.
Education
By the time my university started, I had to live on a $30 budget, per month. I knew how my parents were paying through their noses for the growth and upbringing of all of their children so I decided that I would try my best to earn my way through university. I wanted to support myself, as much as I possibly could, and hopefully save some for my family back home. However, there wasn't much I could do for the first 6 months, at least.
After looking for a lot of odd jobs in a lot of places, I finally got the opportunity to offer private tuition to a student near my residence. That student offered me $100 for each month I taught him. $100 at that point in my life felt overwhelming. With the extra cash, I could pay off a lot more expenses and started living an easier life, with a few occasional luxuries to treat myself with.
In the meantime, a friend of mine and I drafted a plan to start our own trading business. We would get together and import commodities that were not widely available in the region. The hottest trend of that time was flying, paper lanterns. We started importing those and ended up making a huge (at least in our perspective) revenue of $4000 in the first year and a half. In terms of time and effort, the progress was slow but it was a success for us because our initial investment into the trading business was only $100. With time, we had to gradually give into the competition because, by the year 2013, paper lanterns were available in abundance all over the region. We had to come up with a new plan or abort trading altogether.
I tried to venture into other opportunities but was met with failure. I invested $150 in an ad campaign, during 2013, and it was a complete disaster.
The Turning Point 
Eventually, another friend of mine told me about LivePerson – an online platform where students and experts from different fields come together to help each other and offer assistance, for example, tutoring. People always talked about ways to make money online but I had no idea. I signed up on the website, optimistically, and, luckily, I got my first client (David Parker) within a week (and I can proudly say that the same client is still with me, to this day). Things took off from there and I started getting more and more work, gradually. I still remember the first payment I received from that website – a smashing $4000.
I was supporting myself, financially. I could pay my own bills, rent, utilities and other expenses. I could even sponsor parts of my own tuition fee. However, it was not easy. All my clients off the website were from the United States and I had to stay up all night, due to the time difference, to work with them. The next morning I would run off to classes and keep my grades up and my academics in line, without as much as a minute of sleep. There were days when I would go hours without food or rest because I would try and fit everything in one day – work and academics. It was difficult, and earning hard-earned, honest, money always is. But I kept going at it, like I watched my parents work for us. I was supporting myself, and finally, my family.
After graduating in June 2014, I was lucky enough to land my first job right away. Unfortunately, I had to quit that job in December of the same year because it was becoming increasingly difficult to handle clients and work simultaneously. Gratefully so, after 2 years of diligent work and unparalleled commitment, I have made a number of loyal clients off that website and I feel exceptionally honored when they approach me every time they need assistance of any sort. I earned a reputation because of my work, and I'm working towards keeping it.
My message, out of pure experience, to all of you is:
Work and you will be rewarded. Be consistent and don't be afraid of failure, because failure is nothing but another step towards success. If you quit, you lose the chance to succeed. Remember! What comes easy won't last. What lasts won't come easy.
Today, I am an IT consultant, a freelance web-developer and an avid blogger. My new blog concentrates on the basics of blogging and money-making (link below). I am eternally grateful to my parents for giving me the best upbringing and to my beautiful wife for being a constant motivating entity.
Calling all HuffPost superfans!
Sign up for membership to become a founding member and help shape HuffPost's next chapter
This post was published on the now-closed HuffPost Contributor platform. Contributors control their own work and posted freely to our site. If you need to flag this entry as abusive,
send us an email
.