Okay, so maybe you don't want to publish a book; maybe it's a new business you want to start, a new hobby you wanted to take up or something else that's been floating through your head for a while. I've been there. An idea flashes into your brain and you think, "Brilliant! I should do that!!" But you don't. Days, weeks, months, even years pass and you never act on that sliver of an idea. It just disappears. Or even worse, you see the idea you had, just successfully interpreted by someone else. Coming up with ideas is great, but worthless if not put into action. Sometimes you just need to start something, follow it through all the way and be proud of the finished product.
That's where I was at recently. I needed a win. I needed to actually complete something. As a freelance writer/sometimes actor/full-time stay-at-home dad, I am constantly working, but most of that time is spent looking for work. Sending pitches to magazines hoping to make a sale. Writing spec scripts to hopefully grab someone's attention. Auditioning for film and TV roles. It is exhausting. And my most important job, as father to two young sons, is a work in progress that won't be completed for decades to come. My life often feels like I'm chasing a finish line that is constantly getting further away. I am Richard Kimble and success is my one-armed man.
One morning, a little over four weeks ago, I was perched over my computer brainstorming new writing ideas. I came up with a concept I really liked. It was a silly little thing really. It was a pitch for a parody of CrossFit and it's acolytes. I had the idea to do it in the style of a children's book for adults like Adam Mansbach had successfully done with his "Go the F**k to Sleep" book a while back. I was freelancing for a major men's magazine at the time and I penned a response to the father in that book we called "Get the F**k Out of My Room." Combining that rhyming verse style with a CrossFit parody struck me as both a unique and fun project. It may not be Updike or Cheever, but it's right in my wheelhouse.
So I started writing a pitch to send to the same magazine based on this concept. While writing it, I really fell in love with the idea and the whole thing came together quickly in my head. Being able to visualize it so fully and quickly made me dread what was next -- freelancer's limbo. I knew that as soon as I hit send on that email pitch, it would then be out of my control. Sometimes editors will get back to me right away with a yay or nay on a pitch. Sometimes I'll get no response at all. Most times I'll get a friendly note back within a day or two saying something like, "Sounds interesting! Let me run it past a few folks here and I'll get back to you." Sometimes I'll sell those pitches, sometimes not, but I lose control of the process as soon as I submit the pitch. This time I decided it was time to take matters in to my own hands.
I thought over the concept again. I wanted to do it in the style of a kids' book. So why not just do it as an actual book? I had self-published a memoir a few years back about my early days in the magazine biz, so I knew a bit about the process. A little research showed that it was definitely possible to do the same with a full-color kids' book. All I needed was some CrossFit folks to pose for pics, photoshop skills to get the look I was going for and the technical know-how to piece it all together. I had all those things!
So I deleted the email pitch to the magazine and decided to take a chance on myself. Over the next three days, I wrote not one, but two books. Since I know CrossFit can be so polarizing when I write about it here and other places, I came up with the idea of doing two books, one praising it and one "gently" making fun of it.
It was a ton of work, especially at the beginning, trying to figure out all the technical specifications, dusting off my photoshop skills and getting the pictures that I needed. Yes, I know this is a silly little project, but it was all mine and I wanted to make it as good as possible. Knowing that I had full control, that no editor was going to weigh in with their own changes and that I didn't have to wait on anyone else really empowered me. Two and a half weeks after coming up with the initial idea, I had a completed book up for sale on Amazon and the second one finished a week after that. In less than a month I had completed two projects that I was proud of. In the past I had waited that long just to be told by an editor that they weren't interested.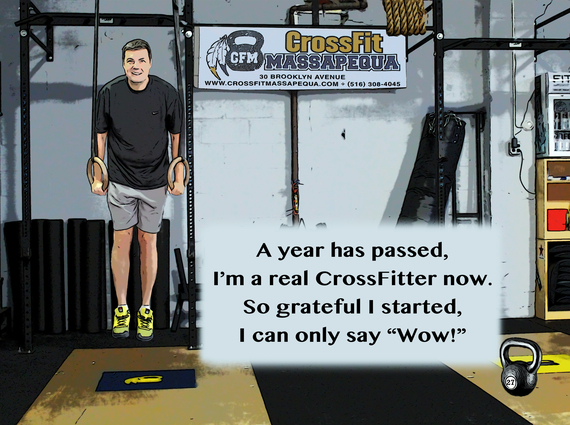 Will the books sell? Will people care? That's out of my hands, but just being able to come up with an idea and see it all the way through to completion in such a short timeframe has been its own reward. I'll still keep pitching ideas and writing scripts that may never sell and auditioning for roles I may never get, but at least I know that the option to control my own destiny is out there.
So do it. Whatever your idea is, do it. Idea too big? Start small. Whatever it is you want to do can be done, on even the smallest scale. Back when I was a corporate executive, I dreamed of being a writer. I wrote every free moment I had, on the train, late at night, at coffee shops, wherever I could set up with my laptop. It didn't happen overnight, but eventually I quit the corporate gig and became a writer. Whatever dream you want to follow, follow it! Take control of your destiny, even if it's only a small handful at a time. You won't regret it.
Calling all HuffPost superfans!
Sign up for membership to become a founding member and help shape HuffPost's next chapter