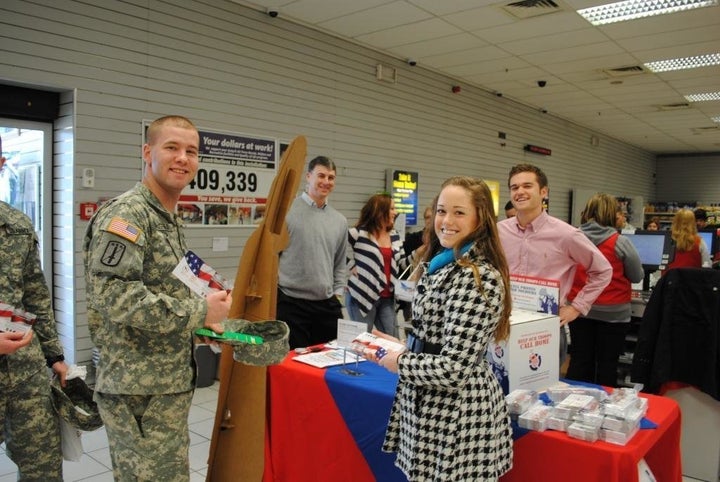 This is part of our new series "Gen: Change," in partnership with Youth Service America, featuring stories from the 25 most influential and powerful young people in the world. Click here to read more about Brittany and her amazing story.
In 2004, when I was 13 years old, I was watching the morning news with my 12-year old brother Robbie when we heard the story of a soldier returning from Iraq with an almost $8,000 phone bill. Our cousin had recently been deployed and the story really hit home for both of us. How could a man who was serving his country not be able to call his family for free? He was sacrificing so much for all of us. Robbie and I decided to do something. We cleaned out our piggy bank, gathered lunch money and even held a car wash to try to help this one man. We decided not to stop there, and that's when Cell Phones for Soldiers was born.
We collect and recycle used cell phones and use the proceeds to purchase pre-paid international calling cards for troops stationed around the world. Since 2004, we have sent more than 150 million minutes of talk time overseas and recycled nearly 10 million cell phones. Cell Phones for Soldiers receives an average of 12,000 calling card requests each week, and we fulfill each and every one of them! I am still amazed that we started with $21 from our piggy banks and have now raised more than $7 million through the recycling and repurposing of used and unwanted cell phones and monetary donations.
With more than 290,000 troops serving overseas, the price of calling home is costly for many of our servicemen and women. For example, the average roaming fees from Afghanistan are $3.99 a minute. According to the Center for American Progress, divorce rates nearly doubled for military members from 2001-2004 and have rose steadily since. Cell Phones for Soldiers works to keep families together by helping them communicate regularly during deployment. The Military Benefits Deployment Center lists staying in touch with loved ones as a top-five 'how to survive deployment' strategy.
Even today, the day-to-day operation of Cell Phones for Soldiers is overseen almost entirely by myself and my family. I'm thankful to have had my parents there to guide and encourage me along this journey. They've always been my biggest supporters and inspired me to dream big and serve our community despite my young age. Since the beginning, I have been involved as a decision-maker and relationship-builder. Most of my responsibilities have involved raising awareness for the charity by working closely with our corporate partners, as well as participating in publicity events. Just recently I was very fortunate to spend my winter break from college in Germany, where I visited troops at Ramstein Air Force Base and passed out free calling cards. My passion for giving back to our military is what inspires me most when working closely to build upon current corporate relationships as well as exploring new opportunities.
I'm not done yet -- I'm just getting started! Moving forward, I have set my sights on taking Cell Phones for Soldiers to the next level by expanding the program's services to assist veterans. Helping Heroes Home, an initiative of Cell Phones for Soldiers, provides emergency funds for returning veterans to alleviate communication challenges as well as physical, emotional and assimilation hardships. Helping Heroes Home will provide a returning serviceman or woman with the tools to immediately reconnect and assimilate back into post-war life. We will tackle immediate needs to help them find a job, get to a doctor's appointment and also give returning parents the tools to be able to reconnect with their children.
Servicemen and women sacrifice their safety, comfort and time with friends and family to protect our country, our freedom and our liberty. They are heroes in our society. Because they give up so much, I believe that each member of the military and each military family should be able to hear each other's voices on a regular basis during deployment and be supplied with the tools they need to reintegrate back into society. Building this program has been the most positive and motivating experience of my life. I'm so proud to have started something that motivates corporations and individuals to work for the betterment of our military communities. As long as the servicemen and women continue to give back to us, I will continue to give back to them.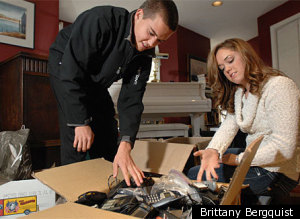 Related
Popular in the Community