The Udyami Yuba Brinda Durga Puja, just off Joy Mitra street in north Kolkata, has been largely unremarkable in its 27 years of existence. Much like many of the thousands of small-budget puja (or worship) committees in West Bengal, the paara (community) puja relied largely on the donations of local households. In fact the amount was so little, that in 2007 the puja organisers decided to just pay for the celebrations from their own pocket.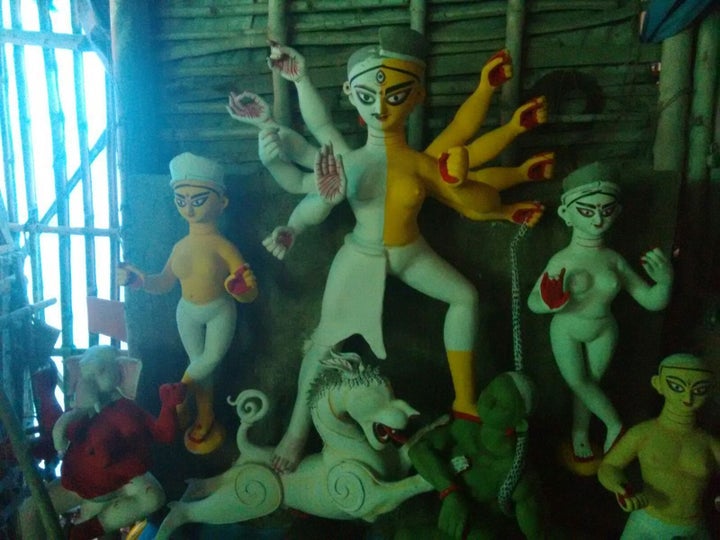 This Sunday, though, the puja committee is set to make history. In partnership with Pratyay Gender Trust, a local transgender persons' collective, the puja committee will be the first in the country to worship a 'transgender' Durga deity during the regular puja festivities. The committee's puja idol is fashioned after 'Ardhanarishvara', or half man and half woman — an androgynous form of Shiva and Parvati. One dozen transgender women from Pratyay have formed the puja committee.
"The idea is to explore the gendered lines, keeping within the traditional framework," explained Anindya Hajra, one of Pratyay's founder members, in an email to HuffPost India. "We are conscious how sites of worship and associated rituals have Brahminical associations and often act as a site of misogyny, prejudice and violence. Ours is an attempt to question these practices and caste/ class structures and to cross gender lines."
The puja idol has been created by China Pal, who also happens to be the only woman artiste of Kumortuli, north Kolkata's traditional potter's quarters. One half of the idol has a moustache, a pectoral instead of a breast, smaller eyelashes, and a dhoti (traditional male garment tied around the waist). The other half is the female Durga idol usually seen at puja pandals.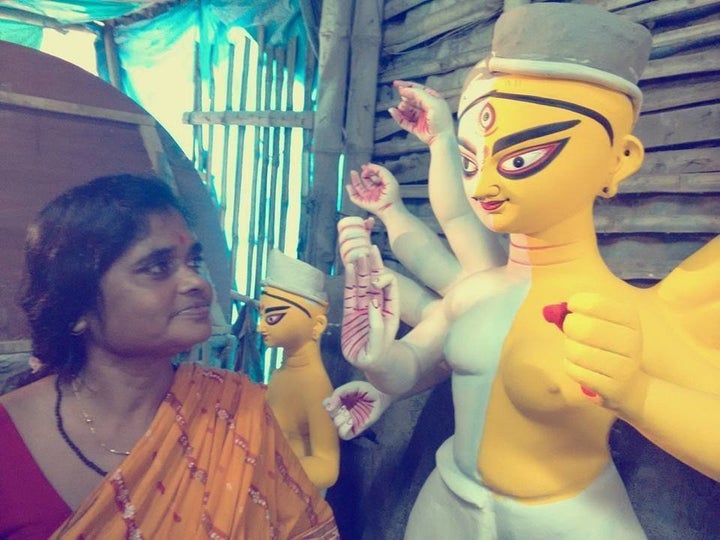 So how did this puja come about? It was thanks to Bhanu Naskar, who lives in the neighborhood and started the local puja almost three decades ago, that this idea was born. Naskar, along with Monorama Kinnar, a senior transgender member, who proposed that Pratyay collaborate with Udyani Yubak Brinda. Naskar approached the puja committee and asked if they would be interested in including the transgender community and planning the puja celebration together.
"She suggested that Pratyay could help with funding the puja as well, and it made sense to all members of the puja committee," said Rajib Bajpayee, one of the Udyani Yubak members.
But even as the members of the puja committee backed this plan, some locals in the community raised questions. "Many of them said some terrible things too, which were backward and unwarranted," said Bajpayee. "Transgenders are part of the society too."
"But as with everything, some people say good things but there are always detractors."
It was a report in Bengali newspaper Ei Samay that helped get more people on board, said Bajpayee, describing how an elderly gentleman, and a complete stranger to the local puja, arrived soon after with over 250 religious books which he donated. "He praised us for doing this puja and promised to donate more books if needed," said Bajpayee.
The media coverage of the puja has helped Pratyay as several students, filmmakers, artists, and musicians have reached out to them, promising to support the puja, said Hajra.
"The response has been overwhelming," he said. "We never wanted the puja to be isolated but want to make it an inclusive space."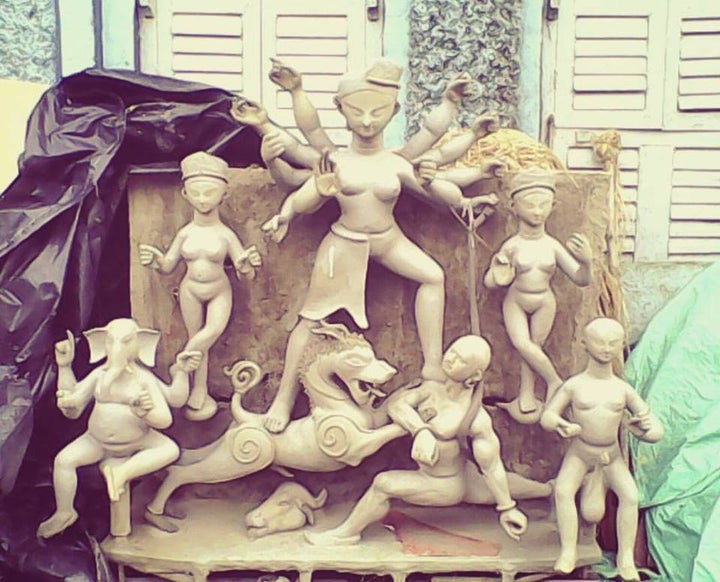 This Sunday, the puja pandal will be inaugurated. Like pujas across the country, it is open to all, and the organizers are excited to see how it goes. Bengal has in many cases been at the forefront of inclusion of the transgender community, including hiring the country's first transgender college principal and requesting a transgender person to inaugurate a Durga Puja pandal last year.
While the transgender group is eager to make this a yearly event each Durga Puja, they will take stock of how this year's celebration goes before deciding next steps.
"This is a kind of social experiment," said Hajra. "We are hoping this will lead to broader conversations on gender and inclusion."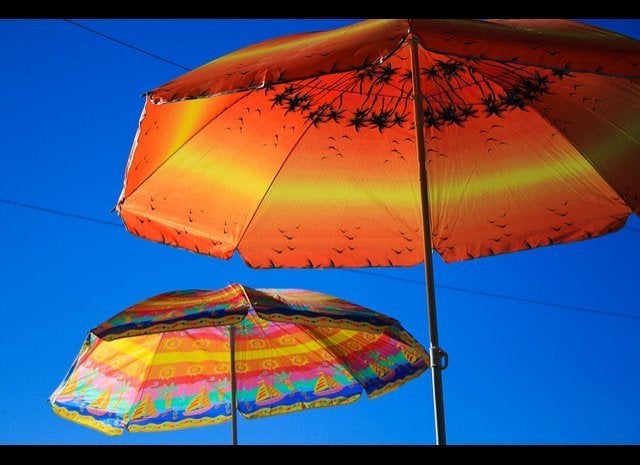 15 Things To Know About Being Transgender By Nicholas M. Teich
Popular in the Community