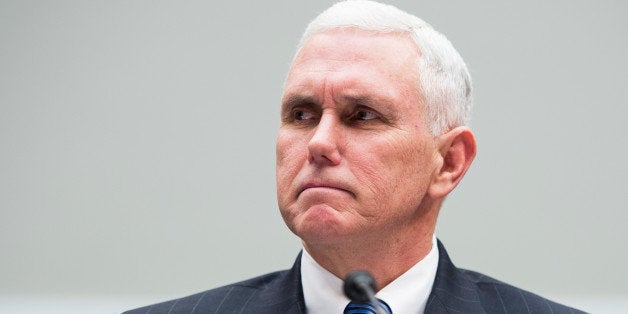 Unbelievably, Indiana Republicans, who last year were at the center of a national firestorm over an anti-LGBT Religious Restoration Freedom Act (RFRA) -- and were forced to retreat on it in large part -- are at it again. This time it's even worse, with a series of bills that include what one activist called a "Super-RFRA," which would repeal and replace the watered-down RFRA that was passed last year in response to the controversy. Business leaders were out front last year -- corporations like Indianapolis-based Eli Lilly and Angie's List -- threatening to pull out of the state and support national boycotts. But this year, so far, the response from local and national corporations has been tepid.
Republicans are beginning debate this week on the bills, two of which ironically follow up on vows to protect LGBT people, but with dangerous, far-reaching religious exemptions. One bill excludes protections for transgender people altogether, as "bathroom panic" is rearing its head in Indiana as it did in Houston. GOP Governor Mike Pence, who backed down last year in the face of humiliating national interviews and big business threats, seems perfectly content to encourage the bills, fearful for his political career. In his State of the State address earlier this month he said "religious freedom" needed to be prioritized over LGBT rights and that "no one should ever fear persecution because of their deeply held religious beliefs." It sounded alarms among LGBT activists.
The conundrum for Pence and business leaders is this: The governor, who has been a pro-business Republican in addition to being a religious conservative, is in a tight re-election race year this, against a Democrat he beat by only 3 percentage points in 2012. The passage of laws protecting LGBT rights this year -- and beating back anti-LGBT laws -- is a test of how committed business leaders really are to promoting LGBT rights by pressuring Pence and the GOP. And so far the response is not encouraging. From the Indianapolis Star:
Will they go to the mat for LGBT Hoosiers and push to advance civil rights legislation, even if it means handing a potential political advantage to Pence's union-backed opponent, Democrat John Gregg? "I'm not going to take a stab at that question," said Kevin Brinegar, president of the Indiana Chamber of Commerce, which supports LGBT protections. "I'll pass."
If Pence doesn't get evangelicals out to vote by supporting anti-LGBT legislation -- or does anything remotely to help the LGBT community -- he could lose, which business leaders would see as a loss for them too, at least in the short term. This is where it becomes clear that big business is a fair-weather friend. It can seduce people into thinking it cares about civil rights but the bottom line, of course, is what it cares about most.
But business leaders have got to know that, ultimately, if Pence wins by promoting homophobic laws, it's a long-term loss for them. The majority of Indiana residents support LGBT rights. And a recent survey showed that convention planners and tourists around the country still view the state as anti-gay from last year's debacle. A new survey from Visit Indy to be released this week reveals Indiana lost at least $60 million due to the RFRA controversy last year. That number will likely pale in comparison if the state passes anti-gay laws this year, or even has a flashpoint around the issue in the national media. More businesses will stay away from Indiana, and the pressure will only build on businesses in the state.
Pence is a true believer, a religious conservative who lashed out when the Defense of Marriage Act was struck down, fought to uphold Indiana's ban on marriage equality and lamented the Supreme Court's decision last year striking bans across the country, even as he's at times stated he supports equality. So it's hard to believe his heart will be in doing anything for the LGBT community, and moving into the future. Business leaders have got to bite the bullet and let him go.
Popular in the Community