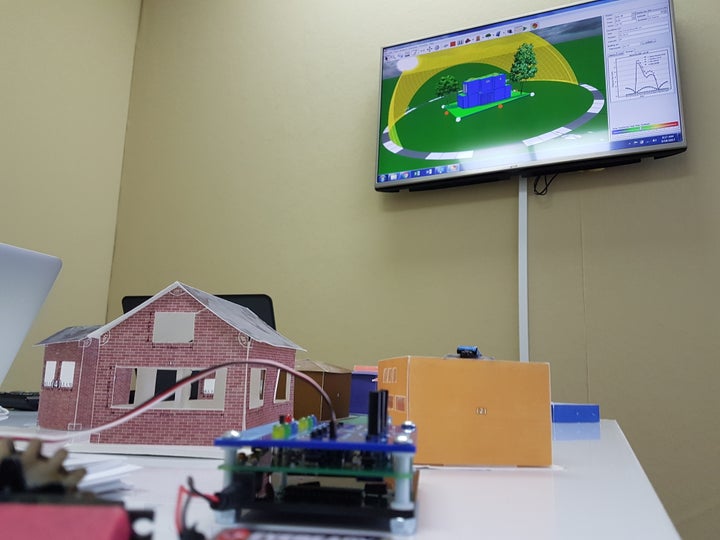 In Dubai they don't seem to do things by half-measures, and conferences are no exception. The Global Education and Skills Forum taking place this weekend is a case in point; You might expect a conference about education – even one attracting over 2000 delegates - to be a rather sedate affair, but this is no ordinary conference. Here, they setup a replica of the UK houses of parliament to host thought-provoking debates on whether low-cost private schools should be banned, or the merits of free speech over political correctness. Around the corner from that, you'll find an Alice in Wonderland installation where you can chill out on giant armchairs and snack away on "Eat Me" macaroons and "Drink Me" vials of mango juice. Who says school can't be fun?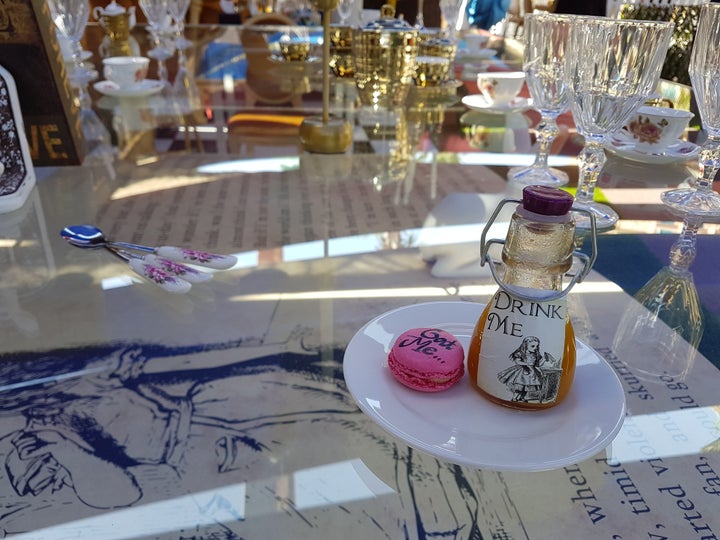 Yet this was also about some serious business. Over 40 ministers were in attendance to discuss with teachers, influencers and business leaders in attendance how education can help to create global citizens. This concept of Global Citizenship is something quite close to Sunny Varkey's heart. He believes that in order to tackle the complex problems the next generation will be faced with, we cannot continue teaching children as we have done in the past.
Varkey was a teacher himself, as were both his parents. As an education entrepreneur he's built a vastly successful chain of schools under the GEMS brand, so it is hardly surprising that he is passionate about the power of education to change lives. The Varkey Foundation – a not-for-profit organization which he founded in 2010 – embodies his conviction that new problems require new solutions, and that, whatever the problem, the answer is education. As Andreas Schleicher from the OECD said in his own keynote, "The easiest things to teach and test are also the easiest to automate. The future belongs to more complex thinking, and we need to educate students to create their future, not just learn our past."
That also entails equipping them with the tools they need to navigate this new reality, and one announcement made early on in the summit reflected that particular focus.
#DQEveryChild is a new global initiative to measure and improve children's "digital intelligence" – their ability to use digital technology and media in safe, responsible and effective ways – to help them combat exposure to dangers such as radicalization, fake news, online grooming and cyber-bullying . It proposes a standard online assessment to quantify youngster's digital intelligence quotient (DQ) and aims to reach 20 million children aged 8-12 by 2020.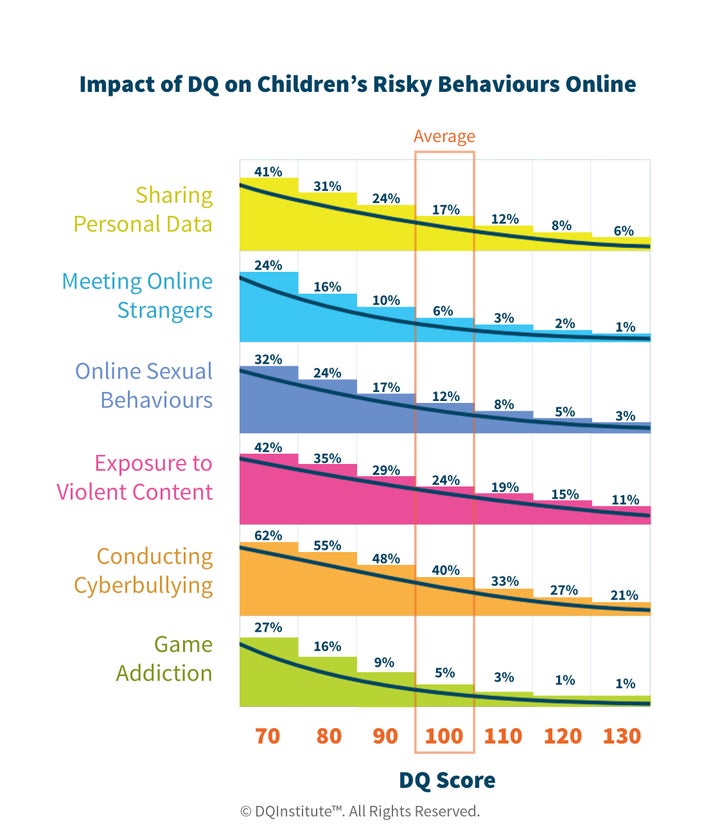 Not only does increasing a child's DQ score reduce the risks associated with digital technology, but it also maximizes personal strengths such as higher empathy and global citizenship, and raises their academic performance and future opportunity," said Vikas Pota, Chief Executive of the Varkey Foundation.
But what does "creating global citizens" actually mean? The concept boils down to preparing students for life and employment in a diverse society in the context of a rapidly evolving technological landscape. This can only be done, however, through a combination of innovative teaching and innovative technology, both of which are in prominent focus here.
The Global Teacher Prize recognizes such extraordinary teaching from around the world with a $1 Million award, while the FutureZone area of the conference showcased an array of EdTech curated by the Carnegie Mellon School of Computer Science, based on cutting-edge theories of how children learn most effectively.
One of those concepts dictates that children learn better when abstract concepts are contextualized in the real world. An example of how this can work in practice is Happy Atoms, a start-up making an Augmented Reality game that combines a physical modeling set (where atoms are represented by magnetized balls that can be bonded to form different elements) with an app that recognizes those models and helps teach children about their properties and real-life applications. By gamifying the building and discovery of molecules, it enables players to discover natural patterns (such as hydrogen's ubiquity or carbon's ability to form long, complex chains) in a fun and intuitive way. The key is to promote discovery and experimentation in a safe environment.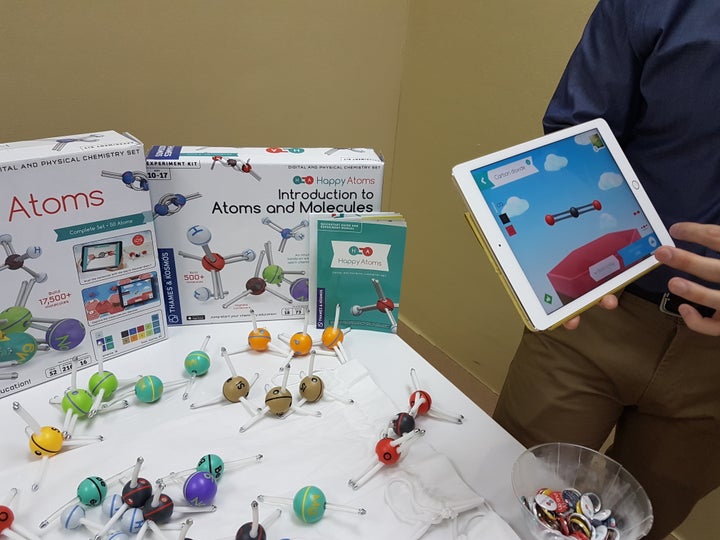 Paper Mechatronics applies a similar principle, allowing kids to create their own models by combining traditional papercrafting with elements of mechanical design, electronic engineering, and computational thinking. And since the building materials – namely paper – can easily be found in every classroom, it means making creative engineering accessible to parts of the world that might not have had the opportunity to learn engineering in such an intuitive way before. On a computer, kids start by designing their own machine and seeing how it works, first by selecting a motion (moving up/down, opening/closing, flapping, rotating or walking) or a mechanism (cranking or rack and pinion). Kids modify their design – for example making the crank teeth closer together or the pivot point – to see how it changes the simulation. They then choose the parts for their design, printing and cutting them out on paper or card, to make their models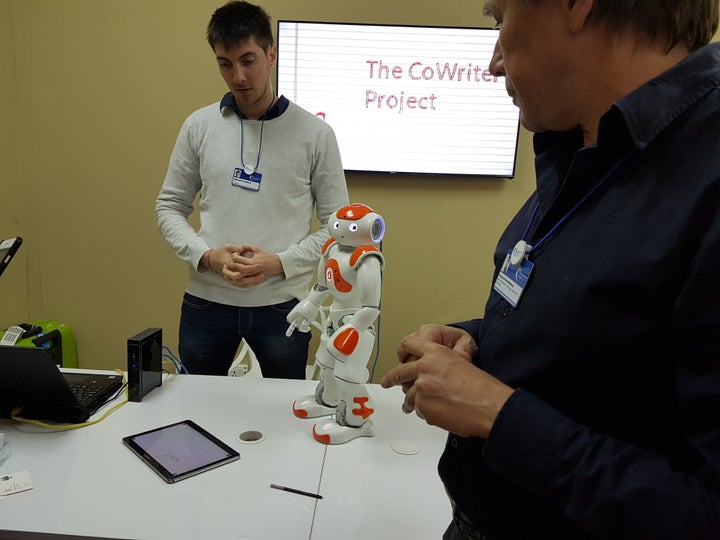 Robots were also quite a big hit at #GESF, with Co-Writer featuring a prototype that helps children learn to write by teaching the robot and correcting its mistakes. Learning by teaching is quite an effective principle based on the protégé effect which engages by eliciting a sense of responsibility for another creature. And the popularity of Tamagotchi proves that this creature doesn't have to necessarily be alive in the traditional sense either. Nao, the robot used by Co-writer is particularly endearing in his mannerisms as he coaxes children to practice their handwriting skills. The child prepares a word with letters and using a huge database of handwriting examples and a complex writing algorithm, the Co-Writer system allows the robot to recognize that word. As the robot writes the word on the tablet, the child corrects any wrong letters with the stylus, improving their handwriting skills and gaining confidence in the process. The prototype was developed by the École Polytechnique Fédérale de Lausanne (EPFL) in Switzerland, and already had impressive results in terms of addressing special needs such as dyslexia. The friendly-looking Finch, on the other hand, gives children as young as five a physical representation of their code, and over a dozen programming languages are supported.
Another interesting tool being demoed at FutureZone was Classroom PI, which uses gesture and facial recognition to make sense of student's activities and give useful feedback for teachers to improve their technique. It's the first of its kind computer-vision based, real-time analytics training platform for teachers and provides the kind of data that a human observer could only engage with much less frequently, or even miss altogether. It's a great example of how data can empower teachers to improve engagement in the classroom, and shows how the best EdTech does not compete or replace great teaching by humans, but rather complements, facilitates and amplifies the impact of their work.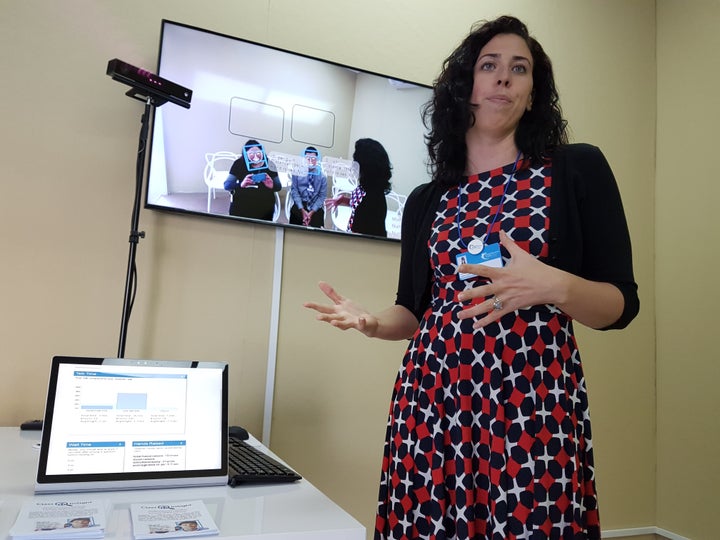 "The future will certainly include more technology in the classroom. Some fear this day and worry that robots will take over from teachers," says Carnegie Mellon's Professor Justine Cassell. "I believe that the choice is ours, and we must educate ourselves on the possibilities, and choose complementary and educational enriching technologies like those exhibited in the FutureZone."
The Winner of the Global Teacher Prize will be announced on the 19th March 2017, and you can view the 10 finalists and learn more about their work here.
Related
Popular in the Community