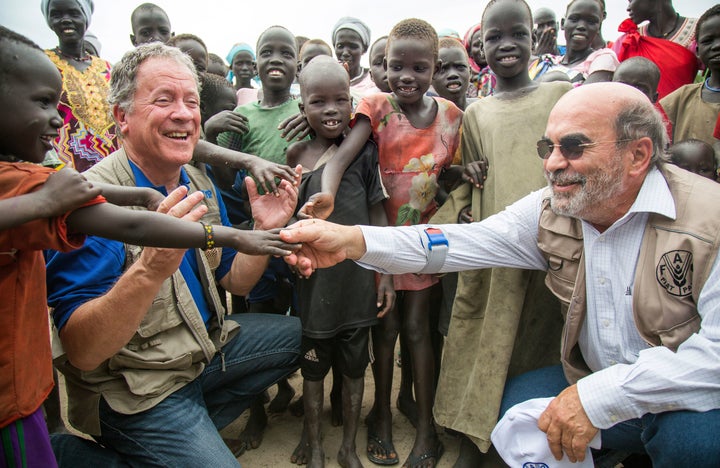 Last week I shook hands with a small boy with a big smile who lives in a pocket of South Sudan that is gripped by famine. I heard stories of families struggling to cope, and witnessed the incredible work humanitarian teams are carrying out, with the support of the European Union and other partners, to save lives and livelihoods.
This week I will bring those stories to Brussels during meetings with members of the European Parliament and leaders of the European Commission's International Cooperation and Development body.
Of the 23 worst food crises in the world today, half are conflict-related. Of the four most-severe food emergencies, all are conflict zones. This includes South Sudan where famine has been declared, and Yemen which is at grave risk of famine.
In fact, conflict and hunger are intrinsically linked.
Evidence shows that countries with the highest levels of food insecurity are also those most affected by conflict. And violence and hunger often feed each other in a vicious, miserable cycle.
In South Sudan, Yemen, Somalia and north-eastern Nigeria combined, there are around 30 million people faced with high levels of food insecurity, and millions are already on the brink of famine. This level of crisis requires a step-change in our collective response: we must invest more in rural development, and as early as possible including as part of the humanitarian response.
Despite advocacy efforts, the agriculture sector is often neglected in humanitarian appeals yet it is a direct way to protect rural people from the worst ravages of a hunger emergency.
It is a sector that, even in the midst of conflict, provides a livelihood for at least 70 percent of the population, as well as fresh food, and cannot continue to be an afterthought.
In today's conflict-affected countries, agriculture is often the only productive sector that continues. Last year, Syrian farmers still produced 1.5 million tonnes of wheat. This is less than 40 percent of what the country was producing prior to the conflict and the food deficit continues to deepen as the crisis protracts, but the sector is still alive. I saw in South Sudan recently that villagers displaced from their homes by fighting quickly took up fishing, and trading of their surplus catch, once they were provided with a simple fishing kit.
It therefore makes sense to ensure that food assistance be combined with farming, fishing and livestock support, to save lives as well as livelihoods. Keeping people alive is indispensable but not sufficient if they are to regain their self-reliance.
Historically there have been low levels of this kind of investment in many of the countries afflicted by conflict-induced hunger.
Agriculture as a sector receives a smaller proportion of total humanitarian assistance, comprising just 2 percent in 2016 - the same level as a decade previously. From 2012-2015, protracted crises received almost 30 percent less official development assistance for agriculture when compared to all other least developed countries.
Not only does spending on rural development address food security and nutrition, it also has dividends for peaceful and inclusive communities.
For example in Abyei, the contested region on the border between Sudan and South Sudan, FAO plays an important role in mitigating livestock related conflict. FAO is providing community-based animal health services and livestock vaccinations to the Dinka Ngok and Misseriya communities, working with local government bodies, UN peacekeepers and other UN entities and funded by the European Commission. This has been an effective entry point for re-establishing intercommunity dialogue around land access and use, leading to a local level peace agreement that will contribute to greater stability, sustainable recovery and longer-term resilience.
New analysis shows that one person every second is displaced from their home because of conflict or natural disaster. With no support, increasing numbers of farmers and pastoralists in conflict settings will have no choice than to move within or across borders.
The European Union has long been an important partner for FAO, and is among the biggest donors of aid to South Sudan. But, globally, we need to change the nature of international assistance to grow the seeds of stability.
While most developing countries have marked significant gains in reducing hunger and undernutrition, progress in most conflict-affected countries has stagnated or deteriorated. These countries will struggle to realise Sustainable Development Goals 1 and 2 - eliminating extreme poverty and hunger - and the promise of leaving no one behind.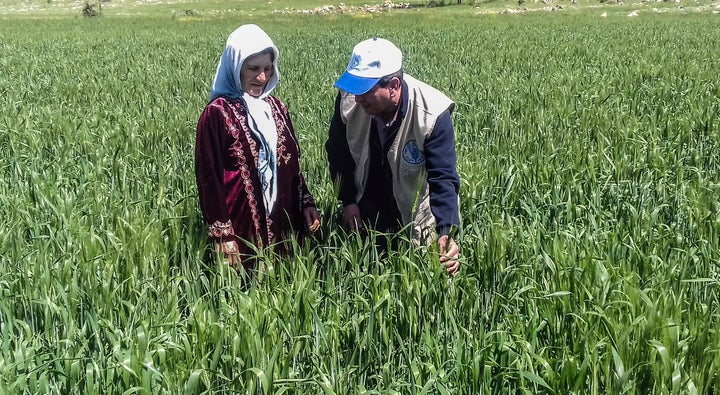 Building resilience towards conflict requires helping countries and households prevent, anticipate, prepare for, cope with, and recover from conflicts – both those who flee and those who remain behind. In practice, we need to mitigate the negative effects of conflict on affected communities. At the same time we need to address some of the root causes of conflict such as access to land and natural resources while also creating the conditions for a positive transformation of societies – and I believe that agriculture has a paramount role to play.
The small boy who I shook hands with in South Sudan, and the many others like him caught up in this terrible conflict, do not deserve to be left behind.