The mainstream media and politicians have emphasized Iran's hard power, military capacity and its army's role in the Middle East, which is part of Tehran's expansionist policies. The emphasis is warranted.
Nevertheless, focusing solely on Iran's hard power and military capacity is misplaced. By dedicating all their resources and concentrating on Iran's military capacity, regional and global powers are running the risk of falling into the Iranian government's political trap which is what exactly Iran's Supreme Leader, Ali Khamenei, and the high commanders of Iran's Revolutionary Guard Corps (IRGC) aim for.
It is accurate to argue that governments around the region should take the Islamic Republic's military capacity as well as the IRGC and Quds forces' expansions in Syria, Iraq, and Yemen seriously. However, Iran still exerts a significant amount of non-military influence in the region, and continues to expand it, through manipulation of various soft power tactics.
But it is crucial to point out that although Iran's major strategies of deploying successful soft power resources remain intact, there is going to be a new trend and tactical shift. Iranian leaders are delighted to make noise about their military power, bandwagon on the success of Shiite militias, take credit, and launch missiles to project their power, exaggerate it, and in order to shift the focus from their real goals of exerting influence and having a say in the domestic politics of neighboring countries.
Militarily speaking, Iranian leaders are cognizant of the fact that they are not a match for the American military or other regional powers. The US can easily inflict significant damage and even cripple Iran's military infrastructure in matter of weeks. Being aware of that, however, the Islamic Republic continues to project its military power in order to steer attention away from the real issues.
Manipulation of soft power
First of all, Iran's soft power strategies are long-term oriented. As an Iranian official once said to me, the reason behind Iran's growing presence in the region despite the sanctions and isolation were "soft power accompanied with patience".
The Islamic republic was established with almost no allies in the region. During the subsequent decades, they managed, with minimal cost to dominate Iraq, Syria, and Lebanon, as well as have proxies in other countries in the region, such as Bahrain and Yemen. If this trends continues, in 10 or 20 years, the number of these proxies and Iran's influence in the region will absolutely increase.
Before sanctions were lifted, Iran focused primarily on manipulating and capitalizing on the grievances of other groups, building alliances with them, showing them they share the same ideological views (such opposing Israel, opposing their government, helping them topple the Sunni majority government, opposing the United States, etc.)
Iran's soft power is not only theological but also ideological. Tehran does not only focus on building alliances with Shiites in order to exert its influence in the region and interfere in the domestic politics of countries. For example, Tehran is currently forming strong relationships with some Kurdish Sunni groups by demonstrating to them that Iran shares the same grievances with them.
After building alliances with these groups and forming a united public opinion, Tehran then assists them in becoming political realities in those nations in order to exert its influence through the "legitimate" political institutions of that country. In this case, if the government of that particular nation is overthrown, Iran's proxy is well-placed to take over (such as in Iraq).
Even if the government is not overthrown, that government will think twice about reacting to Iran (such as Lebanon's government and Hezbollah). Secondly, Iran's soft power is multi-layered and sophisticated, encompassing several governmental organizations.
Iran also continues to use other strategies including cultural, educational and religious institutions, such as training powerful Shiite religious figures from other countries in Qum, establishing thousands of seminaries, giving scholarships and fellowships to foreigners to come and study Shiism in Iran, establishing Iranian studies programs in other countries, promoting the Persian language, investing in Arabic and English news outlets (such as Press TV, Al Alam, Al Kawthar), pioneering investments in religious films- which advances Iran's political version of Islam.
Third, Iran's soft power is coherent and well-organized, although it might not always produce the outcome that Tehran desires (For example, some instances of tension with Hamas).
As one can see, Iran used both top-down and bottom-up approach to utilize its soft power and exert influence before sanctions were lifted. The emphasis at this time was more on the bottom- up approach. But Iran's priorities in soft power strategies have tactically shifted due to the sanctions reliefs and its application of hard power.
Dr. Majid Rafizadeh is an American political scientist, business advisor, US foreign policy, Iran and Middle East expert, and the president of the International American Council on the Middle East. Harvard-educated, Rafizadeh serves on the advisory board of Harvard International Review and have briefed governments, politicians, NGOs and testified in courts as an expert. An American citizen, he is originally from Iran and Syria, grew up and lived most of his life in Iran and Syria till recently. He is a board member of several significant and influential international and governmental institutions, and he is native speaker of couple of languages including Arabic and Persian, speaks English and Dari, and can converse in French, Hebrew.
You can sign up for Dr. Rafizadeh's newsletter for the latest news and analyses on HERE.
You can also order his books on HERE.
You can learn more about Dr. Rafizadeh on HERE.
You can contact him at Dr.rafizadeh@post.harvard.edu or follow him at @Dr_Rafizadeh. This post first appeared on Al Arabiya.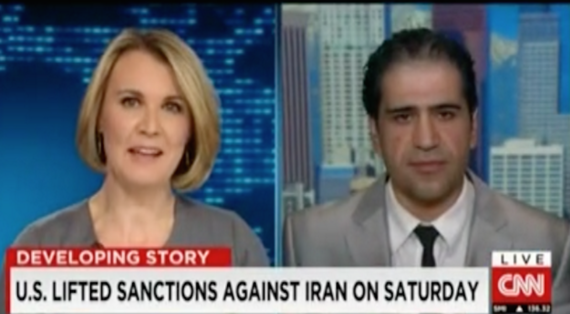 __________________________________