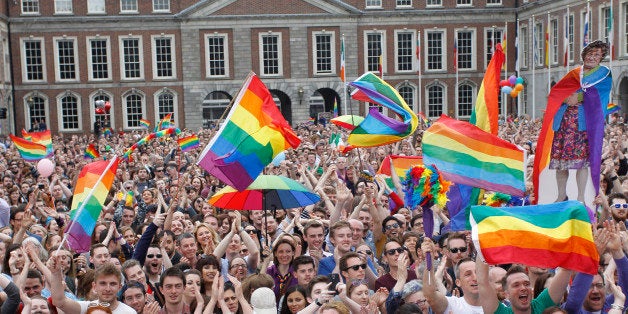 On May 22, Irish voters approved a national referendum on marriage equality. Other countries have legalized same-sex marriage through their parliaments and courts, but Ireland was the first where the public made the decision at the voting booth. This would be an historic moment for any country, but it is even more so for this bastion of conservative Catholicism.
So how did Ireland, one of the last Western democracies to decriminalize homosexuality, become the first country to embrace marriage equality by popular vote? Five factors shaped the outcome.
First, there is the Church's waning stature in Ireland. In 1995, Ireland passed a referendum over the Church's opposition ending the ban on legal divorce. The 2011 Cloyne Report outraged Ireland with evidence of sexual abuse by clergy and efforts by the Church to protect abusers. Then in 2013, Taoiseach (Prime Minister) Enda Kenny offered an historic national apology to the victims from decades earlier of the "Magdalene Laundries" -- Church-run homes for girls, which had often exploited their wards. Our focus groups with Irish voters during the referendum campaign revealed that the Church's opposition to this year's referendum carried limited weight.
Second, the Yes side ran an aspirational campaign, highly focused on the broad goal of equality. They motivated the Irish people to reflect upon the kind of country they wanted. They encouraged citizens to vote on their aspiration to be a country where everyone is treated equally no matter who they love. Mobilizing thousands of volunteers, the Yes campaign was omnipresent, plastering the entire country with colorful posters featuring equality-focused slogans. They made it both historic and cool to be part of the movement.
Third, the Yes side made a strategic decision to reach out beyond their base, appealing to hesitant voters and those who might have low motivation to vote. Going beyond the cosmopolitan young and well-educated in Dublin, the Yes camp reached out to more conservative and traditional older voters, using personal stories from gay children and parents of gay children. Their "Call Your Granny" campaign, which featured videos of young supporters of marriage equality calling their grandparents and asking them to vote "yes," went viral on social media.
Fourth, the Yes side made savvy moves to neutralize opposing arguments. To blunt concerns around adoption and surrogacy, the government wisely passed a Child and Family Relationships Bill before the start of the campaign, allowing adoption by same-sex couples regardless of the referendum results. When the No side tried to build a campaign around alleged damage to children from same sex marriages, the Yes side could effectively argue that concerns around adoption, parenting, and surrogacy were completely separate issues from this referendum.
Our own research highlighted that the No campaign had also erred by trying to argue that every child deserved a "normal family." Participants in our focus groups often characterized traditional nuclear families as a bygone relic, and a great many cited atypical families who are fully loving and committed. As a result, many voters found the No side message that "every child deserves a mother and a father" inaccurate if not downright offensive.
Fifth, strong public support encouraged all the main parties to unite in support of this issue, rendering it non-partisan. All the main parties ran also coordinated their campaigns with the larger Yes campaign. In addition, trade unions, business organizations, civic organizations, sports stars, and other celebrities advocated for a Yes vote.
Although the Yes campaign was ultimately nonpartisan, a number of prominent politicians had a significant impact due to their personal stories. Health Minister Leo Varadkar, a young and shining political star, came out as gay months before the campaign. Former President Mary McAleese gave moving speeches on behalf of her gay son and the peace of mind of parents like her. And Taoiseach Kenny, a faithful Catholic, shared his personal journey toward accepting same-sex marriage.
This has been a trying time for Ireland, which was particularly hard-hit by the global economic crisis, and which had to endure difficult fiscal and structural reforms as part of rebuilding a solvent and growing economy. Some argued that, with so much hardship and change on the economic front, it was the wrong time to ask the Irish people to approve a big social change. Others argued that asking Ireland to support same-sex marriage was simply a step too far, too fast. It is a credit to Taoiseach Kenny, a wide range of other political leaders, and -- above all -- the Irish people themselves that, even in such a challenging time, they were willing to back this historic step toward equality.
Kristi Lowe is a vice president at Greenberg Quinlan Rosner Research. She provided strategic advice and qualitative research to Irish Prime Minister Enda Kenny and his Fine Gael party during the marriage equality campaign.
Popular in the Community