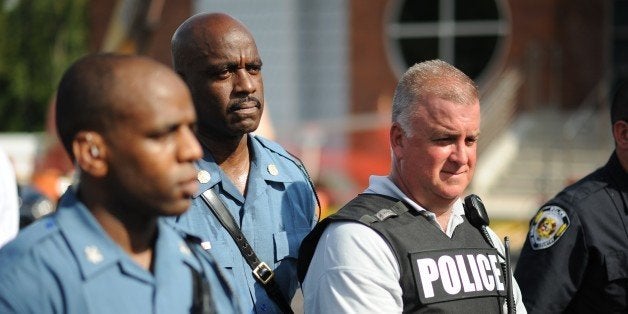 Tuesday, August 19, must have been like any other day for council member Dionne Flowers. She must have woken up in the morning, and casually headed to Golden Shears, the family owned beauty salon in Veronica Park, St. Louis, where she has worked for the past several years.
Barbers and hairdressers, like Dionne, are an integral part of the society. They do not just take care of our hair; they are our therapists, confidants, advisors and even peacemakers. At the end of the day, we need to really trust someone with a pair of sharp blades so close to our neck and face.
This is why states regulate the training and certification of licensed barbers and cosmetologists. It is crucial to preserve the bond between client and service provider. People like Dionne, a professional and a public servant, take pride in what they do. For them, it is imperative to maintain and develop professionalism as a culture. This way, they protect the fundamental reason why people agree to pay for their services: trust.
On that fateful day, just a few weeks after Michael Brown's killing in Ferguson, Dionne became a witness to the shooting of yet another young black man, Kajieme Powel. The provocative, seemingly disturbed, 25-year-old stole two energy drinks and a pastry from the nearby deli. He placed them on the ground and waited for the police to arrive. With a knife clenched in his fist, he repeatedly ordered the officers to shoot him. And so they did; seconds after they arrived.
This may not be much of a surprise. However, the inconceivable, unknown detail in this story is that Dionne had more training for her license as a hairdresser, than the officers who pulled the trigger for theirs.
The State of Missouri has established, through its Board of Cosmetology and Barber Examiners, a minimum of 1500 training hours, or 3000 hours of apprenticeship, is required for certification. On the other hand, according to the website of the St. Louis County and Municipal Police Academy (SCMPA): "Graduates of the St. Louis CMPA are [...] peace officers [...] with 916 hours of training." These 916 hours compose a six-month, non-residential program, with no other educational prerequisite other than just a high school diploma.
An earlier report by the Department of Justice, has found that the average basic police officer training in the U.S. is a jaw dropping low of 761 hours. This means that becoming a police officer often requires almost half the training than becoming a barber. Depending on the state, peace officers have different jurisdictions and power than police officers. In Missouri, however, it is the same thing.
Perhaps it is only semantics, but the use of the word "peace", in this context, poses quite an oxymoron. The promotional video on the academy's website sets the tone from the very first seconds, of a military environment obsessed with the use of guns. It begins with cadets shooting, with the use of firearms as reoccurring theme during the entire 11 minutes. So, what is wrong with this picture?
The comparison with the promotional video of the U.S. Military Academy at Westpoint is a perfect way to demonstrate how professionalism can be instilled as a culture. In less than three minutes, Westpoint's video is able to demonstrate the immense quality of the cadets it targets. It focuses on the key notions of pride, achievement, excellence, academics, leadership and selfless service. There are less than 15 seconds of actual live ammunition training or combat scenes throughout the entire video. The reason is clear. This is not what motivates the future officers. It is just part of the job.
It is also very interesting to compare SCMPA's video with something more relevant, like NYPD. "Day in the Life of an NYPD Officer" is a sub-three-minute NYPD promotional video. In startling difference with SCMPA, NYPD's message is mainly about the relationship with the community. Instead of firearms, NYPD uses handshakes. There is no shooting involved in the video, no violence in the message.
Violent force is nothing more than a subset of extremely delicate tools that a professional soldier or law enforcer needs to engage. It is not the reason why one should join. This is where the fundamental fault in the police culture of St. Louis lies. The use of guns and force define the recruiting message, by having violence as a transcending theme. Imagine how it would feel, if the promotional video of a Medical School was all about the scalpel and the students using it on corpses.
These subtle details describe the target group of the academy. They also develop a distorted sense of professionalism for SCMPA's remarkably brief training. Obsession with the use of force is detrimental to the culture of any professional law enforcing body.
This cancerous belief system threatens the rule of law, as society will begin to challenge the validity of authority. Peace officers should also draw their power from trust. Otherwise, the implications in a modern society can be unfathomable. This does not, most certainly, apply to most hard-working, professional police officers nation wide, who risk their lives daily. However, we have the obligation to learn from the events in Ferguson, both for the victims, as well as the officers involved. One could argue that some of them might be products of a system that has failed them because of a series of critical mistakes -- from the selection criteria to the training itself. They might also be considered victims, for having been given the elusion of competency and then asked to keep up with the complex problems around them.
The situation is very unfortunate for Missouri, which is not much of a champion when it comes to peace. According to the latest US Global Peace Index report, it ranks 45 out of 50 states, in terms of levels of peace. Truth is that there is a complex web of issues responsible for Missouri's bleak record. One thing is certain; there is a desperate need for quality peace officers in St. Louis. Perhaps, there are some lessons to be learned from the three most peaceful countries in the world -- Iceland, Denmark and Austria.
Iceland, which ranks 15th in the world in gun ownership per capita, had its first police killing in its history, last year. This was the officers' last resort. Despite the necessity for that shooting, the reaction of the police was still to express its grief and apologize to the relatives. They did not apologize because the officers were wrong. They did because they were truly sorry. They did because it is the humane thing to do. Only this way, could they protect the sacred bonds of trust with their society.
Denmark follows the same tone in its training, with almost 20 percent of its 33-month program focusing on issues such as socially disadvantaged and marginalized groups, causal explanations of crime and prevention methods, ethnic minorities, human rights and the rule of freedom.
Austria brings the level of training to a completely different level. The cadets go through a rigorous 24-month program, with one of its main thematic groups focusing on personality development. This includes an in depth understanding of Applied Psychology, Professional ethics, Communication, Conflict Management, Social Teaching and Human Rights.
On the other hand, St Louis CMP Academy has no educational admission standards and spends 76 out of the 916 hours, on "cultural diversity and interpersonal perspectives". These two facts alone speak volumes of the degree of the problem and how far behind police training in St Louis is.
One of the first political theory concepts taught at universities is Max Weber's monopoly on the use of violence. His essay, "Politics as a Vocation," includes a definition for the state, which became a pivotal notion for modern democracies. According to Weber, a state is a "human community that successfully claims the monopoly of the legitimate use of physical force within a given territory."
His concept is still accurate and necessary for the prosperity of our society. However, its implementation is completely different. In today's reality, the enforcers of such a monopolistic authority need to adapt. They cannot afford to rely on an obsolete, vague respect to authority, which only derives from the law.
The source of legitimate authority for a modern state should be primarily based on trust. Anything else is a step back, towards Draconian ideals. We desperately need to cultivate trust as the central, life-giving center for our interactions between each other and our institutions. We need to trust our police at least as much as we do our barbers.
REAL LIFE. REAL NEWS. REAL VOICES.
Help us tell more of the stories that matter from voices that too often remain unheard.