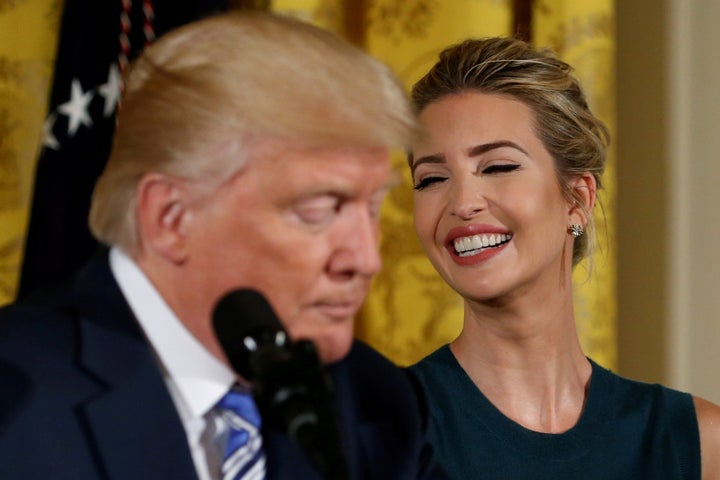 Ivanka Trump's declared mission to "empower women who work" is a welcome element in the Trump administration. As a woman with a desk in the White House and the founder of an international corporation, she is certainly in a position to improve the wages, safety and quality of life of working women around the world. So far, her record is not one of accomplishment.
There are plenty of policy opportunities ahead but she will need to move quickly. The Trump administration has already proposed an 80 percent cut to the Department of Labor's International Labor Affairs Bureau (ILAB) ― the agency that monitors and helps improve workers' rights around the world. U.S. companies and human rights groups rely on the ILAB to address factory conditions and forced and child labor in global supply chains. Many of the workers who benefit from the ILAB are women – who all too often are paid poverty wages, forced to work in unsafe conditions, and subjected to sexual harassment and violence on the job.
President Trump ran on protecting U.S. jobs and renegotiating unfair trade policies – those policies strengthen labor laws around the world. Ivanka can use her policy role to point out that bringing good jobs back to our country will be that much more difficult if international labor standards are flouted; and U.S. corporations can rely on a exploited, foreign workforce. Slashing the ILAB signals that this administration will indeed look the other way when it comes to the abuse of workers.
As a CEO, Ivanka can also do more to help women than write self-help books and place inspiring quotes on her clothing line – she can support the policies and programs designed to protect them. There are specific steps she can take – following other corporate leaders in doing so.
First, she can ensure that her company insists on fair safety and labor standards when it purchases foreign products. Her company buys products made in Bangladesh, and she should immediately join global apparel brands and worker organizations to build a safer industry through the Bangladesh Accord for Fire and Building Safety. That effort started after the collapse of Rana Plaza killed 1130 workers, 80 percent of the workers there were young women.
Second, Ivanka should protect working women in every nation by supporting an International Labour Organization Convention on Violence Against Women and Men in the World of Work. Preventing gender-based violence is critical to establishing safe, productive and healthy workplaces for all. The statistics, particularly for low-wage working women in the US, are grim. In the U.S., 50 percent to 80 percent of women experience sexual harassment at work and statistics are even higher overseas. And nearly 25 percent of U.S. rape victims will lose their job within a year of the assault. An international agreement to prevent gender-based violence in the workplace would improve the lives of women and their families, and U.S. CEOs should help create and enforce it.
Whether she's is filling the role of a policymaker or an entrepreneur, Ivanka needs to do more for the women who are depending on her: to promote empowerment and to block destructive and harmful policies. If women's issues are her top priority, she must act to promote the interests not just of the women who buy her books and clothes – but the women who make them.
Calling all HuffPost superfans!
Sign up for membership to become a founding member and help shape HuffPost's next chapter
BEFORE YOU GO