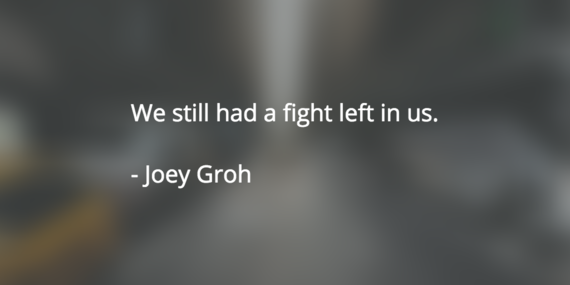 You don't know where this amazingly unpredictable journey called life will take you. But one thing is certain that if you don't take control of your environment, it will control you.
You want to be happy. You want to create an impact. You want to live your life on purpose. But you're wired through past experiences, not to take risks, not to ask questions, and not to stand out. Essentially, you have been groomed to be unremarkably average.
But why is it that some of us refuse to be defined as average? Take Joey Groh, director of creative design at Phase2, as an example. Groh refuses to live a life that is defined by his environment. Joey decided to leverage his love of art, music and the web to design the life he wants to live.
Now Groh's journey was not the proverbial walk in the park. Joey's trek was a rollercoaster ride of uncertainty and distress; especially when the company he co-founded was in trouble. But Groh did not allow himself to give into the self-doubt. He explained, "We still had a fight left in us."
With the help of his team, Joey changed his focus and was able to reposition the company. The decision not only saved the company but caught the attention of Jeff Walpole, CEO of Phase2; who in January of 2014 invited Groh's team to join the Phase2 family.
So what is your desire? What are you committed to make happen over the next 30, 60, or 90 days? What actions will you take to achieve your goals? More importantly, notice what's not working and pivot until it works.
Joey Groh is not superhuman, he's not a genius, he's like you and me -- with one important distinction, Joey knew what he wanted and was relentless in his pursuit. Now let's take a listen to Joey Groh's story.
1. So Joey What is your story?
Growing up, my two loves were art and music. I picked up a pencil about the same time as a pair of drumsticks, and the two have always been a vehicle for how I define and express myself. As I grew up and explored more mediums in art, I explored more instruments.
From an airbrush to a piano, oil paint to guitars, and illustrations to singing; I was always on a journey to get lost in something magical-to peek, and live in a different dimension. In retrospect, I probably should have gone outside more often, or worked on my social skills by hanging out with friends instead of constantly being holed up in my studio.
Oh well, being socially awkward helps me be a better artist, right? I'm going to keep telling myself that.
After high school, I discovered the web, and quickly joined the ranks of early webmaster-dom by starting a website for the band MxPx from my hometown of Bremerton, WA. Through the years of running the site, the band got big and started selling a ton of records. At the time, I had no idea, but it was the connection that would be my foot in the door to the music industry down the road.
In my college years, I was a graphic designer by day, and a musician by night-playing bars and frat houses brought in some extra cash that would ultimately be spent on guitar strings and gear. I took on any design work I could find and knocked on doors to build websites for the various college departments. As we excitedly moved into the next stage of our lives where we were supposed to get jobs in the tech industry, the dot-com bubble burst along with the changing sides of the tassel.
With nowhere to work, my friend Sean Kelley and I started a boutique creative agency specializing in website design for musicians. With the connections we'd made into the music industry, we'd offer insanely cheap sites, and turn them around quick. My new canvas had become Flash, where illustration, technology, and storytelling could come together to form a new touch-point for the artists' brand.
Soon we were designing sites for household names like Christina Aguilera, Eagles, Neil Diamond, Ice Cube, Bette Midler, Queens of the Stone Age, and dozens more. As we grew, we hired our friends-and former band members-to join along for the ride.
Skip ahead about ten years, and now I work for Phase2 as the Director of Creative Design. I'm leading our team as we forge new processes in responsive prototyping and component based design. I'm blessed to be able to work with my friends, and to be given a position where I can impact real change in the way that we design and build sites for our amazing clientele.
2. What's the biggest mistake you've made and what did you learn from it?
I think the biggest mistake I made was letting my creative side become stagnant while we focused on establishing the development side of our old company. As the labels started to flesh out their in-house design teams, we were slowly losing more and more creative work. The projects started shifting to building out other people's designs, so we put our development hats on to pay the bills.
We had mouths to feed, and mortgages to pay, so it seemed like the noble thing to do at the time. This was both a blessing and a curse, though because I learned how to write code, and I will always be thankful that I have that under my belt. Being both a designer and coder helps me bridge gaps that are commonplace between creative and technical people, and puts me in a spot where I can see the holistic picture of the entire project.
I'm able to be a better creative director when I can understand how brand ties into the visual language, how the visual language ties into components, and how those components tie into the implementation. With that said, I wish I could have spent more time being creative during that time, and learning from experienced mentors, instead of having to learn everything on my own. I feel like I am still catching up from that, but I'm in a great spot now at Phase2 with the people I work with. I'm way too hard on myself, so maybe I should give myself a break now and then.
3. Tell me about an accomplishment that shaped your career?
I feel like the biggest accomplishment that has recently shaped my career has been working with our team to build up our design practice at Phase2. With the crew that we have, I've been able to put on my creative hat full time and leave most the code - I still hop in now and then to stay frosty - to our brilliant developers.
We've mostly ditched doing comps for prototyping out our designs, which is core to our creative process. Our medium is the web, so we feel that's where we need to be iterating. It's also not just designers who are in on it. Our front-end and back-end devs have a say in what we are designing, and it's been revolutionary.
Gone are the days of handing off finished designs for implementation. We all work together to build better experiences, and we're having a hell of a time doing it. That's what design is, right? I could talk forever about what we are doing, as could anyone from our team. I can't wait to see where we are in a couple of years when we've been able to continue our path of increasing efficiencies, and letting design lead engagements.
4. Tell me about the time you realized you had the power to do something meaningful?
When I joined Phase2, I had the opportunity to move to New York and work from the Manhattan office. My wife and our two boys grew up in the small town of Bremerton, WA, across the water from Seattle, and I'd been here most of my life as well. Leaving our friends and family to relocate across the country to a fast-paced metropolis could be disastrous, but we have always been adventurous and optimistic, and could always come back home if we needed.
My brother and his family lived there, so they would help us find a place nearby, and assist with the schooling situation. The thinking was that this would give me a boost in my career, give us a chance to live life, and provide our kids with a view of the world that they would otherwise not have by staying.
We sold our cars, got rid of a ton of stuff, and ventured off to the East Coast to live in a two bedroom, one bath in Queens. It was the hardest time of our lives, but also the most amazing. We became masters of the subway, explored as much as we could, and ate and ate and ate. Did I mention that we ate? One of the biggest lessons I learned was that seeking comfort was never as good as the reward at the end of a grueling adventure-one mostly comprised of walking, taking buses, and multiple trains.
Oh, and don't forget to dodge the occasional spitting crazy person. Also, the pizza is the best. Hands down, sorry Chicago.
We have since moved back from the New York Groh family experiment, but it remains in our hearts, and we plan on visiting our family out there and our new beloved friends as often as we can. We are more resilient, patient (ironic, right?), and our eyes have been opened to the larger world out there.
The creative scene is just mind-boggling, and it has left me with a lifetime of inspiration. Leaving and then coming back, is not the same as never leaving, or something like that.
5. Can you tell me about a time when you almost gave up, how you felt about that, and what you did instead of giving up?
We always used to joke about becoming carpenters when the going got tough-if we only knew how hard their jobs were, I don't think we would have said it. Then again, anyone involved in building websites knows that now and then it can be its own private hell. There was a time back at our old shop where we almost hung up our hats and left the industry altogether.
The roller coaster that is a small agency climbs hills of fortune and falls through low drops of famine. We were surely no stranger to this. Our big label retainer was just canceled, and other work had dried up.
We'd just laid off a few good friends, not taken a paycheck for a couple of months, and were at the end of our ropes. We felt heartbroken to have to say goodbye to our friends and coworkers, but giving up wouldn't have helped anyone at that point. One thing we knew how to do was to bootstrap our way through, so we chose to keep on keeping on.
We still had a fight left in us. What we did was take stock of what we were doing, and try to get perspective on where we could skate to catch the incoming puck. By choosing to focus on Drupal expertise over our proprietary CMS, we were able to go back to the labels and help build their artist sites as the need had grown substantially. Looking back, I think we could also have focused on the creative side of things and did something similar, but it is what it is.
I'm so thankful that we had the courage to change direction completely because I might be swinging a hammer on a roof somewhere if we had given up-but who knows; maybe I'd enjoy that better?
6. Solving complex problems often requires a re-framing the problem. So what is your process of re-framing the problem so it can be resolved?
So often, we think that we need to come up with the solution to a problem on our own. Others outside of the direct group can have valuable insight into the problem, and also, provide a perspective that wasn't originally considered. Get the project manager, developer, analyst, designer, and client stakeholders into a room, or hangout-anyone who has an important perspective.
Iterating on questions to get back to the cause of the problem will allow the re-framing to start in a truer place. To allow for people to listen more deeply without waiting for their turn to respond, allow everyone to speak their mind without judgment. Good ideas don't care who they happen to, so going back to the start and casting a wide net to gather perspectives, and ask the right questions to the right people is key.
Only when the true root of the problem is exposed by the right people, can it be solved by the right people.
If all else fails, take a long shower or sleep on it.
Visit ramonbnuezjr.com for more content like this + to sign up for my newsletter and receive a free copy of my e-book "The Ultimate Guide To Living On Purpose," about how to live your life on purpose.
Calling all HuffPost superfans!
Sign up for membership to become a founding member and help shape HuffPost's next chapter