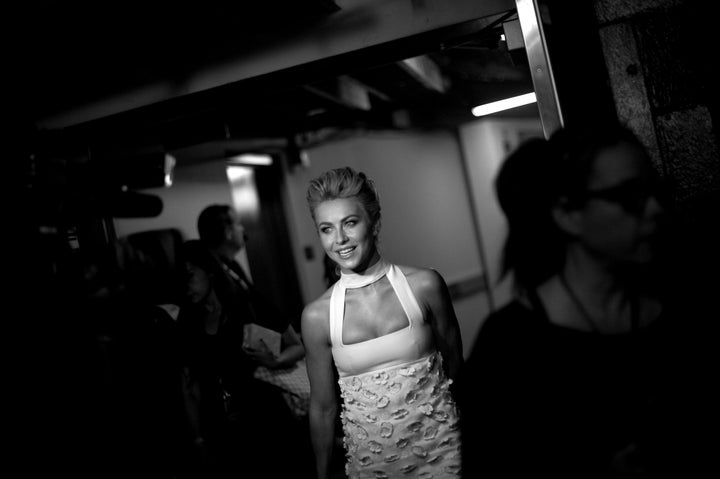 Hough starred on five seasons of the dance competition show while branching out to start a career in country music. She released her self-titled debut album in May 2008, ended up winning the Top New Artist and Top New Female Vocalist honors at the Academy of Country Music Awards and landed herself high up on the Billboard 200 chart. But as she geared up to to release her sophomore album in 2010, Hough decided to shift her focus to acting. 
In the midst of a high-profile romance with Ryan Seacrest, Hough began to explore film roles, with movie-musicals appearing to be her forte. She booked a part in "Burlesque" alongside Christina Aguilera and Cher and starred as the leading lady in both "Footloose" and "Rock of Ages." But it was the Nicholas Sparks' flick "Safe Haven," co-starring Josh Duhamel, that allowed her the chance to kick the whole musical theater schtick to the curb. It was Sparks' third highest-grossing film, earning over $71 million domestically. ("The Notebook" and "Dear John" both earned around $80 million.)
Thing was, her acting career didn't necessarily flourish from there. After her breakup with Seacrest and her appearance in Diablo Cody's first directorial effort, the lackluster "Paradise" in 2013, Hough took a little break to focus on her personal life and reconfigure her goals. She soon reunited with her brother, fellow pro dancer Derek Hough, for the 2014 Move Live tour, getting her ballroom groove back into gear. 
The tour ended up being very successful and, later that year, Hough returned to "Dancing with the Stars" as a permanent judge. With preparations to head back out for 2015's Move Live tour in full swing, news hit that Hough was cast as Sandy in "Grease: Live," which would air in January 2016. The casting cemented her status as a triple threat, and proved that she knew where she was meant to be and what she was meant to be doing.
When the live televised production debuted on Fox earlier this year, fans were floored. Hough, as well as her co-stars, nailed it, earning 12 million viewers and rave reviews from critics. 
"'Grease' reignited and reinspired this whole embracing all aspects of my career," Hough told The Huffington Post in a sit-down interview. "For a long time, I was just known as a dancer and so I kind of pushed that away and said I wanted to be an actress and a singer, but now I'm like, 'You know what? It's who I am. I'm embracing it.'"
The role of Sandy, which was made famous by Olivia Newton-John in the 1978 movie, was a dream opportunity for Hough and gave her the ability to show off all of her talents while remaining true to who she was.
"It was a combination of everything I love to do," the Emmy winner for Outstanding Choreography said. "It was the most fulfilling thing and allowed me to really showcase all of my talents. I don't know how anything is going to top that."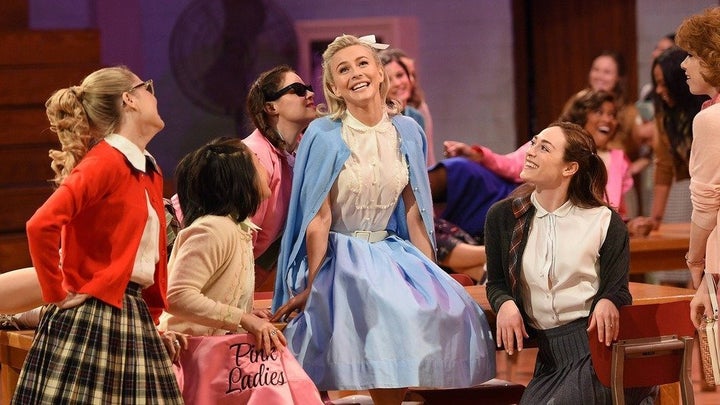 It's a difficult task to keep momentum going after such a successful gig, especially in the entertainment industry. After discovering a project that spoke to her goals, Hough decided to leave her role as judge on "DWTS" this year and focus on expanding her lifestyle brand. The 27-year-old, who is currently a national ambassador for Fitbit, recently launched an athleisure clothing line with MPG Sport and debuted her home decor collaboration with Joss and Main. She also runs her personal blog, on which she shares workout, food, fashion, beauty and design tips.
"The one thing that I feel I've discovered is there's so much more than just taking from the world," she told HuffPost. "Being in this industry, it's very self-interested. I thought I was so mature and could handle everything at 21, and not at all. I was still super selfish -- not in a bad way, but I was really focused on me. In the last four or five years, I've switched that mindset a little bit and I really want to give back. I want the people who have followed my career for so long to feel a part of my life and to let them know how much I appreciate them. But I also want to show them that I'm a real, normal person who loves all the things they love."
Despite her personal interests, Hough is still eager to pursue Hollywood roles -- and she has big dreams. "When I was younger, I didn't have a clear direction but I knew that I wanted to work hard and do whatever I could get, basically," she said. "Now, I'm working hard but I don't want to just get anything I can get. I want to be very specific with what I want."
Hough says her next phase is to develop a TV show that she would star in, "something that's fun and lighthearted -- like a comedy." She's ready to take control of her career and make things happen rather than say "yes" to everything that falls into her lap.
"I'm still really focusing on diving deeper into roles and showing a different side," she told HuffPost. "I've played a very similar role in a lot of the films that I've done and it would be fun to play something really different and quirky. Not that I'm being picky, but I only want to do things that I'm going to be able to do my best at and will move the needle for me and my career. I don't just want to book a job to work. I really want to do something that I'm passionate about."
She's even given Broadway a thought, admitting, "I would love to originate a role, that would be awesome."
"I think now what's important is things can come and go," she said. "At the end of the day, I want to be able to come home to someone or a family and something that's lasting."
Calling all HuffPost superfans!
Sign up for membership to become a founding member and help shape HuffPost's next chapter
BEFORE YOU GO
PHOTO GALLERY
Child Actors All Grown Up