More importantly, why -- out of the hundreds of child actors who auditioned for the role of Mowgli in Jon Favreau's live-action reimagining of Disney's 1967 animated classic -- did Favreau select Sethi to play this movie's man-cub?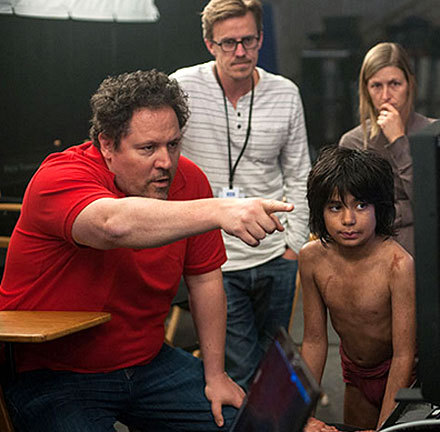 As the director of Iron Man & Iron Man 2 recounted during the pre-release promotion for Walt Disney Pictures' latest smash hit, "For me, casting is everything. When you have a character who's on screen as much as Mowgli is in The Jungle Book, you don't want someone that you'll eventually grow tired of watching. And while many of the other child actors who auditioned for this role were kind of cookie-cutter, Neel was different. He had a little spunk and some real swagger."
More to the point, Sethi wasn't some star-struck kid who dreamed of eventually making it big in Hollywood. As Neel revealed in a recent phone interview with the Huffington Post, he sees a far different future career path for himself. One that has more to do with teeth than with Tinsel Town.
"Working on this film was a lot of fun. I especially enjoyed working with Jon," Sethi stated. "But when it comes to my future, while I do want to do some more acting, what I'd really like to do is become a dentist like my Mom & Dad."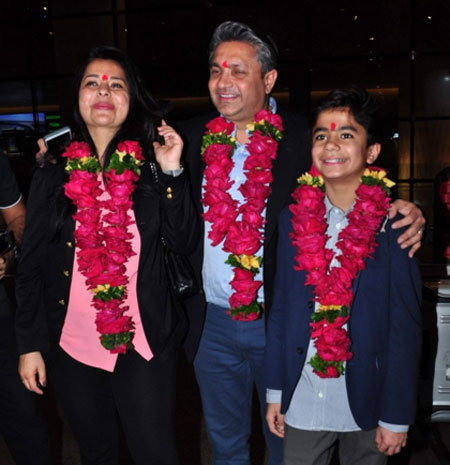 Which wasn't the sort of thing that Favreau heard coming from all those other child actors who were auditioning for Mowgli. Those kids -- at least to Jon's way of thinking -- seemed a bit too polished, practiced & poised to play a character who'd supposedly been raised by wolves. Whereas Sethi (who hadn't done any acting at all prior to auditioning for this part) had just the right rough quality / raw energy to portray Rudyard Kipling's man-cub.
So how does a public school kid from Manhattan wind up in Hollywood auditioning for a major motion picture? Neel is quick to credit an instructor in his Indian dance class.
"He was the one who told my parents that Disney was making a live-action version of The Jungle Book. " Neel recalled. "Up until then, I hadn't see the animated version. I mean, I'd heard some of the Jungle Book songs before. But I didn't know the movie that they were from. Anyway, that dance instructor told my parents that I should audition for Mowgli. So my parents and I put together a tape and then submitted it."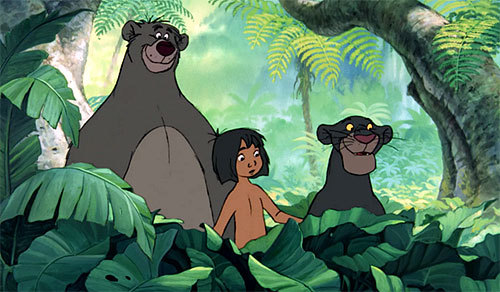 And Favreau -- who's a New Yorker himself -- just loved the attitude that Sethi showed on his audition tape. Especially the part where this then-10 year-old sports enthusiast promised that he would do all of his own stunts.
"Neel just seemed like this great kid on that tape. He clearly wasn't intimidated by the idea of having to audition for a movie. Neel was naturally charismatic and funny but -- at the same time -- emotionally accessible," Jon continued. " There was something about him that hung in there with me. Neel seemed to capture what I remembered of Mowgli from the original Disney animated film but also brought something new to the table. That's why I ultimately decided to cast him in this role."
Mind you, Sethi didn't realize -- over the 8 months that he'd be working with Favreau on The Jungle Book -- that he actually would be doing a lot of his own stunts. Jumping off of high platforms in front of blue screens as his character avoided a sneak attack by a CG tiger or slipping & sliding around in all-too-real mud as Mowgli sought cover among a computer-generated herd of water buffaloes.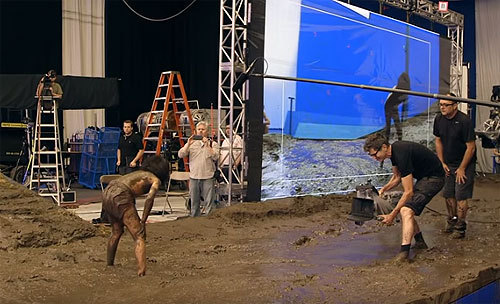 "That was the toughest scene to shoot," Neel remembered. "The one where I was in the mud. You see, in-between shots, the mud on my body would start to dry. So -- for continuity's sakes -- they'd then have to spritz me with cold water so that all the mud on my body would then look damp on camera. That was a long couple of days. But Jon made it as fun as he could by telling me all of these corny jokes before he'd then turn on the camera."
Favreau did everything he could to keep the Jungle Book's lengthy production process light & fun for Sethi. Even going so far as to join Neel in the water tank on those days when these filmmakers recreated that memorable moment from the Disney animated movie where Mowgli & Baloo floated downstream while singing "The Bare Necessities."
"That was so much fun. We shot that scene in this gigantic hot tub thing. Which means that I got to swim. And I love swimming," Sethi laughed. "And Jon got right in the tank with me so that I'd then have someone to play that scene off."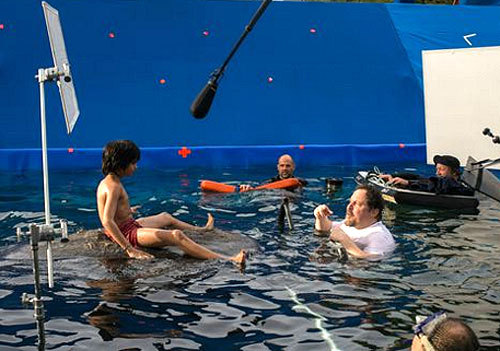 Knowing that Neel was the live-action heart of a movie that was filled with photo-realistic animals, Favreau would do this same sort of thing over & over again. Find different ways to give this acting novice things that he could interact with / react to on a set that was often filled with blue screens.
"Sometimes there'd be puppet versions of the Jungle Book characters on the set. And Jon himself would make those puppets talk. Which made things a lot more fun for me on set plus giving me something to interact with," Sethi said.
But given how well Disney's live-action Jungle Book has been doing at the box office, it's clear that Jon gambling on Neel (not to mention all of Favreau's on-set efforts to not only make this acting novice comfortable but also be able to maintain focus) really pay off. Which is why the Studio has already begun developing a sequel to this live-action reimagining of Kipling's classic tale.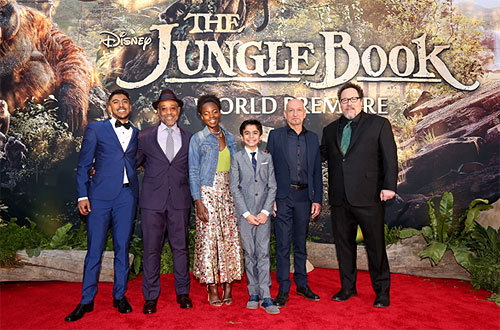 So is Sethi ready to begin working on The Jungle Book 2 ? Not yet. You see, this 12 year-old has really begin enjoying traveling around the world doing promotion for this Walt Disney Pictures release and isn't quite ready to go back to Hollywood.
"We're going to London & Paris & Toronto. We just did the premiere in India. And it was crazy how they reacted there," Neel recalled. "Of course, that's where the story of The Jungle Book is set. But I got a lot of love from the people there. And I thought that that was really cool."
And speaking of getting things ... Given that the live-action version of The Jungle Book is such a huge hit, will Sethi have any big star-like demands once he gets on set for The Jungle Book 2 ?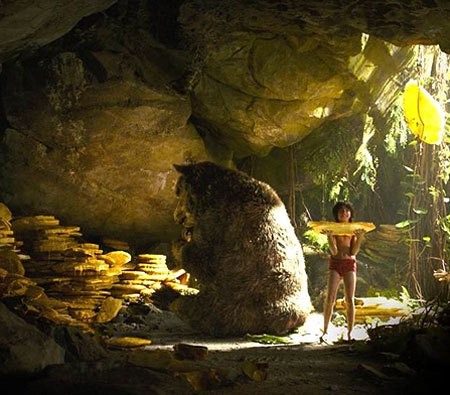 "Mowgli only had two outfits in this whole movie. There's this one scene where they had me wearing a costume made out of leaves. Which was supposed to act like armor when I was collecting honeycombs for Baloo. But for the rest of The Jungle Book, I was wearing a loin cloth. Which -- while it was very comfortable -- was exactly like a diaper," Neel laughed.
"Mind you, I had a bunch of loin clothes. One was for rain, one for mud. Honestly, I couldn't tell the difference. I just wore whatever the wardrobe people gave me," Sethi concluded. "But if they do make a Jungle Book 2, I'd really like it if they gave Mowgli more to wear."
Popular in the Community