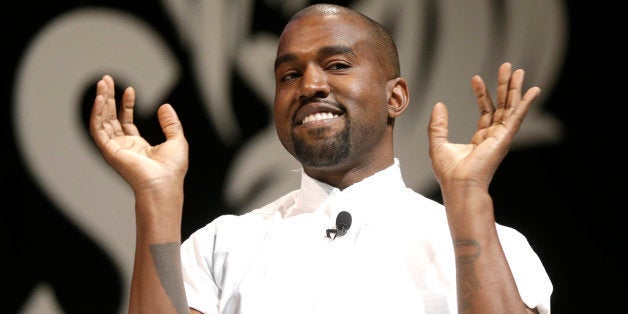 With the assurance of a man buoyed by world-class marketing, Kanye West set the hearts of music bloggers ablaze with the release of "Only One," a collaboration with former Wings frontman, Paul McCartney. Mere hours after the ball dropped in Times Square, it was clear 2015 was bound to be another fascinating period for the ever-evolving artist known as Yeezy.
The timing behind the release of "Only One" was so deliberate, it bordered on transparent. The single's press release--itself a clear indication this 4:42 track is meant as an event - describes it as "an anthem of positive reflection, hopefulness and joyous celebration to usher in a New Year," reminding fans that "there is only one you. There is only one life. And there is only one 2015." It seems as if West's publicists were urging listeners to link their sense of possibility in the upcoming year to their client's personal ode to his mother and daughter. It's a tenuous connection, but forgivable. After all, "Only One" is Kim Kardashian's favorite song of her husband's; according to her Twitter feed, she cannot listen to it without crying. (I can.)
Still, "Only One" joins Kendrick Lamar's "i" as the latest high-profile release from a rapper-turned-pop darling to dare marry positivism and commercial appeal. It is a curious direction, arguably cynical... but also sort of bold. The jury is out on how hip hop's online cognoscenti will react--the recent leak of the Straight Outta Compton trailer reminds us that rap's most endearing narrative is fatalism through struggle. Politically, it's an essential story, but also feeds the escapist inclinations of listeners demanding a ghetto pass. The question is: will artists be allowed to grow creatively without being labeled as stale or selling out by critics or fans?
Throughout his career, West has defied both, displaying a once-in-a-generation ability to remain talented and brilliant on a mass scale. Who else, historically, has been granted the chance to wear so many hats, besides Ye? Madonna, maybe Dylan? Their transformations often took years, and lacked the staccato rhythm of West's output. From his "school" trilogy, to the influential 808s period, to Taylor Swift and MBDTF, and 2013's industrial Yeezus, he has skirted convention in ways few music superstars have. Now, after releasing his most bare and stripped down album, how does "Only One" fit in?
As commentators on the lively and informative hip hop site Section Eighty point out, the connections to his discography are clear. "Only One" is both a sequel to "Hey Mama" off Late Registration, while returning to the vocal exercises of 808s and Heartbreak. (Some may even recall his despairing verse on Young Jeezy's "Put On"--recorded in the aftermath of his mother's tragic death--where West also donned autotune to describe his grief.)
That "Only One" is the first official cut since Yeezus cannot be ignored. West has absorbed the lessons from Rick Rubin in sparse production, and applied them in his work with Macca. The result is just as emotionally satisfying - the difference is working with Sir Paul requires a different tenor.
Considering that West has worked with legends like Sir Paul, Rick Rubin and Elton John to such satisfying means over the past five years is remarkable.
When you think about how rote and gimmicky generational collaborations tend to be (Lady Gaga meets Tony Bennett), "Only One" succeeds by fusing both artist's sensibilities in a complementary way. It's a fresh addition to both West and McCartney's discographies.
Searching the song's DNA, you see hints of something like McCartney's own "Hey Jude" at its core. Both songs are about healing. Both are, ultimately, meant as lessons for children, whether its Jude or West's daughter, North.
2015 may not turn out to be about the return of Yeezy to his pop cultural throne, after all. It could be an even more magnificent hat trick: renewed musical relevance for the legendary McCartney. After Wings, the singer-songwriter made a habit of crafting duets with the likes of Stevie Wonder and Michael Jackson to earn a place at the pop culture table.
This year, with the help of a provocateur like West, he may have done it again.
Popular in the Community