"Today" anchor Savannah Guthrie is branching out of the world of news and dipping her toes in the publishing world. On Tuesday, she released her new children's book, Princesses Wear Pants, which she co-authored with Allison Oppenheim, the wife of Noah Oppenheim, the president of NBC News. The story follows Princess Penelope Pineapple and hopes to show kids that it's what they do that matters most, not how they look.
The idea was partly inspired by the Duchess of Cambridge herself, Kate Middleton, who wears all kinds of outfits when attending royal engagements. Guthrie and Oppenheim wanted their daughters, Vale and Ayla, to understand that just because they want to look like princesses doesn't mean they can't do things other than wear dresses and dance at an imaginary ball.
"I said, 'Well, what else do princesses do?' And [Ayla] had no idea," Oppenheim explained to HuffPost on Build Series Tuesday. "So I thought, well, this is a great teachable moment and a great opportunity for a conversation about, what do women in leadership roles really do? Do they have responsibilities for their community? Do they help other people in need? How can we talk about this and stay in her imaginary world — which is so fun and exciting, we don't want to take her away from that at all — but how can we take it and make it a little more practical and a little more meaningful?"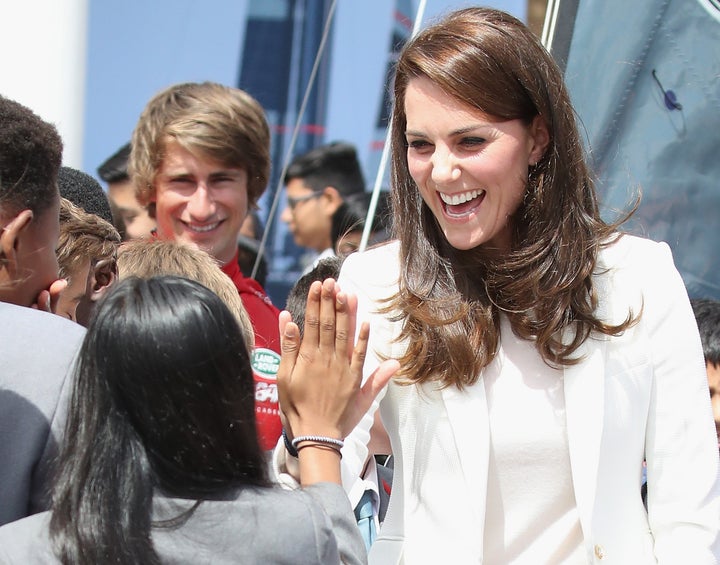 Guthrie said Oppenheim used Duchess Kate as an example, showing Ayla a picture of Middleton playing rugby and explaining, "See? Princesses wear pants!" 
"I said, 'Princesses wear pants? That could be a story. That could be a kids book,'" Guthrie added, "and we actually followed up on it." 
The women are hopeful the book will spread a message of positivity for youngsters who might not understand that appearances aren't everything. 
"We're not anti-princess, or anti-dress or skirt, in fact, Penelope has a shoe collection, tiara, the whole thing," Guthrie said. "The idea was to use pants as a metaphor ― a way to get into it to talk about all the things that she does. Wear dresses, wear sparkles, dazzle ― a modern girl can be whoever she wants to be. But how about focusing a little more on what's inside and what you're doing and being a girl of substance as opposed to one who's just frilly and glittery?" 
You can watch the full Build Series interview with Savannah Guthrie and Allison Oppenheim below. Princesses Wear Pants is in bookstores now. 
REAL LIFE. REAL NEWS. REAL VOICES.
Help us tell more of the stories that matter from voices that too often remain unheard.
BEFORE YOU GO
PHOTO GALLERY
50 Children's Books with a Positive Message