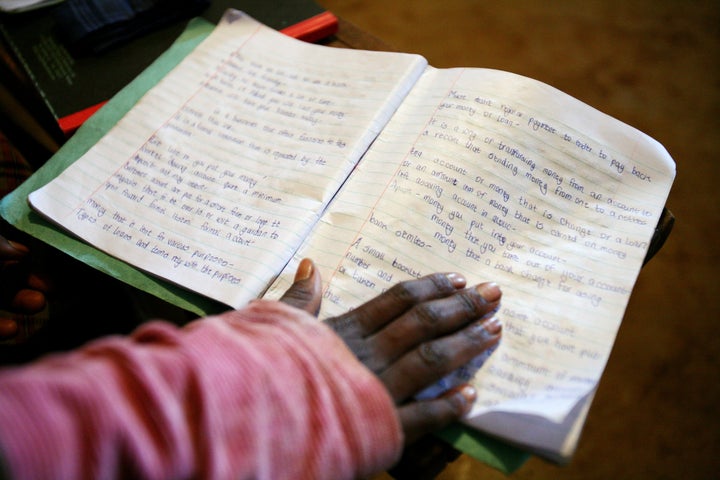 Laikipia, KENYA (Thomson Reuters Foundation) - Christine Gathoni dreamed of becoming a doctor, not a patient, grimacing in pain as she pushed her baby girl into the world.
But boredom and frustration at her parents' inability to pay for her education led her to sex, pregnancy and motherhood at the age of 19 with only two years of secondary education to go.
"I was idle and my boyfriend asked me out," she said, looking pensive. "After a few weeks, I realized I was pregnant."
Two out of five 19-year-old women in Kenya are either pregnant or have given birth, with the highest rates among the poorest, according to government statistics.
Their parents often encourage them to get married to escape the stigma of being a single mother.
The persistent cultural belief that girls who have given birth are adults - who have no place in a classroom - also means that as many as nine in 10 Kenyan girls who drop out of school due to pregnancy never return.
Gathoni, however, was determined to complete her education.
"If I had decided to get married, I guess life would have been unbearable," she said. "I hadn't totally lost hope in securing an education to save my family from poverty."
When Gathoni's baby turned one, her father brought a goat to Laikipia's Ilpolei Secondary School to pay for her re-entry.
Instead of accepting the goat, Gathoni's headteacher enrolled her in Jielimishe - Swahili for "educate yourself" - a program to encourage girls from deprived communities in the East African country to stay in school.
In 1994, Kenya introduced a "return to school" policy for teenage mothers as a way of ensuring more girls finish their education, but implementation has been lax.
Despite free primary education being introduced in Kenya more than a decade ago, many students still drop out of school because their families cannot afford uniforms, books and admission fees.
Almost six out of 10 students who start primary school do not complete secondary school, government figures show.
Girls are often disadvantaged because many communities prioritize boys' education. Menstruating girls may skip lessons because of a lack of toilets and sanitary towels.
But research shows that girls who are allowed to complete secondary schooling, are likely to earn more, and have fewer unwanted pregnancies and healthier children.
In Gathoni's home county of Laikipia, a stunning region of thorn trees and grasslands, 48 percent of girls are in school compared with 52 percent of boys, according to a survey commissioned by Jielimishe.
Its mission is to identify 10,050 girls in Laikipia, neighboring Meru county, and Mombasa on the coast, who need the most help and cover their school fees, textbooks, uniforms and sanitary towels.
Since the project started in June 2014, more than 300 girls have gone back to school.
Another key component of the two-and-a-half year program, funded by the British government, is to convince local communities that keeping girls in school - rather than marrying them off for dowry - is in their best interest.
"Due to the intense and targeted community interventions, the communities are gradually becoming responsive of girls' education," director of the project, Mike Mutungi, told the Thomson Reuters Foundation.
It is one of several initiatives across the country.
In 2014, the U.S.-based Population Council set up a three-year project to expand access to secondary school education for teenage mothers in western Kenya.
It has also sponsored a radio soap opera focused on an out-of-school teenage mother to get people talking about the issue.
There are still challenges - even for the Jielimishe girls.
Jielimishe program manager Dennis Ratemo said some young mothers struggled to find childcare while they attended class. He also said four girls had dropped out of school in 2015 to take care of their babies - out of 356 who had returned to school since 2014.
"In the past I struggled a lot to get the basics to keep me in school, but that's history now," Gathoni said.
($1 = 101.3000 Kenyan shillings)
(Editing by Katy Migiro and Katie Nguyen; Please credit the Thomson Reuters Foundation, the charitable arm of Thomson Reuters, that covers humanitarian news, women's rights, property rights and climate change. Visit news.trust.org to see more stories)