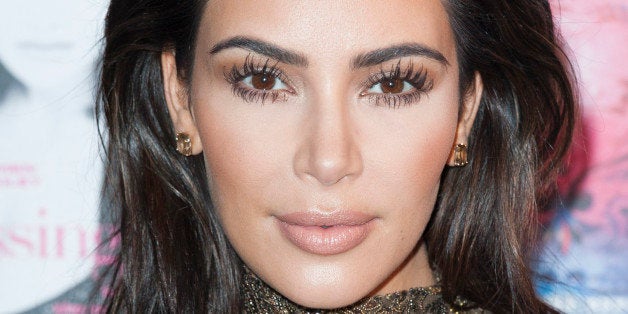 I'm not a woman hater by any means. For much of my adulthood, I sided with feminists. But when the name "Kim Kardashian" came up, I freaked out. "She's a slut!" "She's desperate for attention!" "She's getting fat!" Those were just some of the thoughts I expressed to friends and colleagues over the years.
Even though Kim's dad was Robert Kardashian, the famous O.J. Simpson defense attorney, she didn't really come into prominence until a sex tape with her and singer Ray J. was made public in 2007. I thought it was pretty lame as far as sex tapes go, and it made me even angrier that this launched Kardashian's career, although she would certainly deny that.
Then came Keeping Up With The Kardashians, a show I thought was vapid, desperate and represented everything that was wrong with the world. Yet, I watched every episode. Some would call it self-abuse. Others would say that - at times - haters are the biggest fans. But I would deny I was any type of fan, even though I knew more about Kardashian and her family than even people who claimed to be fans.
As Kardashian started to get endorsements from big companies, I, as well as others, thought she didn't deserve it.
"What actual talent does she have?" I once asked a coworker, who was right when he told me she had the talent to get under people's skin and get paid for it.
Perhaps around the time Kim Kardashian "broke the internet" by showing her bare a** for Paper Magazine, I realized that the problem I (and others) had with Kim Kardashian had nothing to do with her; the problem was with ourselves and the way we think women are supposed to behave. I first noticed the negative comments about Kardashian's photo shoot weren't aimed at criticizing the actual photo shoot, but at Kardashian herself.
People were basically accusing Kardashian of being a bad mom, a bad person, and setting the women's rights movement back 100 years. As expected, others injected racial politics as well. As a Kim Kardashian hater, even I found the criticism super hypocritical. I honestly didn't like the photos and thought they were overly Photoshopped. The biggest crime was that the pictures didn't make Kardashian look good. But I thought of all the vile comments aimed at Kardashian and if she would receive the same if she was a man.
I then asked myself if I would hate a man as much for the things I didn't like about Kardashian -- the biggest being that she is a narcissist. Of course, you rarely ever hear men called narcissists. I also thought about the last time people said a man is desperate for attention. Of course, there's Kanye West and some others, but the criticism aimed at women for the same thing is far more intense and vile.
I also loved Kardashian's response. According to People, Kardashian didn't apologize. Instead, she doubled down.
"As a role model, I'm not saying anyone else should do that, but for me it was an art project and it taught me to do what you want to do. I'm never one to preach, but I felt really positive and really good about myself. I love the photos, I did it for me. I hope other people like them."
Why should a woman like Kim Kardashian be ashamed for feeling good about herself, enjoying her sexuality, and feeling free? I remember that people never questioned Prince, George Michael, or any male celebrity I grew up with when they flaunted their sexuality. It's a double standard that still affects women until this day, and it's a shame that other women, who call themselves feminists, take part in joining men when attacking women who are comfortable with their sexuality.
Since breaking the internet in 2014, Kardashian has done a lot more that made me appreciate her. In an age where female celebrities are constantly being shamed for their bodies, Kardashian posed a nude selfie in March of this year, three months after giving birth. I thought it was pretty brave, but the haters came out in huge numbers.
Kim responded by telling the world that she is empowered by her body, by her sexuality, and feeling comfortable in her own skin. She also said she was empowered by showing the world her flaws and not being afraid of what anybody is going to say about her. Even if one didn't like her selfie, they should realize that her statement is one that young women need to hear.
Kim Kardashian certainly isn't a saint, and some of her actions are questionable. There is nothing wrong with aiming the criticism at her actual actions or work. However, if you are still resorting to calling Kardashian misogynistic names, it's you who has the problem and it's you who really needs help.
Popular in the Community