Do you remember the first time you used an ATM? Probably not. It's one of those everyday conveniences we take for granted. But factory workers in India who sew the clothes you buy are learning to use an ATM for the first time as part of an innovative financial literacy initiative called HERfinance developed by Business for Social Responsibility (BSR) in 2012 with a grant from The Walt Disney Company.
Worldwide, 2.5 billion people lack access to basic financial services and financial literacy education. Things like savings accounts, small business or education loans, how to manage money -- and yes, something as basic as how to use an ATM -- are not necessarily a given. These are critical resources that people need to make informed decisions for themselves and their families, pay for their children's education and take advantage of opportunities for starting a small business. HERfinance is trying to close that gap. They've developed a robust financial literacy curriculum with six training modules on topics like budgeting, savings and talking about finances with your family taught by local organizations Sanchayan and Swasti over an eight-month period.
But how do they know whether the training messages are getting through to workers? These are sensitive topics. Trainers can't just ask workers if they're saving and count on getting a straight answer. If someone asked you if you are saving money, you would probably just say yes -- whether it's true or not -- because you know that's what they want to hear.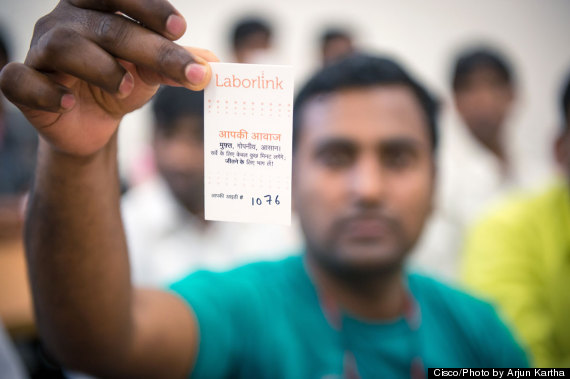 Factory workers use this card to complete Labor Link mobile phone surveys to provide feedback on the HERfinance training.
The solution? Connect with workers through a mobile platform called Labor Link developed by Good World Solutions. In India, there are 929 million mobile phone subscriptions out of a population of 1.2 billion. We're quickly nearing a 1-to-1 ratio between mobiles and people. This opens up radical new possibilities for real-time dialogue with and feedback directly from beneficiaries -- in this case, factory workers. It's a major improvement on the static impact assessments of the past that only measured success before and after. And, it enables follow-up with workers to reinforce training messages and measure behavior change over time.
Last month, we traveled to India to visit garment factories around New Delhi that are involved with HERfinance and using mobile to measure its impact. We wanted to see HERfinance training firsthand -- to see how it encourages trainees to start saving more or talk to their family about finances, which is difficult no matter where you live. We also wanted to understand how they are using mobile technology and how Labor Link allows them to voice their needs and express themselves.
Together, BSR, Good World Solutions, and Cisco collaborated to measure and deepen the impact of the HERfinance program. Our organizations share a common vision of leveraging human and technology networks to connect the unconnected and transform people's lives.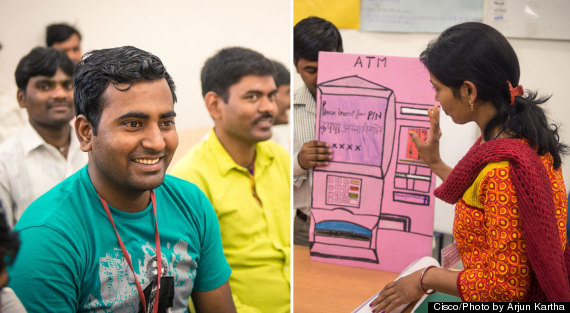 During the training, workers practiced taking money out of a cardboard ATM machine by putting a card in one slot and taking money from another. In another session, we watched a role-playing exercise on talking about finances with your family. At one point, a worker stood up, in front of management, and asked a question about his health benefits. This kind of openness between workers and management is rare in garment factories but is commonly observed throughout the HERfinance pilot programs.
To make workers more comfortable speaking up and help them find their voice, HERfinance and its partners take an approach of "measure, teach, measure, repeat." It gives the workers, predominantly women, a voice on three levels:
1. Through Labor Link mobile surveys, they have a confidential and anonymous channel to share personal details of their financial attitudes and behavior and express how satisfied they are with the training. This data feedback loop helps trainers meet workers' needs more directly.
2. Based on HERfinance training curriculum, they have a better understanding of household financial issues and use this information to take control of their finances and make informed decisions on issues that affect their households.
3. With support from management, they feel more empowered to speak up and ask questions in the workplace -- just like the worker who stood up in the training to ask about his health insurance benefits.
It's not only beneficial for workers themselves. In the HERfinance pilot, the mobile-enabled feedback loops have proven to be a win-win for all partners:
• Local trainers refine curriculum based on local needs. The local HERfinance implementing partner in India said they've used mobile survey data to adjust their training approach and identify where something was not getting through clearly to workers. This real-time feedback enables them to adjust training as it is occurring, rather than after all training sessions have ended.
• Factory managers boost job satisfaction and retention. One factory manager said this type of training demonstrates to workers that factory management cares about their well being. He told us, "Labor Link mobile surveys are the easiest and best way of taking worker feedback," and, referring to the program impact, "We've seen a reduction in turnover since our financial literacy training started."
• Companies hear directly and anonymously from workers. Companies like Ann Inc. (of the Ann Taylor brand), Nordstrom, Levi Strauss, and Timberland have been looking for ways to increase insight and visibility into the supply chain and improve communication with their sewing machine operators. Labor Link provides this visibility and enables them to hear directly from workers.
• Funders measure the return on their investment. At Cisco, we believe that the convergence of people, process, data, and things on the Internet -- the Internet of Everything -- is making networked connections more valuable and relevant than ever before, creating unprecedented opportunities for the private sector, public sector, and individuals to collectively tackle key social issues linked to poverty. Cisco funded this partnership between HERfinance and Labor Link, as part of our economic empowerment initiative. Our strategy is to fund innovative, scalable, sustainable solutions that use technology to help low-income and disadvantaged people become economically self-sufficient. How do we know if our funding is having an impact unless we hear directly from beneficiaries? In this case, did workers actually understand the training? More important, did they change their behavior? Are they becoming more financially independent?
So what did the data tell us? Data from one factory where the training has been completed tells us this:
• Financial control: From the beginning to the end, Labor Link measured a 21 percent boost in women who say they manage their own salaries -- instead of giving it over to their husbands or other family member.
• Knowledge, confidence and use of financial services: Among the workers that have finished all six training modules, 73 percent feel more confident talking about financial matters, and 68 percent report using new financial products because of the training. Workers also report feeling better prepared to manage their finances through emergencies and unforeseen expenses.
• Behavior change: The number of workers who had their own bank accounts increased by 16 percent. There was also an increase in the use of bank accounts, with 95 percent of workers reporting that they are saving more of their income each month.
Beyond these results, 89 percent of workers report that their impression of their workplace improved as a result of the company sponsoring the HERfinance program. As the factory manager told us, this is leading to decreased turnover among workers.
That's the power of mobile: uncovering the things you may not see or hear in other ways. We saw during the training on ATMs that women were especially reluctant to stand up in front of the group and practice, so they may not feel comfortable telling trainers how money is managed in their household. But by giving them an anonymous channel to report to project partners through their own mobile phones, we learn what they need and can adjust the program to have a bigger impact. And, by conducting periodic Labor Link surveys weeks or months after the training has ended, we can learn whether the training has had a long-term impact on behavior change - whether the information delivered in the training stuck.
Next time you go to the ATM, think of the women and men in India who sew your clothes -- and how they are gaining financial independence and expressing themselves in new ways through the power of mobile.
Cisco invested in the development and deployment of Labor Link, a mobile technology platform that increases transparency in global supply chains. Workers can report anonymously on working conditions and receive information on wage and work-related issues, training, and financial literacy. For more information on Cisco's focus on economic empowerment, please visit: http://csr.cisco.com/pages/economic-empowerment
Related