When I graduated from Baruch College in 2004, I was unsure of my next steps. So I did what many of my NYC peers were doing because they didn't really know what they wanted to do with their lives: I went to work for an investment bank.
The strangest part? I knew exactly what I wanted to do, I just didn't know how to make it happen.
Since college, it has been my dream to open a restaurant dedicated entirely to oatmeal. When the "freshman 15" quickly became the "freshman 30," I started looking for ways to live a healthier lifestyle and eat better, even while on a college budget.
And so, I started experimenting with oatmeal.
First, I began eating it every day for breakfast. But soon, I was eating it for lunch, snacks and dinner, too. I discovered that oatmeal is not only affordable, nutritious and filling but also a blank canvas for literally anything you're craving. Instead of pumpkin pie, I'd swirl pumpkin purée, spices, pecans and brown sugar into my oats. While my roommates lived off boxed mac and cheese, I whipped up an oatmeal version with sharp cheddar and steel-cut oats.
Before I knew it, my healthier lifestyle paid off and I was back to my old self. Nevertheless, my love affair with oatmeal continued, and I soon realized that something else was happening: one-item restaurants were popping up all over New York City. I was noticing storefronts dedicated to only macaroni and cheese, only cupcakes, only meatballs -- and they were extremely successful.
At that point, I knew my idea for an oatmeal restaurant had legs. I also knew that if I didn't act fast, someone else might first.
My out-of-town family was supportive but skeptical. They didn't understand how a restaurant could survive serving one food. Furthermore, I was knee-deep in the finance world. I was good at my job and kept getting promoted.
They say the difference between a dream and a goal is a deadline, but what they don't tell you is how or when to walk away from a steady paycheck, paid vacations and health insurance. It was all so frightening. How did I make my dream a reality? I took baby steps.
In the evenings, I started continuing ed classes at NYU to learn the essentials of starting a business. In 2008, I landed a position at another bank, J.P. Morgan. The foundation was laid for a cushy career in finance, and at that point, it would have been easy to just keep climbing the corporate latter, but I resolved to stay focused. I enrolled in the pastry arts program at the French Culinary Institute, attending nights and weekends. Becoming a pastry chef gave me the confidence I needed to finally make a move. After 7 years in the investment banking world, I left my job in the spring of 2012 and opened OatMeals in the West Village of NYC in June.
But it wasn't as seamless as it sounds. I had some money saved up but had to take out a line of credit to fund the business. "If it doesn't work out I can always move back in with my parents," I told myself.
Finding a home for OatMeals almost shattered my dream for good. Landlords scoffed at the idea and I was faced with "nos" everywhere I went. They didn't want to take a gamble on a business they thought would shutter in months. The sad truth: when I brought a male friend along with me to scout locations, the landlords began taking me more seriously and ultimately, I was able to snag a lease.
Almost two years after opening, OatMeals is alive and thriving more than ever. I serve up delicious oatmeal creations such as the very popular "Elvis," made with peanut butter, banana, bacon and honey to locals, out-of-towners and even celebrities. My signature Truffle RisOATo made with parmesan cheese, truffle oil and cracked pepper, has changed how people think about oatmeal -- it's no longer just a breakfast food.
Last summer, I came in contact with Quaker Oats and we discovered that we have a common mission - helping people discover the amazing possibilities of oatmeal. I was quickly named their "Creative Oatmeal Officer". (Talk about a dream come true!) Together we're working to change the way people think about oatmeal with creative recipes filled with delicious flavors. Plus, the recognition from the iconic oatmeal brand has energized me and validated everything I've worked so hard for.
For anyone ready to give it all up for a dream because it's too daunting and you feel safe where you are, well, the honest truth is there's nothing safe about taking a leap of faith. Dream big but start small, expect obstacles along the way and always stay hungry.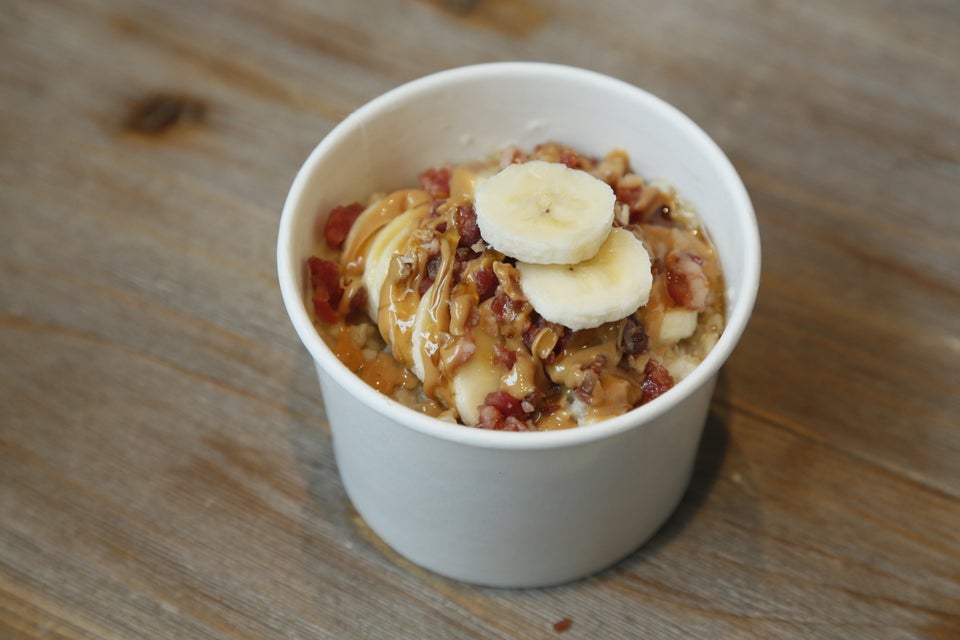 Sam Stephens' Oatmeal Creations