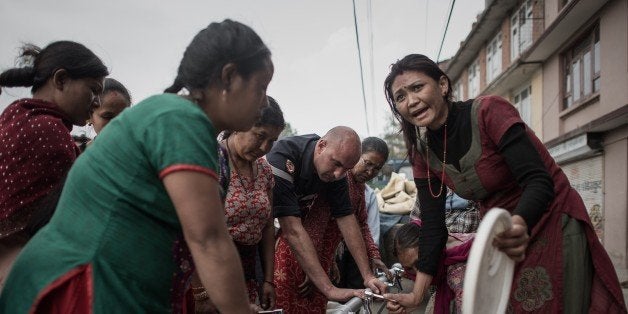 Amidst the destruction and aftermath of the recent earthquake in Nepal, daily miracles and moments of compassion illustrate what is possible when humanity bands together -- babies pulled alive from rubble, mothers sheltering hours-old newborns and citizens rushing in from around the world to provide relief to massive suffering. We're reminded of the days and months after an earthquake leveled Haiti in 2010. The despair and poverty Haiti had experienced for generations caught the world's attention and a flood of emergency support made construction of better health facilities, roads and schools possible. Imagine the possibilities if humanity banded together before disaster struck to relieve everyday suffering worldwide.
As we grieve the thousands lost in Nepal, we also grieve for the hundreds of thousands of women who die annually during pregnancy and childbirth. Many mothers die in countries like Nepal and Haiti where poverty and social barriers prevent women from accessing the health care they need every day. Women die bringing life into the world in many countries, including the U.S. In fact, one woman dies every two minutes from what we know are almost always preventable conditions. In a single week, we reach the death toll we're currently seeing in Nepal. In a single year and every year, more mothers die while having babies than all the lives lost in Haiti's earthquake. Imagine the possibilities if the world focused its attention on this devastation.
Every Mother Counts is a nonprofit organization dedicated to making pregnancy and childbirth safe for every mother. We inform, engage and mobilize audiences to take action and raise funds that support maternal health programs around the world. Our organization is only 5 years old, but by working with partners, we already know what is possible when a community of committed people knock down maternal health barriers like lack of education, transportation and supplies. We've already raised more than $2.6 million and impacted almost 150,000 lives. And as part of a global effort and community of governmental and non-governmental organizations, we've made huge strides. In 2000, 500,000 mothers died every year. Today, that number is 289,000 -- far too many, but proof of what is possible when people commit to finding solutions.
May is the month when people focus on mothers more than any other time of year. We believe that every mother has the right to access the care she needs during pregnancy and childbirth to support her health and to prevent and manage potential complications. Failure to meet this need means that this Mother's Day, and every day, 800 girls and women will continue to die when they could survive and thrive. Every Mother Counts provides solutions to the barriers that make accessing this life-saving care nearly impossible. We know that with the right care at the right time, every mother could survive pregnancy and childbirth.
Throughout May, Every Mother Counts is celebrating Mother's Day by highlighting #WhatIsPossible for every mother. Our short film illustrates how Every Mother Counts improves access to care and makes pregnancy and childbirth safer for more mothers. Starting May 1st, we invite you to spread the good news about #WhatIsPossible by sharing our film through social media. Join us in becoming part of #WhatIsPossible and help us create the future of maternal health.
REAL LIFE. REAL NEWS. REAL VOICES.
Help us tell more of the stories that matter from voices that too often remain unheard.