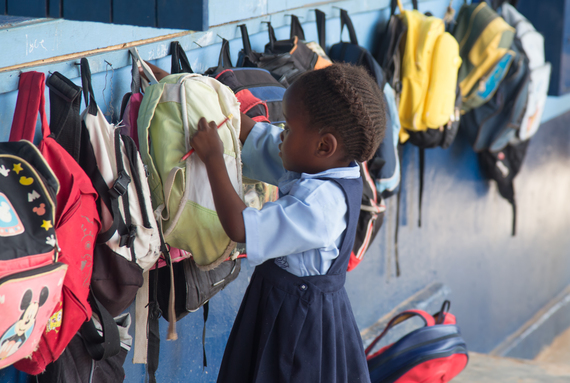 Live Below the Line, the global challenge to eat and drink on $1.50 a day, is a powerful demonstration for what life is like for so many of those in need - feeling the same hunger and enduring the same hardships faced by the 1.2 billion people around the world every day who are living in extreme poverty. This awareness campaign is critical for educating people in the United States about the reality of life for so many of our clients working their way out of poverty.
And for us, Live Below the Line helps us shine a light on the most effective way to raise communities out of poverty: education - getting, and keeping, more kids in the classrooms across the world.
Through microfinance loans, people in developing countries are able to build and expand schools, hire teachers and improve the quality of education. Families can also uses loans to pay tuition and buy uniforms and other supplies to ensure their children stay in school. Unfortunately, 67 million primary school aged children worldwide are not in school, the majority of whom are girls. This is devastating. Girls who are not in school are more likely to fall victim to HIV and AIDS, sexual abuse, forced labor and are more likely to marry and have children at a young age, which usually forces them out of school and into a life of poverty.
Comfort Appiah, one of our clients in Ghana, noticed a large number of children wandering the streets each day because they couldn't afford to go to school. So she started a school on her front porch. The number of students quickly outgrew her porch. She needed a building--a real school. But local banks didn't believe in her and wouldn't help. To them, she was just another woman living in poverty. So Comfort applied for a loan to build a new school, and then another to expand the school.
Today, her Ahobrase Academy serves more than 800 students from preschool through junior high. The school is a social, cultural and economic anchor in the community and hundreds of children are learning skills to ensure they enjoy happy, productive lives.
I'm fortunate that I get to travel to places like Ghana to see our programs in action and meet clients like Comfort who demonstrate the power and success of microfinance every day. The power of just her single loan has forever transformed her community - proving that education is truly one of the best ways to break the cycle of poverty.
Vicki Escarra is Global CEO of Opportunity International, which has set a goal of creating 20 million jobs by the year 2020, impacting 100 million lives around the world.
Related