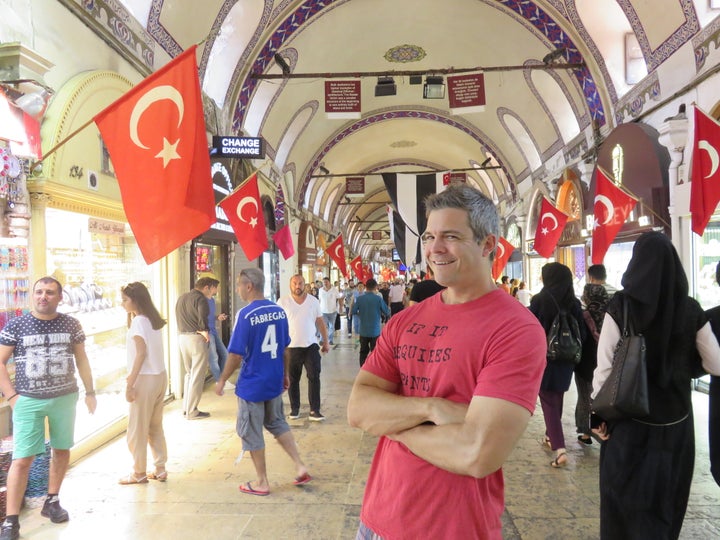 My wife Kelli and I lived in Istanbul, Turkey in July of 2016.
We arrived only 6 days after a coup attempt.
We set up shop not 3 weeks after a horrific terrorist attack at Ataturk Airport in Istanbul.
When weighing the pros and cons of living in Istanbul some friends and fam probably thought we were nuts.
The world headlines screamed "Unstable! Burgeoning dictatorship! Unsafe! Dangerous!"
Istanbul quickly became one of our favorite cities. Safe. Beautiful. Peaceful.
The headlines lied again.
We live our lives by one lesson ― one oft ignored by most bloggers ― which translates nicely to blogging.
The people? Amazingly friendly and helpful.
The food? Some of the best we tasted this side of blessed Buddhist vegetarian cuisine in Thailand.
The history and culture? Inspired!
Day to day living carried on as it almost always does.
If I were isolated from the outside world for 1 month prior to our Istanbul trip I'd never have known about the coup attempt or airport attack from living in the city.
The headlines were largely lies.
I uncovered the truth by actually living in Istanbul.
Don't trust the headlines implicitly. Experience it for yourself!
Blogging Telephone
Picture a version of Blogging Telephone.
A collection of bloggers sit in a circle.
One misinformed blogger shares a message with another misinformed blogger. As the message passes from one blogger to the next, the message becomes more skewed until it becomes a lie. One big lie.
By the time the message passes through five bloggers ― let alone 500 ― the message becomes a lie.
These are the Blogging Headlines shared by the masses of well-intentioned but lost bloggers (well-intentioned in most cases):
You Can't Successfully Sell Stuff through Your Blog Unless You Have a Big Email List (Lie: you can sell stuff through any online channel where you actively engage your audience.)
Blogging Is Dead (Lie: I've circled the globe for the past 5 and a half years through blogging and get featured on more top shelf podcasts and websites every day.)
Social Media Is Dead (Lie: I gain 50 to 100 Twitter every few days and pop up on top engaged member lists daily.)
These headlines are lines. I never trusted 'em. Not eight years ago. Not today.
Instead of believing/buying in to negative blogging headlines I created my own experiences.
growing a successful blog with a small - or for years, no - email list
seeing my blogging presence expand rapidly while naysayers wrote off blogging as being "dead"
gaining 44,800 Twitter followers, 5,000 Facebook friends and 3,000 G Plus circle mates who recruit a steadily increasing number of engaged, buying followers to visit my blog
If Kelli and I trusted headlines we'd have missed out on one of the world's most beautiful cities.
If you implicitly trust every negative blogging headline you read you will miss a lifetime's worth of enriching, fulfilling, colorful experiences, that may just make you a hyper successful blogger in your niche.
You may ignore proven, success-building blogging strategies because a trusted blogger scares you off from trying these techniques.
Use the practical tips I share through:
my blog
my eBooks
my blogging course
my coaching services
my audio books
so you can test these tips for yourself, putting my knowledge into effect, implementing what I've found to be successful, so you can experience it yourself.
Of course the only tips I share with you are the tips that have worked for me: this is how you too can retire to a life of island hopping through smart blogging.
But if you want to achieve stunning, eye-popping, dream-worthy success online you need to:
experience it for yourself!
Instead of writing off some blogging tip (because some blogger warns you about it) you will:
be open to learning new skills
implement what you're learning
buy eBooks
follow the 5 hour rule adopted by billionaires
follow a handful of successful bloggers for the next 3 to 6 months to sponge up fresh, inspired, helpful knowledge
If I chose not to experience it for myself and trusted world ― and many fear-based blogging ― headlines, I'd never have transitioned from broke, laid-off security guard to pro blogging, Amazon best selling, island hopping world traveler.
Ignore the fear-based blogging advice circulating out there.
Dive into blogging with both feet.
Experience it for yourself.
Then you can decide if blogging is or isn't for you.
Your Turn
Do you find yourself being easily swayed by negative blogging headlines?
Or are you doing your own thinking?
Are you regularly implementing what you've learned, blogging-wise?
Buy My eBook
If you want to travel all over the world through blogging (like me) buy my eBook.
Popular in the Community